archive
LUC's Nationally Ranked Debate Team Scores Big at Purdue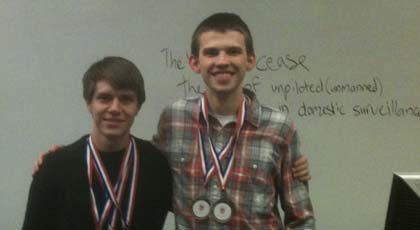 October, 2012--Senior Grace Labriola received top speaking honors at the Boilermaker Express debate tournament held October 27th and 28th at Purdue University. Twenty-two two person teams from twelve schools entered the competition. Each team competed in six preliminary rounds on a wide variety of topics including the role of the constitution, economics and U.S. foreign policy.
There were 44 competitors eligible for speaking honors in the varsity division. In addition to Ms. Labriola's first place award, her partner Meghan Maloy was awarded 10th place. "This was a great way to finish my debate career at Loyola," noted Ms. Labriola, who will be graduating in December.

Loyola entered two teams in the varsity division, with Labriola and Maloy winning five of their six preliminary debates. The duo of Phillip Kraft and Joseph Carroll continued to rack up victories by going undefeated in the preliminary rounds. Kraft and Carroll are an impressive 22-4 in preliminary debates this year and ranked #14 in the nation by The National Parliamentary Tournament of Excellence.
"It's been a great start but we know we have a long way to go," commented Kraft. Their eventual goal is to receive a bid to the national tournament in March.
Next up for the team will be a debate tournament November 7th -9th sponsored Washburn University in Topeka Kansas.