archive
In memory of Dr. Sammy "Doc" Danna
Loyola's School of Communication mourns the loss of Dr. Sammy R. Danna, Professor of Communication for more than 40 years and the founder of WLUW-FM 88.7 and the Loyola Radio Conference.
Danna died February 20, 2019 at his home from a sudden illness. He had been in retirement for six years.

Danna was born March 26, 1934 in Monroe, Louisiana and passed away just shy of his 85th birthday.

After having been graduated from Neville High School, where in his senior year he received the American Legion Award, Danna started his career with a degree in journalism from Louisiana State University. He taught a year at Neville, and during this time there was a contest for the best submission for the Neville Alma Mater. He won, and is the author of Neville's Alma Mater. Danna then earned a degree in education from then Northeast Louisiana state College, now known as University of Louisiana at Monroe, which was then followed by a master's degree in education.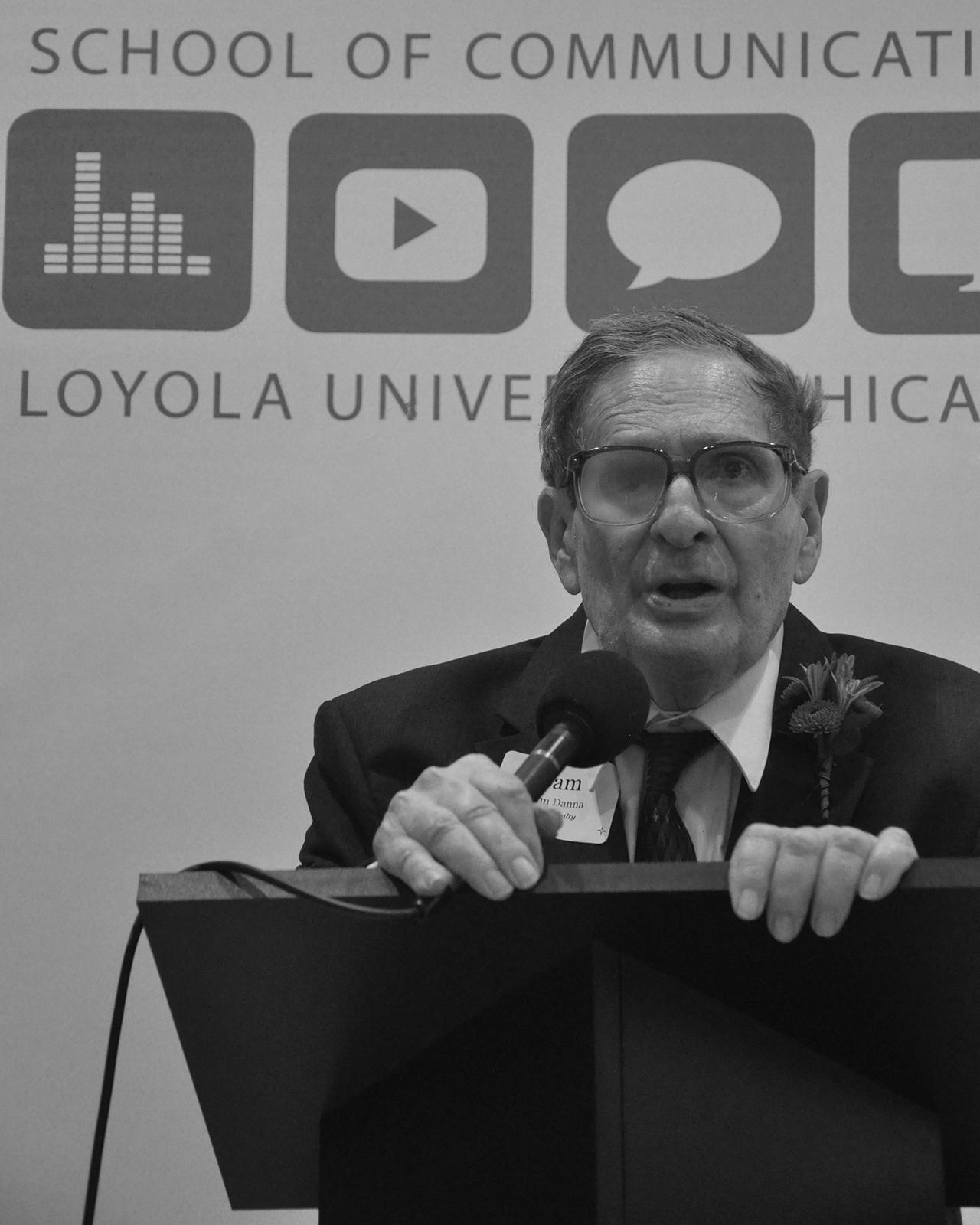 His studies for his PhD in communications began at the University of Illinois at Urbana-Champaign, and were completed at the University of Missouri. He then earned his Masters of Divinity at Catholic Theological Union in Chicago, with Danna becoming a Franciscan deacon and residing at St. Peter's Church in Chicago during all his years at Loyola.

Most notable of all his achievements, however, was his passion for the radio which drove him into not only launching the Loyola University radio stations still in operation to this day, he even used some of his own money to fund their initial programming and construction back in 1979.

Dr. Danna, or "Doc", as many of his students and colleagues referred to him, was instrumental in all three Loyola radio stations that have graced the school: the old WLT and WLUC and then WLUW. Additionally he was responsible for the Loyola Radio Conference, which in its heyday, was the radio conference to attend if you were part of a college radio.

Danna used to give "Sammy Awards" to his highest performing students every year. It was a gold microphone mounted on a piece of white marble, and they are still cherished by those who were awarded.

Danna was professor for Broadcast Law, The Media and Popular Culture, Advertising, and The History of Broadcasting. He wrote several books on the subjects, and was speaker for many conferences both here and abroad. He authored over 80 articles that appeared in professional publications in his field.

Danna is survived by his siblings, Theresa Coco (Gary) of Lafayette, Louisiana, Tony Danna of Monroe, Louisiana, and Betty Gilreath (Dr. Wayne Gilreath) of Mount Airy, North Carolina.

Danna was preceded in death by his parents, Joe and Lena Danna, and sister, Mary Louise Danna.

Visitation will be at Mulhearn Funeral Home, 2308 Sterlington Road, Monroe, Louisiana, Thursday Feb. 28, from 5 p.m. to 7 p.m., with a short prayer service commencing at 6 p.m. Funeral Mass will be at St. Matthews Catholic Church, 121 Jackson St, Monroe, Louisiana on Friday, March 1 at 11 a.m.