archive
Latest exhibit highlights ads across the globe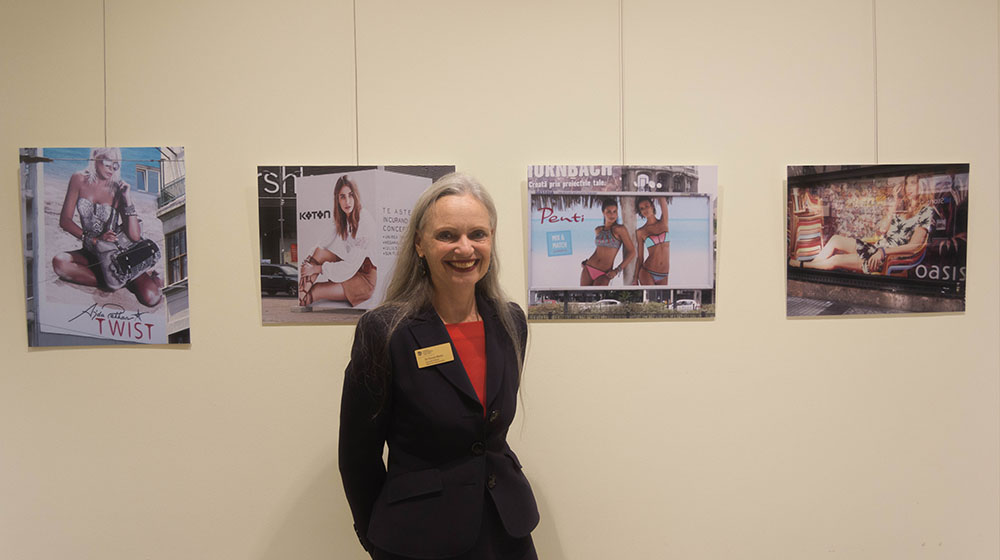 Pamela Morris, a name often associated on Loyola University Chicago's Campus with words like "professor" and "program director," stepped into a different spotlight at the 10th Anniversary Art Opening on Thursday, Sept. 13th.
Morris, who earned a Ph.D in Mass Communications from Syracuse University in New York, is showcasing a 60-piece art installation on the walls of the School of Communication's (SoC) lobby, first and second floors. The entire series took 10 years to put together and includes more than 1,000 photos from roughly 14 countries in total, she calls the project a "snapshot of culture."

The project takes a look at the differences in culture through advertisements: looking specifically at the language, products and depictions of men and women within the ad. Although the SoC installation is simply a fraction of what the entire project has to offer, viewers are still able to piece together the same thing Morris did when using these images and data she gathered to write her second dissertation.

A common theme across cultures is the objectification of women's bodies. The differential treatment between men and women in everyday spaces and within advertisements is bewildering to Morris.
"I really believe in this, women should be equal. I just don't get some of these differences," she said.
But the differences between men and women isn't the only thing viewers will notice.
"When you look at the subtle differences [in advertisements] you can see that Eastern-European women are [depicted] stronger and not objectified as much," Morris said. "In one way they still have to be sexy but they are shown in work positions."

Morris hopes that in looking at these images, students will be inclined to delve deeper into the questions and themes depicted. "[Students can] put together all their skills and passions to look at research."

The exhibit will run throughout the fall semester in the SoC building at 51 E. Pearson St. It is free and open to the public through Spring 2019.