archive
Loyola Debate Team takes top honors
The Loyola University Chicago Debate Team swept top honors at the Georgia Bowman Invitational Sept. 8 & 9 hosted by William Jewell College in Liberty, Missouri.
The season opener marked the first event sanctioned by the Midwest Debate Association.
"It was a great way to start our season," said team President Kathleen Koehnke, who along with her partner Mackenzie O'Donnell won first place in the varsity division. The pair have been selected to represent Loyola's Debate Team at the Oxford Inter-Varsity debate tournament this fall.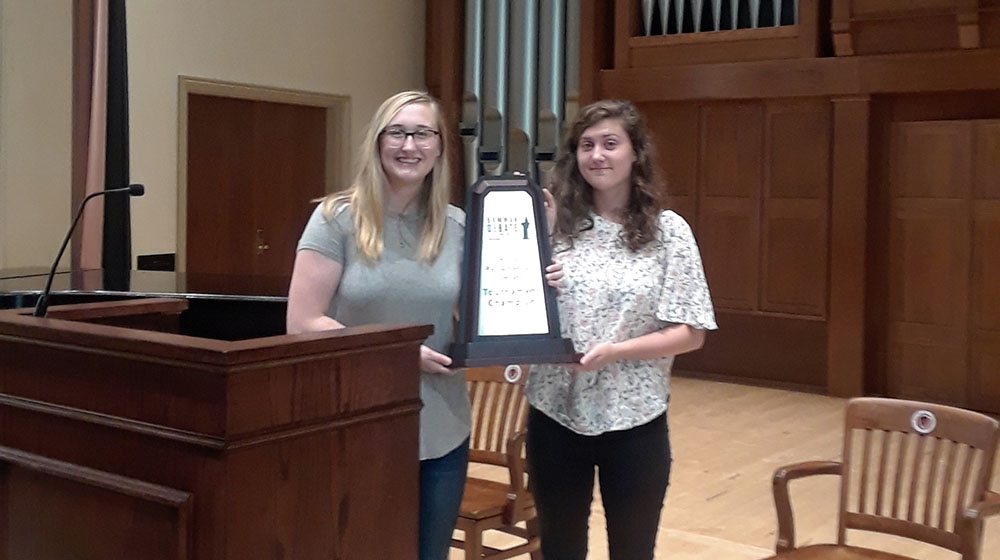 O'Donnell, who was named the top individual varsity speaker at the Bowman Invitational said, "I'm looking forward to competing against teams from around the world at Oxford."
The Ramblers first-year students also shown at the event. Carson Swallow, Eliana Jacobsen, Rielly Alpers, and Evan Means advanced to the finals of the novice debates. Alpers and Means won the final debate. The four swept the top individual speaking awards, with Means taking first place.
Means has be selected to represent the debate team at the Cambridge Inter-Varsity tournament later this semester along with Matthew Yasuoka. "It's a huge thrill," Means stated "Cambridge has such a long tradition of debating excellence."
Coming up for the team is an event this weekend at Wheaton College. Loyola will host its own event Sunday, Sept. 30 at the Water Tower Campus. The event will feature the CIDD 2018 British National Team who are currently touring the United States. A free workshop on British Parliamentary Debate led by the British team will follow the conclusion of the final debate.