archive
Writing on the Wall, Literally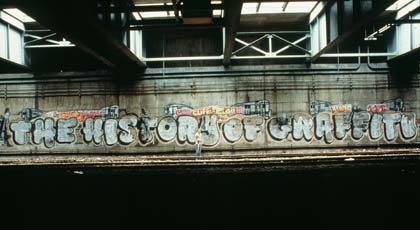 By Lindasy Blauvelt, SOC Website Reporter
September, 2012--The School of Communication unveiled its newest exhibit on Wednesday ‌in front of a large crowd of students, community members and the artist himself. James Prigoff, an author and photographer, lectured on the history of his exhaustive collection of graffiti photography that is on display in the SOC building.
Prigoff began his slide show with a history on the earliest types of wall writing dating back as far as the 1500's. However the presentation truly came alive when the narrative caught up to personal timeline in the history of graffiti.
Prigoff's documenting career started off on a far more traditional form of public art, murals. When tagging and graffiti started gaining popularity in the early 70's, he realized he couldn't document murals without running into the simplistic aerosol art of writer's like Chaka and Taki.
"I understood what it was and like I said to Chaka, get some good calligraphy. I was looking for the art," Prigoff said. "I was looking to give these people some dignity because they had talent I knew that they would grow and mature and I saw what they can do."
He did see what those artists could do; what's more he documented all of it. Prigoff's expansive collection of photographs, all taken on film camera is somewhere near 80,000 slides. He literally wrote the book on aerosol art with co-author Henry Chalfant titled "Spraycan Art" which sold over 200,000 copies.
Max Sansing, a graffiti artist that gave a demonstration at the opening said his interest in art began with aerosol and eventually landed him in art school. He said Prigoff was one of the influences early in his career.
"I had his book, I got it from my friend Static, it was all ripped up and taped together,"
Sansing said. "I still have it on my bookshelf."
Sansing demonstrated the talent and style Prigoff sought in his early encounters with tagging, using vibrant colors and three-dimensional text. In his lecture Prigoff stressed just how far the art form has come since its roots in New York and Philadelphia.
"There's no other movement that has the energy and the strength of the [graffiti] movement," Prigoff said. "Artists are becoming artists, and not just scrawling their names on the wall anymore."
Undoubtedly, the colors and shapes are a beautiful sight, however the question of whether or not it's art has been debated from the start. Writers believe they're creating art, but the several thousand dollar fines and potential jail time say it's vandalism.
"It's a creative expression, it's political, there's tension over whether it's illegal or not," Don Heider, Dean of Loyola's School of Communication said. "But certainly it's a profound form of communication."
The subversive nature of the art form makes it somewhat of a culture of secrecy. Graffiti artists usually use a tag name like the infamous Banksy or Futura. When Prigoff first encountered tagging he was an outsider to the scene.
"For many years I was really probably considered a nark for most of the time," Prigoff said. "Then people learned that they could trust me."
Prigoff does most of his graffiti hunting alone, but occasionally has guides that know the area to show him where to look. He calls it a treasure hunt, but in the past his hunting has brought him to some rough neighborhoods.
"I go places that the kids won't even get out of the cars. I get out of the car, but they don't," Prigoff said. "So some of this is in neighborhoods that aren't so friendly. But I don't hang out very long, I know what I want to photograph, I take my picture and I get out."
It's no secret that graffiti comes along with some danger, but in Prigoff's experience, it's kept many young people out of trouble. Prigoff has had artists tell him that they opted out of gang life and took up art. They said that reading his book saved their lives.
It seems that like the artists themselves that walked away from the shadows of crime and gang life, the art form has gained legitimacy.
"These kids from the Bronx that dropped out of school at 12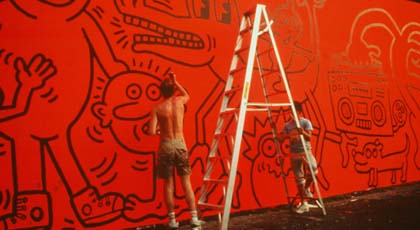 are invited to MIT as artists in residence," Prigoff said. "That's the way that this culture has spread. It had to mature."
The culture has certainly spread and developed. In fact, the artist Tempt, who is paralyzed from the neck down, created one of the photographs on Prigoff's "must-see" list. He created the piece using technology that allowed him to design using the movement of his eyes.
The art form continues to change and progress but the question of its legitimacy still hangs in the balances. Regardless of the verdict, Prigoff's vast collection represents one of few documentations of this dynamic culture and gives voice to the mysterious artists behind it all.‌