Master Class for Media Managers ORIGINAL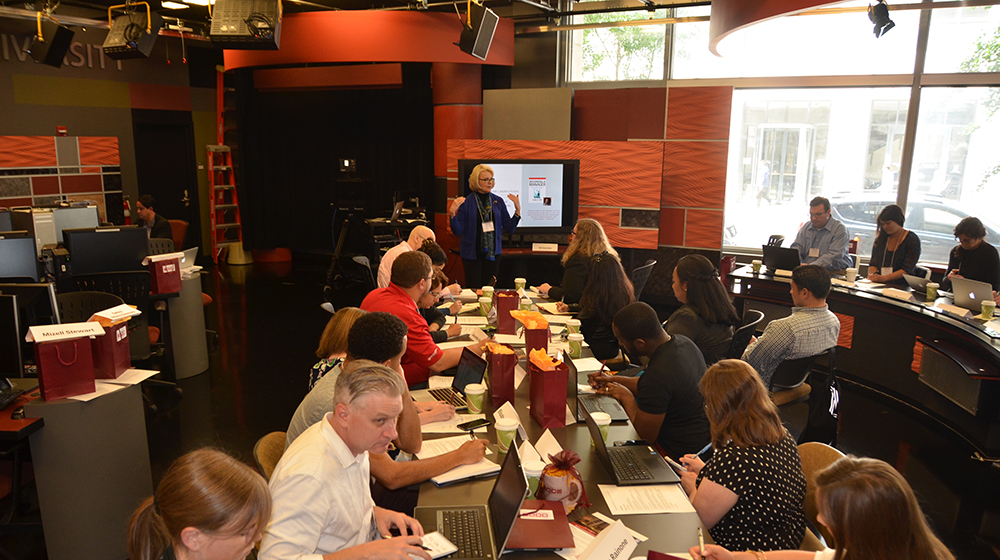 Who Should Attend
You're a manager in a changing, challenging media environment.
You want to raise performance and morale on your team and in your organization.
You're ready to upgrade your culture – to make it more innovative, or multi-platform or collaborative – as well as creative and engaging.
You're eager to master the art of providing feedback of all kinds – including those tricky, tough conversations.
You'd love to start coaching people toward success, rather than fixing their work.
Your goal is to be not only a manager, but also a leader people choose to follow.
The 24/7 demands of your role leave you too little time to just think.
The Master Class is designed as a "vitamin" for busy managers. It is structured around your challenges and includes time for participants to learn from each other's best practices.
You'll spend two days focused on your goals guided by Jill Geisler, one of the country's most respected experts in media leadership.
Location
The Master Class will take place on Loyola Chicago's beautiful Water Tower campus
Program Cost
The Master Class tuition covers the program, learning materials to take back with you, lunches each day, plus a "bonus" - a follow-up coaching session with Jill Geisler. This phone or Skype hour will be scheduled to help you apply your fresh ideas back in your workplace. Best of all, your $495 tuition helps Loyola educate the next generation of communicators.
About Jill Geisler
Jill Geisler is Loyola's Bill Plante Chair in Leadership and Media Integrity and an internationally recognized expert in leadership and management. She's the person news organizations – from Boston to Bhutan – reach out to when their managers need skills, solutions, and inspiration.
She's the author of "Work Happy: What Great Bosses Know" and "News Leadership at the Head of the Class." She writes a monthly management column for the Columbia Journalism Review. Her podcasts, including "Q&A: Leadership and Integrity in the Digital Age" have had millions of downloads worldwide.
Jill's first career was in broadcast journalism, where she began as a reporter, photographer and anchor, then became one of the country's first female TV news directors. After 25 years on the front lines of news management, she joined the faculty of the Poynter Institute, where she guided its leadership and management programs for 16 years. She's been inducted into multiple media halls of fame and has been recognized for her work as a master teacher who turns research-based ideas classes that are practical, interactive, and fun.
Jill holds a bachelor's degree in journalism from the University of Wisconsin and a master's degree in leadership studies from Duquesne University. Her management mantra is "Life's too short to work with jerks."