archive
Students are invited to apply for induction into Alpha Sigma Nu (AΣN), the national Jesuit honor society.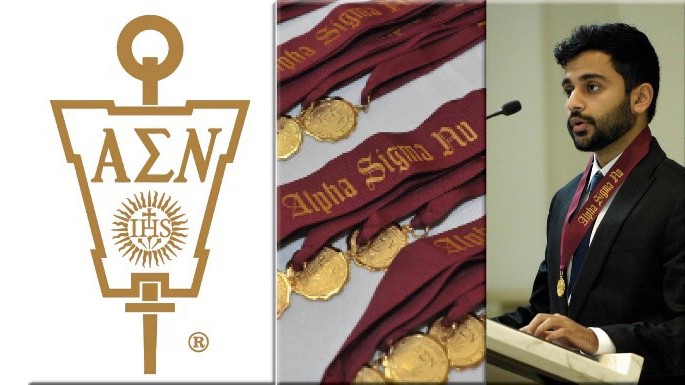 Students of any religious denomination or none at all, are welcome; nominees need not be Roman Catholic or Christian. All applications will be reviewed by the School of Social Work's Alpha Sigma Nu committee and candidates will be notified regarding final selection. Qualifications for selection include scholarship, Loyola credit hours completed, service, loyalty, and commitment to Jesuit ideals for higher education. Students inducted into Alpha Sigma Nu shall have completed one-half of their degree requirements at the time of induction (fall 2018) and be ranked in the top of their class (4.0 Cum GPA for Graduate Students and top 15% of your class for Undergraduate Students). You must also still be enrolled in the program at the time of induction (fall 2019).

Loyola University Chicago inducts fewer than 5% of its students each year, so it considers Alpha Sigma Nu to be one of the highest honors the University can bestow. Your selection for Alpha Sigma Nu would establish you as one of the best and brightest students among the 28 Jesuit colleges and universities in the US. However, you must complete and submit your web-based application if you wish to be considered further for this honor.
The link to the 2019-2020 Alpha Sigma Nu Online Application is https://webapps2.luc.edu/asn/login/login and the application deadline for Alpha Sigma Nu is 5 pm, Monday, May 13, 2019.

Please scroll down to visit the important topics below:
More information about Alpha Sigma Nu
Attend ASN Information Night
Letters of Recommendation Needed, if Any
Attendance at Alpha Sigma Nu Induction Ceremony October 27, 2019
Membership Cost
Reaching out with Additional Questions
Alpha Sigma Nu Executive Board is sponsoring an Information Session: "ASN App 101" at 11:00 AM, Saturday, February 23, 2019 at Damen Den, Damen Student Center, Lake Shore Campus, to provide more information to prospective Alpha Sigma Nu candidates. Refreshments will be provided and Dr. Jo Ann Rooney has been invited to attend.
We look forward to reviewing your application and references!
Sincerely,
Goutham Menon, Dean and Professor
Loyola University Chicago, School of Social Work