Graduate, Professional, and Adult Student Team (GPAST)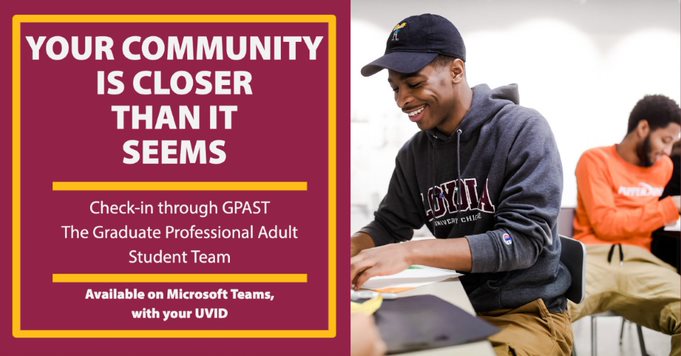 We hope that this platform will help you steer questions about your life at Loyola during COVID-19 and help you deal with the pandemic on a personal, educational, financial, social, and emotional level, while also fostering community-building and engagement.
Here are some of the benefits and goals of GPAST:
Provide two-way communication between you, other students, and University moderators in a safe LUC space
Create a peer-to-peer communication channel that would allow you to create a sense of community at a crucial time of isolation and feeling stuck at home
Create a digital space for you to have a campus away from campus 
Crowdsource COVID-19 specific information 
Connect and create awareness of University resources and programming  
Develop interdisciplinary, including spaces for sharing research and academic interests 
You already have direct access to this platform and can log in using your LUC UVID and password. You can engage with GPAST from your laptop/computer and/or download the smartphone application.  Once you enter the Team, you will be provided with a "How-To" guide, community guidelines, and helpful links to University resources.  You will also see specific channels where you can share information, ask questions, and build community.   

Please direct any queries to abeltran1@LUC.edu.