Sociology Club
All Sociology majors are invited to join us at our weekly meetings and special events. If you would like to receive e-mail announcements from us please contact Lucas Sharma, lsharma@luc.edu.
We will also be posting announcements on our bulletin board in the Sociology department, Coffey Hall, outside of 419.
Annual Research Symposium
Our next event—you don't want to miss this one!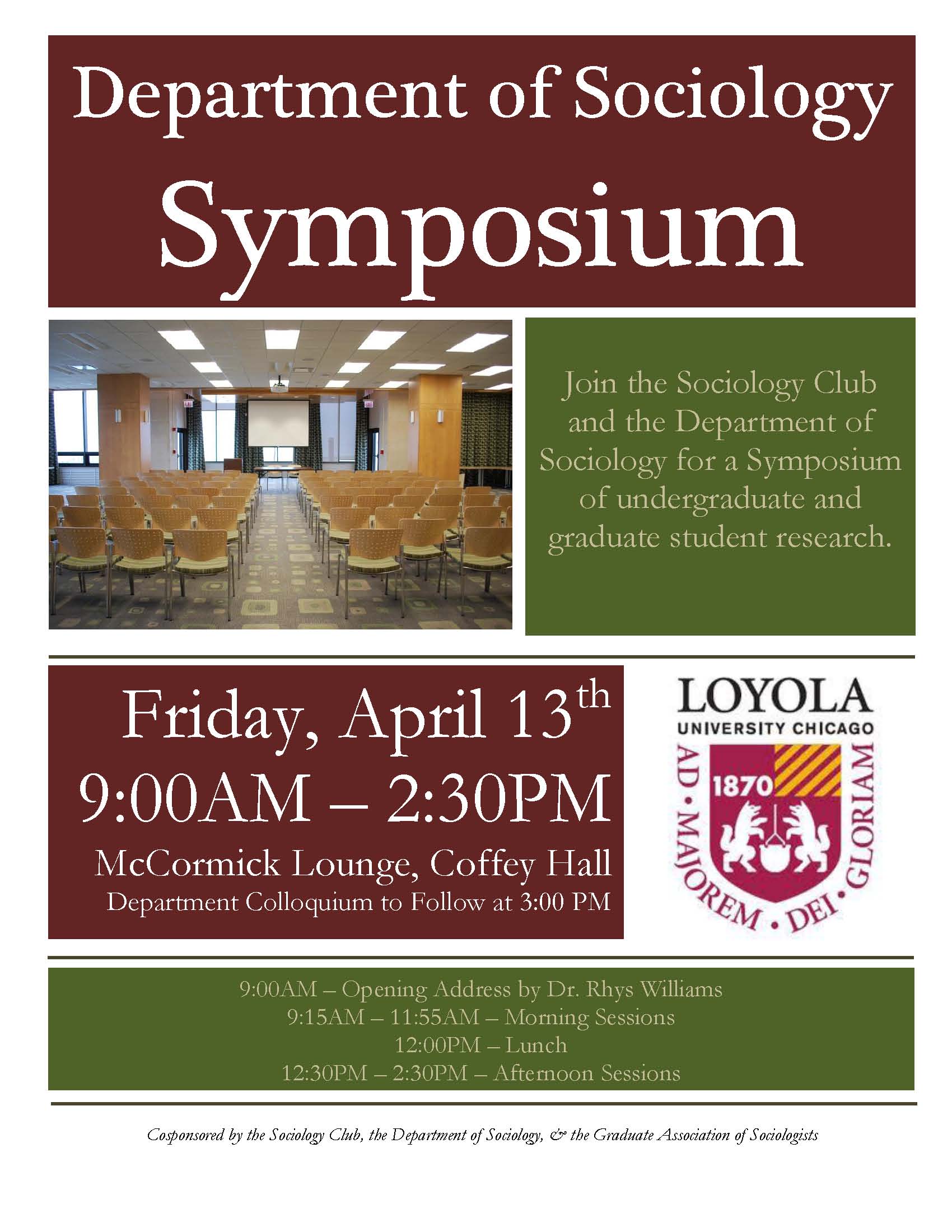 Click Here for PDF
Wednesday, September 21, 7 p.m.: Going to Graduate School Panel
Thinking about going to graduate school? It is never too early to think about ideas for the future. Sociology Club is proud to sponsor this panel with current Loyola University Sociology Masters and PhD Students.
These students will offer ideas and insights into the application process and ideas about the experience of graduate school. Join us at 7 p.m. in Coffey Hall 425.
Thursday, October 9, 6 p.m.: An Urban Adventure
Our first urban adventure for the year, Sociology Club will be traveling to the Argyle and Andersonville areas of the city for dinner and discussion. In addition to socializing and getting to know one another better, we will focus on gentrification and neighborhood change while eating a Vietnamese dinner and ice-cream. Stay connected on ORGYSYNC for more information about the first Urban Adventure for the year.
Thursday, October 27, 7 p.m.: Sociology of Horror
Join the Sociology Club for the third annual Sociology of Horror movie night and discussion with advanced doctoral candidate, Todd Fuist. The event will be in the Sullivan Center Galvin Auditorium. Refreshments will be provided. What better way to get in the Halloween spirit than watching a horror movie with the Sociology Club? This event is open to all members of the LUC community.
Past Activities
Hosted two main events, the 2nd Annual Sociology of Horror Event with Graduate Student Todd Fuist, and the "Road to Graduate School" Graduate Student Panel.
Service project: we raised hygiene products for a homeless shelter in the city. Two bake sales were held for Valentines Day and St. Patricks Day.
Sociology Research Symposium in which seven graduate students and two undergraduate students presented their original research.
Weekly Wednesday night discussions in the Lopata Lounge in Damen Hall.
Hosted a talk by Jacklyn Friedman (pictured center with Sociology club members Ruby Aliment and Ian Gramse), co-author of Yes Means Yes: Visions of Sexual Power and a World Without Rape.
Annual Spring Mini-conference, which offers an opportunity for grad and undergrad students to present papers.
Co-sponsored an excellent talk conducted by Dr. Stephen Bronner on "Reclaiming the Enlightenment".
Several Sociology Club officers attended the Midwest Sociological Society's annual meeting in downtown Chicago and met with both the Magis program and National Student Partnerships.
Co-sponsored, "The Revolution Will Not Be Televised" with the student group, LAWN as part of the visit by the Venezuelan Consulate General.
After our first meeting on September 6 in DH 957, it was decided to investigate developing a panel discussion on the current crisis in Mexico, showing films this semester, and supporting bringing in the scholar Steven Bronner (author of Reclaiming the Enlightenment).
Brought in Dr. Marco Tavani to speak about the situation in Oaxaca, Mexico concerning the ongoing teacher's strike and the repression by the Mexican government.
Showed "Manufacturing Consent" by Noam Chomsky on October 20 to highlight the propaganda role of the media.
Formed the Student Life Work Group to examine student opinion of social spaces on campus. This was fueled by Loyola's plans to build an Information Commons over the Jesuit Residence lawn without polling the general student population on their opinions and needs.
Showed the film BURN! (1970) by Gillo Pontecorvo (The film maker of The Battle of Algiers) starring Marlon Brando as a secret agent sent to an island in the 1800s to stir up opposition to colonial occupiers among the native population.