Transformative Education in the Jesuit Tradition
Transformative
education in the
Jesuit tradition [ view as PDF‌]
(Revised 2015)
"Transformative Education in the Jesuit Tradition" first edition was written by Daniel Hartnett, S.J., in coordination with a team of editors from Loyola University Chicago, February 2009. The revised 2015 version was edited by Justin Daffron, S.J., with a team of editors from Loyola University Chicago.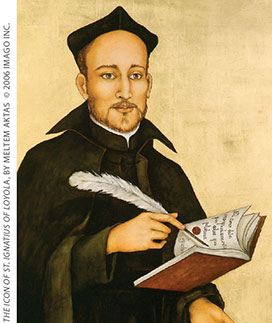 We are Chicago's Jesuit, Catholic university—a diverse community seeking god in all things and working to expand knowledge in the service of humanity through learning, justice, and faith.
As a Catholic and Jesuit University, Loyola is guided by and seeks to articulate a living intellectual tradition. All of Loyola's undertakings—its teaching, research, and service—are infused with a conviction regarding the sacred character of all reality, the dignity of every human person, the mutually informing dynamic between faith and reason, and the responsibility to care for those who are suffering most in our world. And Loyola's Jesuit pedagogy is informed by the conviction that faith, knowledge, and the promotion of justice are intrinsically related: They are not three independent aspects of education that are merely juxtaposed, but rather they form a triad in which each is dynamically related and incomplete without the others. The University invites those of all faith traditions who share this outlook to join in pursuing its goals.
This twofold intellectual tradition encompasses a rich record of discursive knowledge—or theoria— developed by intellectuals across the centuries. It includes the creative word—or poiesis—of artists who have expressed their Catholic vision through architecture, painting, sculpture, poetry, music, and dance. It also involves the social action—or praxis—of prophets and activists who generously devoted their lives to making the world a home for all. The more one reflects on this rich tapestry, the clearer it becomes that this rich tradition is a very diverse and dynamic reality, nothing like an ancient family heirloom, to be kept in a safe-deposit box. Rather, the Jesuit and Catholic tradition is ever evolving in new and unexpected ways; we can all learn from it and all contribute to it. This tradition both elicits participation and engenders personal and communal transformation.
Adapted to the Context of Today's World
A Jesuit Education seeks to address the world in which we actually live as well as the hopes and challenges of that world. Indeed, one can view the current situation in the world against a backdrop of a whole range of key desires, really, "hungers" of the contemporary world for wholeness, peace, and justice for all. These are hungers that life and learning have helped us to identify in ourselves as well as in our students, hungers that our kind of education hopes to stir and meet:
A Hunger for Integrated Knowledge: Students today appreciate having so much information at their fingertips, and yet, they long for a more robust formation that integrates their intellectual, affective, and volitional capacities and helps them to appreciate how the varied subjects and disciplines fit together reaching depth of understanding;
A Hunger for a Moral Compass: Students today experience the limitation of a moral discourse that focuses almost exclusively on individual rights while almost ignoring the responsibilities we have to each other; not looking for recipes, our students display desire to acquire an ethical foundation and a method for moral discernment;
A Hunger for Community: Students today value building meaningful community with genuine connectedness that has them engaged civically; they display a new strength of passion and commitment to use their gifts and talents for others; there is a sense among them that they have found their voice as change agents, and now they long to participate more actively, creating more good in the world;
A Hunger for a Global Paradigm: Having seen the limitations and the dangers of ethnocentrism, our students want to embrace a more cosmopolitan perspective; they see very clearly that each of us dwells in many communities, from the community of our birth to the community of the human family, and we have duties to all of them;
A Hunger for an Adult Spirituality: Tired of the polarized debates between a lifeless secularism, on the one hand, and a dogmatic fundamentalism, on the other, our students long for a spirituality that sustains and empowers, one in which there is ample room for both faith and reason.
This educational mission of the University lies precisely in the study, debate, conversation, and discovery that help students identify these hungers, form their own assessment of them, and decide how they might address them for themselves and the world they seek to shape.