Responsible Supply Chains and Greenhouse Gasses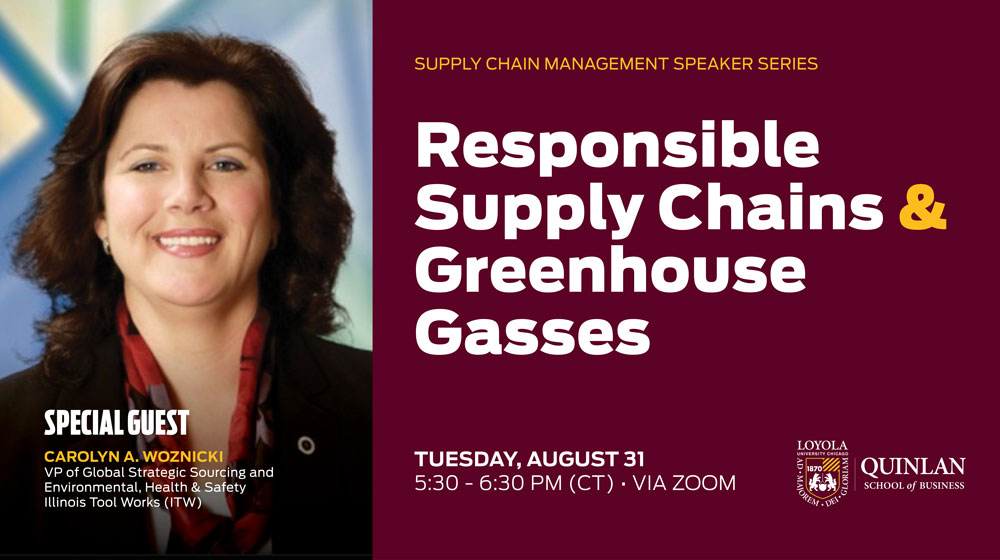 A virtual conversation with Carolyn Woznicki, Vice President of Global Strategic Sourcing and Environmental, Health and Safety for Illinois Tool Works (ITW).

Responsible sourcing is when an organization actively and consciously sources and procures products and services for their operations in an ethical, sustainable, and socially conscious way. Sourcing professionals must take this into consideration when dealing with suppliers. As greenhouse gas emissions continue to threaten the environment, supply chains are looking for ways to influence suppliers to become stewards of the environment. This presentation discusses Scope 3 Greenhouse Gas Emissions and what companies can do to take action.
About Carolyn
Carolyn Woznicki is Vice President Global Strategic Sourcing and Environmental, Health & Safety for Illinois Tool Works (ITW). She earned a master's degree in business administration from Oakland University in Rochester Hills, Michigan and also holds a bachelor of science degree in industrial administration from General Motors Institute (now known as Kettering University) in Flint, Michigan. Carolyn serves on the National Board for the non-profit Gift of Adoption. She also serves on the advisory board for the University of WI Supply Chain MBA program. She resides in Wind Lake, Wisconsin, with her husband and three children.
About ITW
ITW is a Fortune 200 global diversified industrial manufacturer of value-added consumables and specialty equipment with related service businesses. The company focuses on profitable growth and strong returns across worldwide platforms and businesses. These businesses serve local customers and markets around the globe, with a significant presence in developed as well as emerging markets. ITW's revenues totaled $12.6 billion in 2020, with about half of these revenues generated outside of the United States. Carolyn joined ITW in February 2013 after holding various supply chain roles with General Motors Corporation and then Johnson Controls.
---
This event is part of our Supply Chain Management Speaker Series Class, which is held every semester to further our mission of complementing our students' classroom experience with the advice and expertise of practitioners.