Supply Chain and Sustainability Summit 2022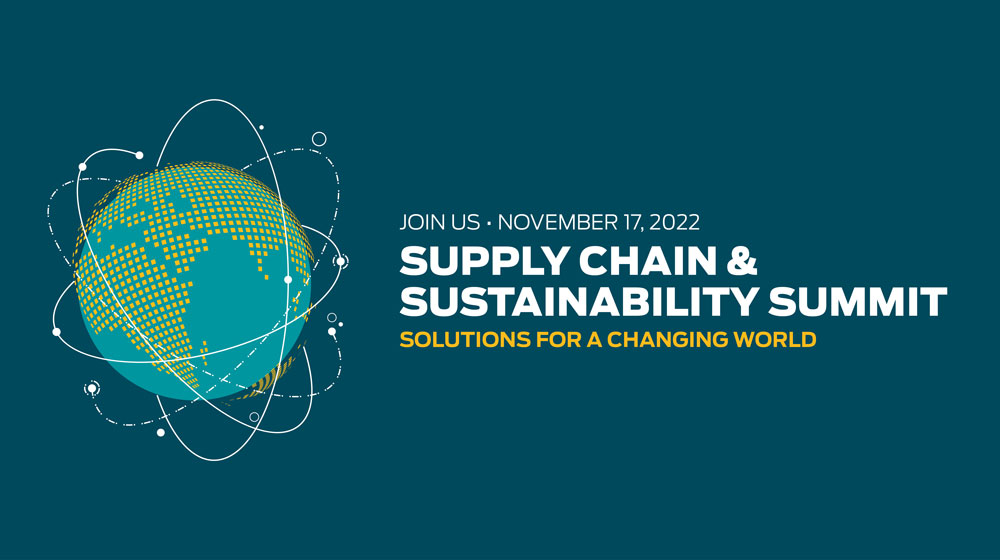 The annual Supply Chain and Sustainability Summit, hosted by Loyola's Supply Chain and Sustainability Center, convenes a cross-section of diverse supply chain professionals to share practical and innovative solutions to the supply chain challenges of today and tomorrow.
Our 2022 Summit featured panel discussions, networking, and a keynote speaker – and highlighted topics including.
Sustainable freight transportation
Waste reduction in the food and beverage supply chain
Employment resiliency
Global transportation and logistics
Rethinking sourcing strategies
Interviews
Click here to watch interviews with some of our 2022 speakers.
Event Photos
See the event photos in the gallery below or on Flikr.
Keynote Speaker
Mark Peters
CEO, Butterball Farms

The Talent Imperative
Mark will share how engaging your entire enterprise will have far more impact than 10% of your profits and how The SOURCE model of collaboration can help stabilize your workforce, business and community.
Panelists
Caroline Abzug Ceisel
Global Chief HR Officer
Martin Brower
Dave Byman
Head of New Partnerships
Spoiler Alert
Michael Crandall
VP, Sales
Gebrüder Weiss
Aaron Durnbaugh
Director of Sustainability
Loyola University Chicago
Brian Fishler
Business Account Executive
DB Schenker
Nate Greensphan
Sr. Product Manager, SaaS Products
Redwood Logistics
Stephanie Katsaros
Founder and President
Bright Beat
Pettis Kent
Assistant Professor
Loyola's Quinlan School of Business
Alexia Koutlemanis
Director, Global Sales CHQ
Nippon Express Group
Jason Malmassari
VP, Business Management
HAVI
Giuseppe Mora
Purchasing Director
Barilla
Peter Norlander
Associate Professor
Director, Institute of HR and Employment Relations
Loyola's Quinlan School of Business
Chris Perzan
VP Environment and Sustainability, Chief Environmental Counsel
Navistar, Inc.
Cerag Pince
Associate Professor, Information Systems and Supply Chain Management
Loyola's Quinlan School of Business
Joe Raphael
Director, Sourcing and Procurement Services
Allstate
Scott Renner
Transportation Manager
BimboQSR
Paul Rizzo
SVP, Fleet Management
Reyes Holdings LLC
Aniruddha Sengupta
Director, Supply Chain Services
TMC (Division of C.H. Robinson)
Anubhav Shrivastava
Managing Director, Commercial Bank Trade Head
JPMorgan Chase
Jackie Tinsley
Sr. Director, Strategy and Finance
Flavor Reddy Foods
Agenda
8:00 a.m.
Check-in / Breakfast
8:45 a.m.
Welcome
9:00 a.m.
Keynote: The Talent Imperative
Mark Peters, Butterball Farms
9:45 a.m.
Networking Break
10:00 a.m.
Panel: Sustainable Freight Transportation
Nate Greensphan, Redwood Logistics
Chris Perzan, Navistar
Paul Rizzo, Reyes Holdings
Moderator: Aaron Durnbaugh, Loyola University Chicago
10:45 a.m.
Networking Break
11:15 a.m.
Panel: Waste Reduction in the Food and Beverage Supply Chain
Dave Byman, Spoiler Alert
Stephanie Katsaros, Bright Beat
Giuseppe Mora, Barilla
Moderator: Cerag Pince, Loyola University Chicago
Noon
Lunch
1:30 p.m.
Panel: Employment Resiliency
Caroline Abzug Ceisel, Martin Brower
Jason Malmassari, HAVI
Jackie Tinsley, Flavor Reddy Foods
Moderator: Peter Norlander, Loyola University Chicago
2:15 p.m
Networking Break
2:30 p.m.
Panel: Global Transportation and Logistics
Michael Crandall, Gebruder-Weiss
Alexia Koutlemanis, Nippon Express
Aniruddha Sengupta, TMC (C.H. Robinson)
Moderator: Brian Fishler, DB Schenker
3:15 p.m.
Networking Break
3:45 p.m.
Panel: Rethinking Sourcing Strategies
Joseph Raphael, Allstate
Scott Renner, BimboQSR
Anubhav Shrivastava, JPMorgan Chase
Moderator: Pettis Kent, Loyola University Chicago
4:30 p.m
Networking Reception
6:00 p.m.
Reception ends
Event details
Date: Thursday, November 17, 2022
Time: 8:45 a.m. - 4:30 p.m. with cocktails and networking afterward
Location: Schreiber Center, 16 E. Pearson St., Chicago
Format: In-Person
---
Our sponsors
Thank you to Gebrüder Weiss, Redwood Logistics, and JPMorgan Chase for their generous support of this year's Summit.