Articles and Publications
Bringing the Real World Into the Classroom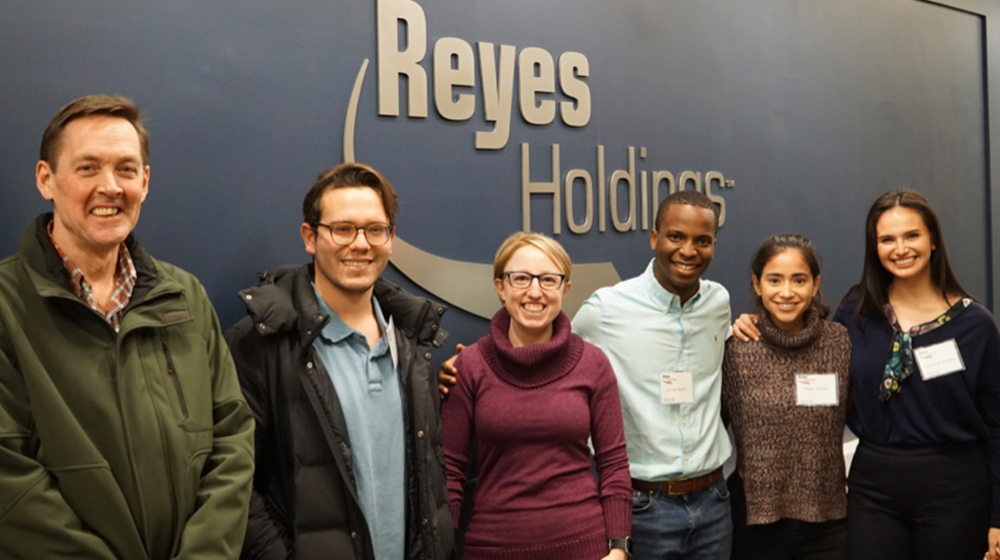 By Dr. Mike Hewitt
To prepare students for successful careers in the supply chain industry, I find it particularly impactful to connect the classroom to the real world whenever possible. This past Fall, I had the opportunity to partner with three individuals from Reyes Holdings: Annelies Van Thillo (Operations Analyst), David Ramirez (Safety Analyst) and Paul Rizzo (SVP of Fleet Management). Reyes is a global leader in the production and distribution of food and beverage products and Annelies, David and Paul were kind enough to visit my class and invite the group on a tour of the company's headquarters is Rosemont, IL.
"Reyes Holdings is excited to work closely with the next generation of leaders in supply chain management," said Annelies. "The business landscape requires us to continuously learn, grow, and adapt. By partnering with Quinlan, we hope to provide students with an understanding of what a career in supply chain management can look like for them, what real-life projects supply chain companies work on day-to-day, and help them get excited about the impact they could soon have on improving supply chain management networks."
During their classroom visit Annelies, David and Paul talked about their roles at Reyes. My students thought the conversation was both helpful and interesting.
"I enjoyed having Reyes talk about their company and what they do. Since supply chain is so broad it's nice to hear about what kind of entry level jobs are available and what types of specific positions exist in different industries."
Shortly after, my students and I took a trip to Reyes headquarters to learn about their ordering and delivery logistics operations. One of the key benefits of this visit was that it provided the students with a perspective on the end-to-end process of sales call to order intake to delivery planning and execution. In short, the visit conveyed the "big picture" in a way that can be difficult to achieve in a classroom. Student comments to the visit were very positive.
"Having the opportunity to visit "the real world" and see how companies work, grow and succeed are what make Quinlan the perfect blend of academic and field resources."
"The visit gave me a good overview of how the largest beer distributor in the U.S runs its operations, from the inside sales environment to the logistics department. I really enjoyed the presentation with input from the head of operations and other employees. Particularly how they coordinated their east and west coast packing and transporting routes. This was achieved with a tight time window, all scheduled from their office in the mid-west. Very impressive."
The supply chain faculty at Quinlan put a heavy emphasis on data analytics. Reyes enabled me to develop such a curriculum by providing a large set of data regarding driver safety incidents. They also provided a list of questions, ranging from calculating basic summary statistics to deriving managerial insights and implications, that groups of students answered based on that data set in the context of a case study. As a distribution company, driver safety is critical to the success of Reyes and its employees. This case study gave students the opportunity to see the role data analytics can play in executing successful operations. It also provided the students an opportunity to engage in a real-world data analytics project, including dealing with a large set of "messy" data, analyzing that data to determine insights, and presenting those insights in a meaningful way to stakeholders. Going forward, I intend to use this data set as the basis of a Chicago-wide Supply Chain Data Analytics competition.