Research Labs
Lasting solutions to today's environmental problems require a diverse interdisciplinary understanding. At SES, we proudly take a whole-systems approach to our greatest environmental and sustainability challenges. Our research labs cover work being done in ecotoxicology, aquatic ecology, analytical chemistry, sustainable agriculture and so much more.
Analytic Laboratories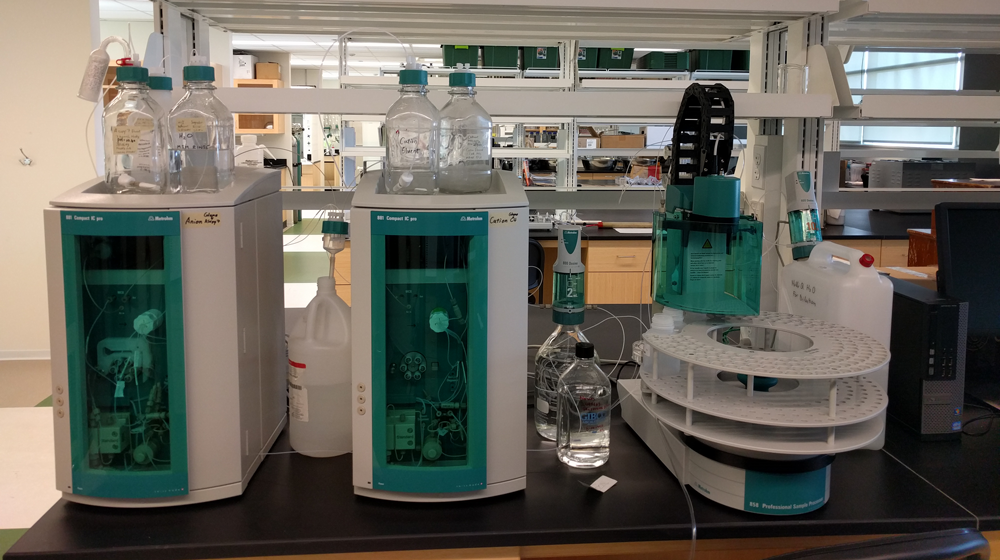 Our analytical labs are capable of a number of critical environmental tests. The tests below can be performed in SES Labs:
Soil Fertility Test
Soil comprehensive salinity test
Total Elemental Analysis/Heavy Metal Screening
Greenhouse Root Media Test (H2O or DTPA extraction)
Water Quality Analysis
Industrial Wastewater Analysis
Plant Tissue Analysis (Elemental Analysis and Total Nitrogen & Carbon Analysis)
Compost Analysis (fertilizer analysis and heavy metals)
Our labs have state of the art equipment including:
NexION 350X ICP-MS,
Metrohm 881 Compact Ion Chromatography Pro,
Shimadzu GC-2014 Gas Chromatograph,
Shimadzu TOC-L,
Thermo Scientific Flash 2000 C/N Analyzer,
The Alpkem Flow Injection Analyzer with Autosampler.
Ecotoxicology Research Laboratory
The Ecotoxicology and Risk Assessment Laboratory at Loyola's School of Environmental Sustainability is a state-of-the-arts science facility for conducting ecotoxicology research to determine the fate and effects of inorganic and organic contaminants in the ecosystem. The laboratory has water flow-through and a water recycle culture system with the light cycle and temperature control to raise different aquatic organisms for research. The organisms include standard and nonstandard species. The laboratory also has testing facilities equipped with an automatic water exchange system for conducting water and sediment toxicology research. The testing facilities are designed to control the temperature and light cycle according to guidelines of standard test methods. In addition, the laboratory is also equipped with an in-house analytical facility to support ecotoxicology research. The analytical facilities included an ICP-MS for metal analysis, an IC for ion analysis, a LC-MS and GC-MS for analysis of organic contaminants, a TOC analyzer for analysis of total and dissolved organic carbons in water, a Hot Block for tissue digestion, Fluorescence/UV-VIS Spectrophotometers to measures the absorbance and fluorescence spectra of various organic contaminants, and other instruments for measuring water quality characteristics (e.g., pH, DO, conductivity, turbidity, hardness, alkalinity, etc.).
The primary research interest in this laboratory is looking at the influence of chemical and physical characteristics of water, sediment and soil on the bioavailability and toxicity of contaminants to aquatic and terrestrial organisms. More specifically, the following objectives can be achieved.
Determination of the bioavailability, bioconcentration and bioaccumulation of contaminants, including microplastics,
Evaluation of potential toxicity of individual and mixture chemicals in water, sediment, soil, and diets,
Understanding the mechanisms of toxicity,
Evaluation of the toxicity of effluent wastewaters and determine causative agent(s) through toxicity identification evaluations,
Preparation for ecological hazard and risk assessments for aquatic and terrestrial environments, and
Providing guidance to optimize efficiency of site cleanups and assist in development of environmental quality guidelines.
Ecodome Greenhouse
Our 3100-square-foot geothermal heated Greenhouse Lab houses projects, experiments, and research related to sustainable agriculture, plant ecology, agroecology, mycology, soil ecology, and environmental science labs. Two aquaponics production systems provide project opportunities and experiments related to controlled environment agriculture. A separate mushroom production space provides a temperature controlled environment for conducting experiments in mycology using various organic waste substrate inputs. The lab also features a 60 gallon Vortex brewer for making compost tea fertilizers, a STERIS autoclave for bulk material and soil sterilization, LED grow lights, and lab tables for classes and groups to gather. The Greenhouse Lab student team led by the Manager, Kevin Erickson, is available to help with project design, shared supplies, project maintenance, and irrigation schedules. Greenhouse space is available to all SES faculty, staff, and students and provides volunteer and Internship opportunities through the Urban Agriculture Program.
Examples of current and previous research/projects:
Soil lead phytoremediation
Mushroom production with organic waste materials
Nitrogen uptake analysis
Anaerobic digestate fertilizer using campus waste
Aerobic tea fertilizers using fish waste
Plant decomposition analysis
Aquaponics nutrient cycling
Dr. Ray Dybzinski's Lab

The Dybzinski Lab (aka "Labzinski") at Loyola University Chicago's School of Environmental Sustainability is focused on two core areas of research: (1) sustainable agriculture and (2) the reciprocal effects of plant traits and global climate change factors. With expertise in mathematical modeling, ecosystem ecology, community ecology, game theory, field experiments, greenhouse experiments, plant physiology, and statistics, Dr. Dybzinski is prepared to advise a variety of projects involving plants.
Examples of on-going and completed projects include:
A field experiment to determine the ecosystem services of the more sustainable perennial wheat cultivar Kernza®
A game-theoretic mathematical model of perennial versus annual crop types to help focus breeding efforts
Empirical links between the carbon and nitrogen cycles via root traits
Theoretical links between the carbon and nitrogen cycles and their effects on carbon storage under global change factors
Building ecological realism into large-scale Earth Systems Models
Sustainable business management: lessons from resilient ecological systems
Team Typha: Great Lakes Coastal Wetland Research
Team Typha is a research consortium led by Dr. Nancy Tuchman and managed by research associates Shane Lishawa and Drew Monks. Focusing primarily on invasive wetland plants including the hybrid cattail (Typha x glauca), the team investigates how these invaders affect the structure, function, and provisioning of ecosystem services by critical wetland habitats across the Great Lakes Region. With a diverse toolkit of skills ranging from field research, wetland mesocosm studies, remote sensing research with drones, and spatial analysis of complex environmental data using GIS, Team Typha is prepared to tackle ecological questions related to the effects, detection, and management of invasive plants. We have several ongoing projects and are always interested in mentoring both undergraduate and graduate students here at SES, as well as seasonally at the University of Michigan Biological station. Some current projects include:
Management of invasive cattail for bird, fish, and plant biodiversity in Northern Michigan Wetlands (Funded by the Great Lakes Restoration Initiative)
Remote sensing and investigation of the effects of an emerging invader, European Frogbit, on wetland structure and function (Funded by the Michigan Department of Natural Resources)
Remediating runoff and creating renewable energy by harvesting invasive wetland plants from Illinois Tollway detention basins (Funded by the Illinois Tollway)
Investigating the effects of invasive cattail on wetland microbial communities (LUROP project)
Searle Biodiesel Lab
The Searle Biodiesel Lab houses Loyola's award-winning Biodiesel program. Students have built a self-sustaining business by converting portions of our campus waste stream into marketable products like biodiesel for our shuttle bus systems and hand soap for our campus restrooms.