archive
STEP courses give students chance to make a difference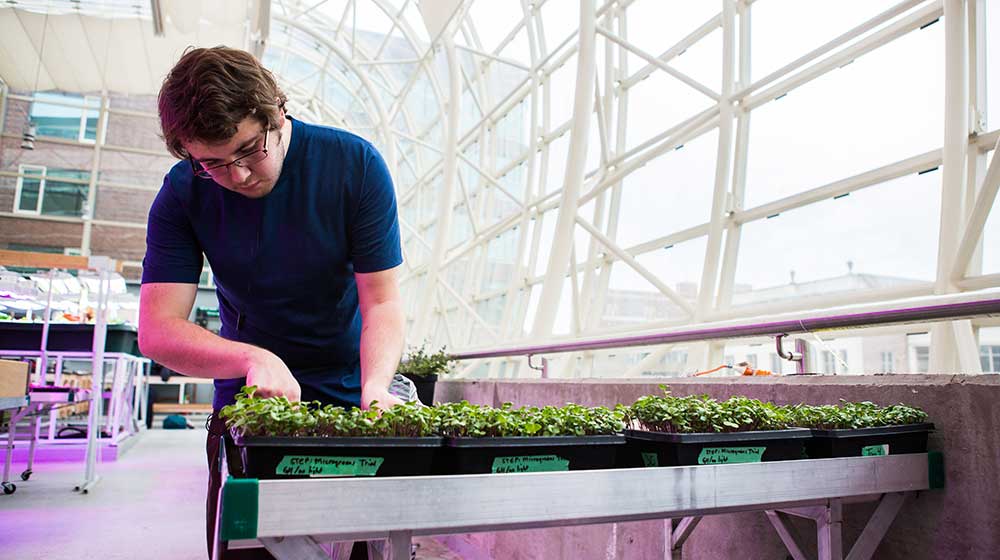 By Anna Gaynor
Research the problem—and then go solve it.
If it sounds challenging, that's because it is. Yet students each semester in the Solutions to Environmental Problems (STEP) class study, develop, and enact a service project to address a local environmental issue. The fun part? Students pick the undertaking they want to study.
"It's not like a lot of other classes I've taken in that it's not really about taking tests or writing papers," Jon Barber, an environmental science major, said. "You have freedom to actually choose what you want to do and pursue that."
During his freshman year, Barber noticed that much of Loyola's outdoor urban agricultural spaces go unused during the cold months on campus. So given the opportunity to choose what he wanted to study, Barber—now a senior—decided to research ways to extend the growing season into winter.
To do that, his group experimented with simple crops such as sprouts and microgreens to learn more about growing them in different spaces—from small indoor areas like a home kitchen to large greenhouses like the University's Ecodome. The group hopes its research will shed light on easy and affordable methods that people can use to grow fresh produce at home during the winter.
A different kind of course
Each semester focuses on a different theme: food systems, water, or energy. Within those topics, students can decide what issue to tackle while getting guidance from STEP coordinator Tania Schusler, PhD, and from the staff, faculty, or community mentor attached to each project.
"I don't think there's any other class, especially if you're an environmental science major, that's like it," Jason Moon, Barber's group partner, said. "Most classes are lecture-based. You get to be more hands on in creating change in the world because you get to do your own project to try and solve the problem."
The rest of Barber and Moon's classmates are working on their own projects, such as raising student awareness for Loyola's composting initiative, developing a curriculum for a local elementary school's healthy living program, working with the Greater Roseland West Pullman Food Network, and making upgrades to Loyola's beehives in the Winthrop Garden.
"It's a much different structure than any other class," Maggie Nykaza, a food systems and sustainable agriculture major, said. "You really get to choose what you get out of it. You really get to work on what interests you most, and you get to make a lasting change at Loyola's campus."
Actually, a lot of changes on campus have originated from STEP, which has served as the catalyst for the Biodiesel Lab, the Loyola Farmers Market, and just last semester, the bee apiary.
"I heard about this project, bringing bees to the garden, and I just thought that since Loyola's already home to bees we should make sure that they have a good habitat around," Nykaza said.
Nykaza and her two team members are planning upgrades to Winthrop Garden's apiary, including new signage, a barrier to keep bees from wandering into a nearby alley, and native plants to provide them with some safe foraging grounds.
Learning beyond the classroom
Besides taking class trips for a food canning and preservation workshop and to visit a food distributor and a local organic market, STEP students have listened to guest speakers from across Loyola. While some talk about the environmental impact of industrial farming or the safety of GMOs, students also get perspectives on the obesity epidemic from the Marcella Niehoff School of Nursing and the evolutionary history of agriculture from the Department of Anthropology, among other topics.
The wide array of speakers mirrors the variety of skills students develop over the course of the semester. There are project-specific ones such as beekeeping, writing a business proposal, and developing and executing a scientific experiment. Beyond that, students have told Schusler what else they've learned to do better—including meeting deadlines, overcoming unexpected challenges, speaking in public, and becoming more engaged with their own education.
Schusler stresses that the STEP courses are unique because they involve several disciplines and plenty of hands-on activities. The classes also represent Loyola's commitment to the Jesuit idea of a transformative education, where students learn to understand their own gifts and then learn how to use those talents to create a difference in the world.
"That's really the strength of STEP because it gives students an opportunity to build on talents they already bring to the classroom but then also to develop new skills, new strengths," Schusler said. "It gives them an opportunity to explore a variety of different ideas and avenues in terms of understanding a problem and creating change to help solve it."