archive
Back to the soil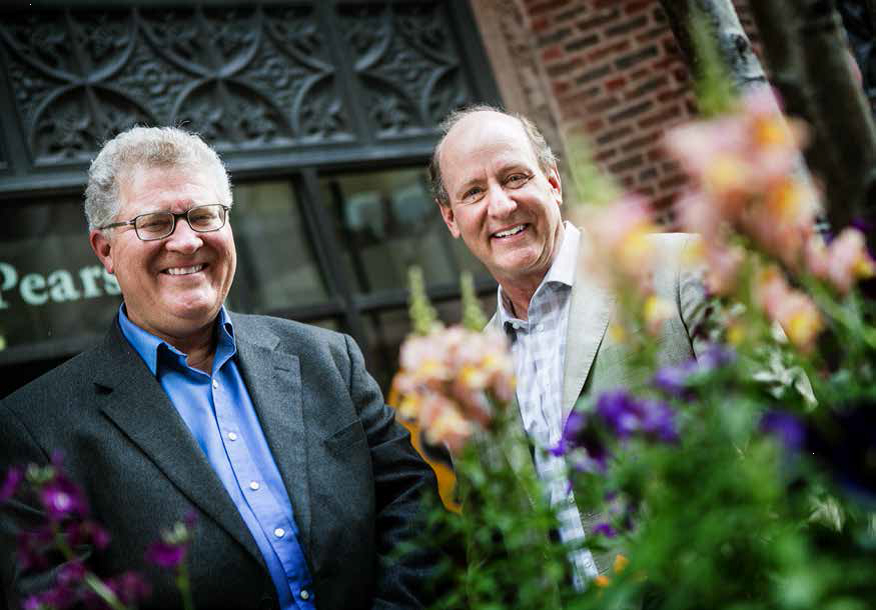 By ANASTASIA BUSIEK
In 2007, Dave Miller (BS '75) left a 30-year career in banking and real estate finance management and moved into organic farmland investments. He had reconnected with friends and family who had been doing organic farming, and he decided to purchase his uncle's 10-acre farm near Danforth, Illinois, in Iroquois County. He wanted to make a new career out of buying farms, managing them, and converting them back to organic. Miller brought his idea to Stephen Rivard (BS '75, MD '79), a friend since high school and his roommate at Loyola.
"Dave and I have been dear friends all of our lives, effectively," says Rivard. Rivard, who at the time co-directed the emergency medicine department at Good Shepherd Hospital in Barrington, Illinois, was interested in organic farming on the basis of its health implications. "The chemicals that are now in the DNA of our food are poisonous," he says. "We can neither digest nor assimilate these chemicals. If what we eat has no contaminants and is not modified, it's healthier for us."
With Miller's business experience and Rivard's medical expertise, the two came up with the concept that became Iroquois Valley Farms.
Miller and Rivard put together 10 friends and family members to buy 142 acres in Iroquois County. They now have more than 100 members and buy about a farm a month. Miller is CEO of Iroqouis Valley Farms, and Rivard is the Chair of the democratically elected board. Iroquois Valley's business model is to buy farmland and lease it to mostly organic, mostly young, farmers.
"You're an organic farmer, either currently in operation or thinking about it," Miller says. "You need 80 acres, but you can't afford to buy the land outright. So we buy it, you lease it, and you're off and running."
The plan is that the farmland will remain with that farmer for years to come.
"When we buy a farm, we don't intend on selling except to the farmer," Miller says. "It's our intention that the farmer will have that land for the rest of his or her life."
Iroquois Valley develops relationships with farmers looking to transition land to organic, and doesn't move to buy land until it has a tenant prepared to farm it.
As Miller puts it, "We're not a trading company; we're a food company helping to impact the next generation of farmers."
It takes three years to transition conventional farmland back to an organic state. A farmer cannot use pesticides, fungicides, herbicides, or other synthetic toxic chemicals, and must use no genetically modified seeds, in order to meet USDA organic standards. Planting a diverse rotation of crops naturally rebuilds the fertility of the soil. Microbacterial life returns, and earthworms—which Miller calls "the livestock of the soil"—flourish. The farm can now produce foods and feed that are certified organic.
"When we change the soils that we farm, we change the foods that are grown from those soils," says Miller.
Initially, the primary crops were hay, corn, soybeans, and wheat. Now farmers are starting to grow specialty grains, like spelt, and edible beans. New farms provide organic feed grain, hay, and pasturelands for organic dairy production. It is up to each farmer to determine what to grow and sell within the local market. After seven years of leasing the land, Iroquois Valley will provide a purchase option to the farmers, although the farmers don't have to buy it.
"In this business, historically, people have intended to sell the land," Miller says. "You would take the money, take in investors, and then sell after five to ten years. We designed a company in which you don't sell the land; you sell the stock."
If the farmer doesn't buy the land after the initial lease, Iroquois Valley can continue to hold it.
"It takes time and energy to show investors this, and to make them into believers," Miller says. "Typical investment capital isn't always enlightened about sustainability or its importance. We provide that enlightenment."
"We're encouraging people to invest in a healthy alternative to the stock market," Rivard says. Although bringing committed investors on board can take years, the efforts of Miller and Rivard are bolstered by the growing trend toward socially responsible investing.
"How do we change the world? Eat healthier and invest in what we eat," Miller says.
Through this combination of education, purchasing power, and commitment to sustainability, Iroquois Valley Farms has cultivated a social enterprise business model that works—and one that Miller and Rivard hope will change farming, investing, and public health for the better.