archive
Achieving the Gold Standard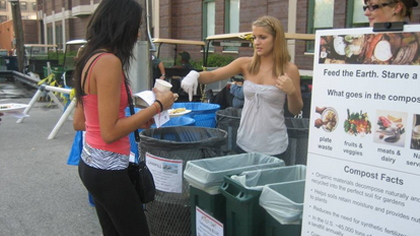 By Brigid Paulson ('17)
When Taylor Choy ('17) interviewed Loyola's Director of Community Relations Summur Roberts last year, she wanted to get a sense of how Loyola's sustainability initiatives were perceived outside of campus. "I also needed to know how Loyola works with the community in terms of sustainable programming." This wasn't part of a class project; Choy was working with a legion of students to help Director of Sustainability Aaron Durnbaugh complete Loyola's 2017 STARS Application.
STARS stands for Sustainability Tracking, Assessment, and Rating System and it's administered by the Association for the Advancement of Sustainability in Higher Education (AASHE). "What's important to know about STARS," comments Durnbaugh, "is that it almost acts as a credentialing program for sustainability within higher education." STARS is not a ranking system, and relies on colleges and universities to self-report their data, which is then reviewed for accuracy by AASHE staff and is publicly available to be evaluated by peer institutions. Higher education institutions that have received gold or platinum level STARS ratings are leaders in sustainability.
Loyola has participated in the STARS program since 2014, and currently holds a Gold STAR level rating received in February of 2017. Credentialing for the program happens every three years, and Durnbaugh emphasizes that everyone, from students to staff to community partners, works together to provide and collect data on the inner workings of Loyola. "We are addressing sustainability in different activities, academic, operational, administrative, to achieve the gold level rating," says Durnbaugh.
The data collection process is key to a university's STARS rating. The more information provided for the STARS categories, the more information AASHE can use to evaluate the university. The rating scale for STARS is out of 104 credits. With Durnbaugh's latest submission, Loyola scored 70 credits, earning our second Gold Rating and up five points from the 2014 report. With a threshold of 85, this is still 15 credits short of a Platinum Rating. The credits in STARS are applied through various categories, from building construction to course curriculum to student engagement. STARS, unlike other sustainability rating systems, emphasizes an all-encompassing view of sustainability.
"STARS is an example of how the word 'sustainability' is not just an environmental term, but it assesses diversity and the university's commitment to community engagement," comments Choy.
Nevertheless, if Loyola hopes to obtain a Platinum Rating, Durnbaugh says more changes are necessary, but there's already a few on the table. The GoSolar Initiative, led by the Student Environmental Alliance, will install solar panels on the Lake Shore Campus. Another group of students is interested in working with Aramark on Loyola's food sourcing.
Durnbaugh also discussed the need for Loyola to engage the faculty and staff in sustainability. "Providing incentives for faculty to develop sustainability courses, creating an employee educator program on diversity, an eye towards environmental justice, and a reduction in the resources we consume are some of the challenges we look forward to addressing to improve our STARS rating."
Come 2020, Loyola may be a few steps closer to securing a Platinum rating.