Youth Climate Activists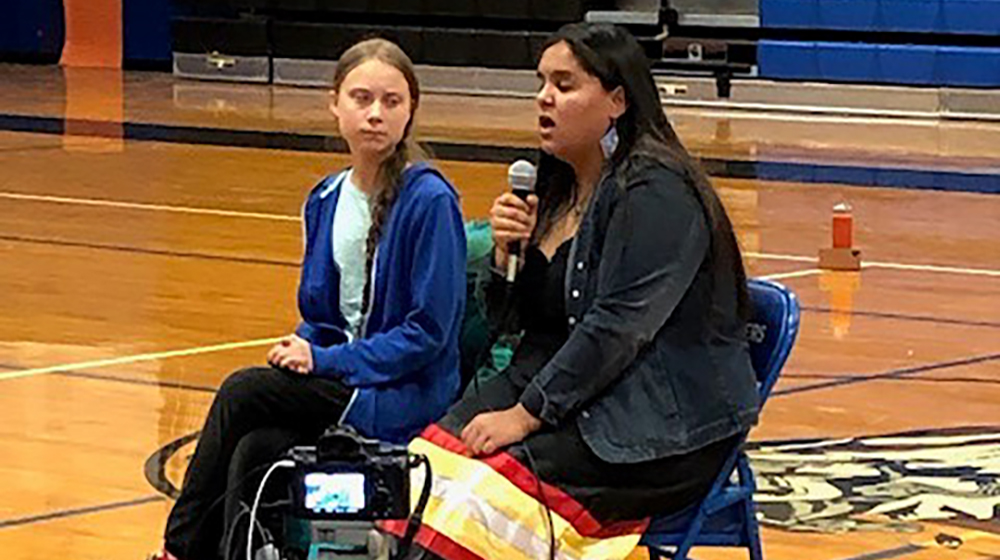 Youth Climate Activists Strike for Hope and Aim to Educate
Tokata Iron Eyes and Greta Thunberg have learned they have a lot in common. Both Thunberg and Iron Eyes are 16-year-old climate activists who are missing school in order to "fight for their futures and that of their children." They know that climate change is an issue that affects people from all walks of life, and though the teenagers met only recently in Washington D.C. during the climate strike, they bonded instantly. On October 6, Thunberg and Iron Eyes spoke to an audience of supporters that included SES Dean Nancy Tuchman and SES Professor Michael Schuck at Iron Eyes's high school in South Dakota.
"It was moving to experience these two youth climate activists reflect upon the urgency of the climate crisis," said Dean Tuchman. "I was thrilled to be able to invite Greta to be part of our climate change conference this March and join Tokata in our Keynote Conversation with other youth climate activists. I am crossing fingers she will join us via video from Stockholm, as I'd love to continue this conversation at Loyola."
Listed below are some key points that Dean Tuchman and Professor Schuck took away from the presentation.
People are unaware of the urgency of the crisis. Both girls believe that people all over the world need more in-depth information in schools, in the media and from leadership. People need to listen to scientists and experts in the field and act accordingly.
Indigenous people must be a part of this conversation. Worldwide, 80% of the planet's remaining biodiversity is entrusted to indigenous peoples. Indigenous people have the knowledge and practices for living in harmony with nature and we need to learn from them. The activists acknowledged that the loss of biodiversity is heightening and speeding up the impacts of greenhouse gases on climate change.
How do these activists remain hopeful? Thunberg and Iron Eyes feel as though they have no choice except to act on behalf of the planet. They must keep pushing for their futures and those of their children. They would not be able to look themselves in the mirror if they were to give up on this fight and ignore the impending chaos driven by climate instability.
Thunberg is a climate activist from Stockholm, Sweden. When she was eight, she learned about climate change and the loss of biodiversity and was shocked about the general cultural inaction towards these issues. A year ago, she began striking outside of the Swedish Parliament on Fridays. Over time, more students across the world joined her. She gave this TED talk that went viral. On Sept 20-27, 2019, she participated in the Global Climate Strike where an estimated 8 million youth and climate concerned people from around the world mobilized in a call for action. It is the largest activist movement in history.
Iron Eyes was part of the Standing Rock Lakota Youth, who opposed the Dakota Access Pipe Line. She and some of her peers ran on foot from North Dakota to Washington, D.C. to deliver 350,000 petition signatures asking to stop the pipeline. She continues to advocate and organize for indigenous youth, their futures, and for the planet.
Next March, attendees of Loyola's sixth climate change conference will have the chance to listen to a conversation between Tokata Iron Eyes and other youth climate activists. For more information regarding Loyola's climate change conference, visit LUC.edu/climatechange and register to attend next year's conference.