archive
Loyola Alum Works with Youth to Promote Diversity in Broadway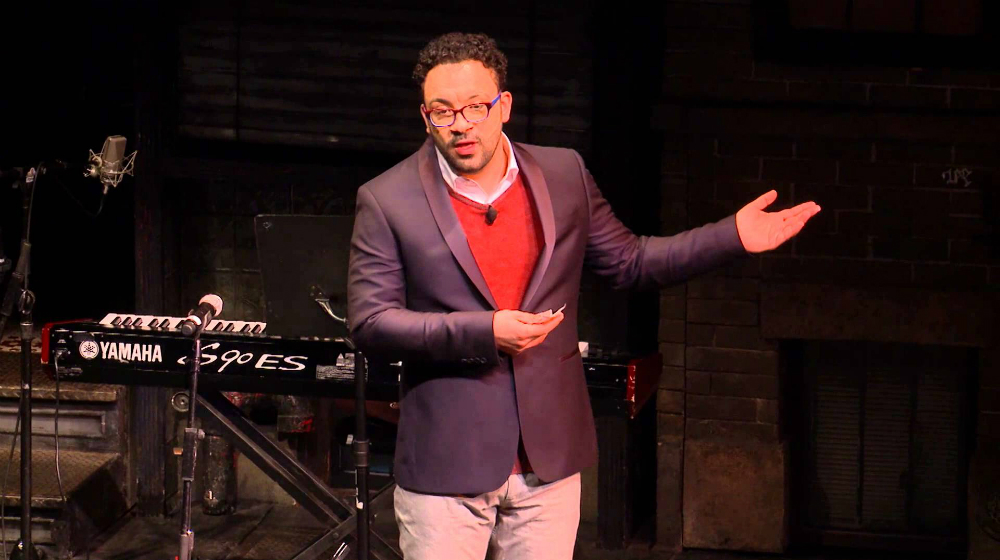 Loyola alum and actor Osh Ghanimah was in the seventh grade when he had his Tevye moment.
The Palestinian-American living in Chicago wanted desperately to play the Jewish Tevye in his school's production of Fiddler on the Roof, much to his mother's dismay. She told him she'd rather be mauled by lions than have her son be an actor. In her words, Arabs just didn't act.
"Do you see anyone who looks like us?" she once asked him, pointing to a TV screen. "There is no room for us there."
But Ghanimah's teacher cast him as Tevye anyway, and he excelled in the part. It was what he later coined his "Tevye moment."
"It's that moment when someone's sense of possibility is so strong, he feels he can be in any story and play any character." He credits his teacher, and the Chicago Public School system, for giving it to him.
Today, he's working to give the next generation of actors their Tevye moment as well.
Ghanimah (BA, BS 2006) is the founder of Broadway for All, a non-profit conservatory that offers tuition-free training to middle and high school students of all income levels and ethnicities.
The program began in 2012 when Ghanimah received the Presidential Public Service Fellowship from The Office of the President at Harvard University while he was working towards his MFA in Theater.
He sought to address the longstanding diversity problem in the theater industry. Although there are a handful of progressive casting directors today, and television is beginning to see more diversity, the Broadway stage still reflects mainly the white experience of its writers, directors, and actors.
"Our audiences are changing," Ghanimah said during a TedxBroadway talk he gave earlier this year. "We need to respond to this if we want to do good business."
Ghanimah, who has appeared on several network television shows himself, met directly with industry leaders to discuss this problem. He found that while many casting directors and producers liked the idea of diversity, they had a hard time finding minority talent and convincing writers to make changes.
Broadway for All sought to address this issue by developing a diverse talent pool, as well as inspiring more diverse storytelling. In fact, all participants in the program sign a pledge to work for inclusiveness in their future careers.
Students in the five-week conservatory spend six hours a day, five days a week working with a diverse faculty from the TV, film, and theater industries. They are also given the opportunity to attend Broadway productions to supplement their learning. In addition to studying technique and audition prep, students collaborate to produce a play and a musical by the end of the program.
Professor Sarah Gabel, Chair of the Department of Theater, attended the final showcase put on by students this past summer.
"What I found impressive was how empowered the students were about their future in the arts and the community that developed between the families and friends of students in the program," Professor Gabel said.
The program has led to great success for several of its alumni. The organization has assisted students in gaining entrance to college theatre training programs, and several past participants have gone on to make professional acting debuts in The King and I, Matilda, and Finding Neverland.