Tutoring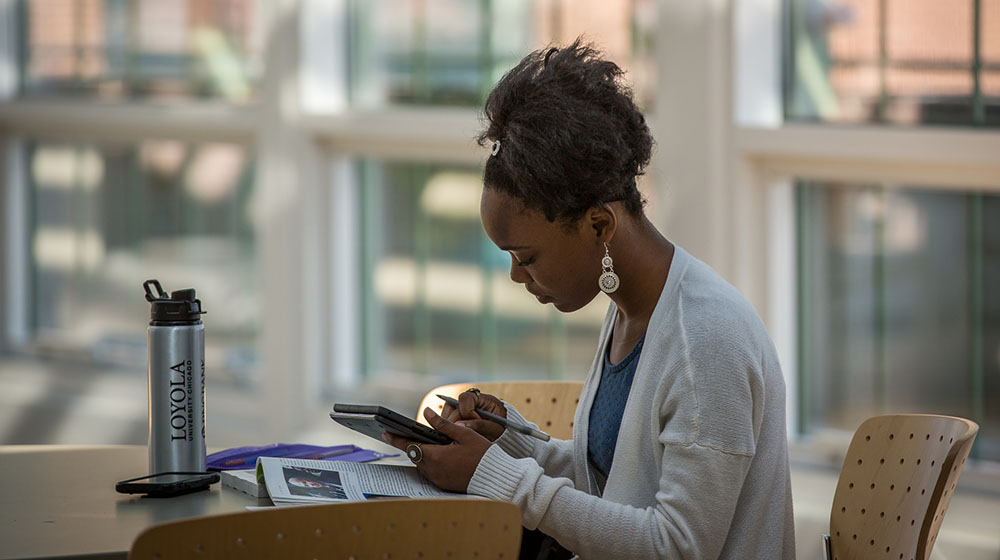 "The path to knowledge need not be traveled alone"
‌Research shows that students learn more and remember information longer when they actively engage in their own learning. One of the best ways to do this is to work in groups. When you and your peers begin asking each other questions, thinking through solutions together, and hearing answers to questions you hadn't even thought of, you learn better. That's why our various tutoring programs are popular...and effective.
Group tutoring is available during fall, spring, and summer semesters primarily for 100 and 200 level undergraduate courses.
Please note the Tutoring Center does not offer tutoring for graduate level courses or provide writing assistance. Please visit our colleagues in the LUC Writing Center for assistance.
---
Peer Tutoring‌‌‌
Peer tutoring is set-up at Loyola in study groups of 3- 8 students led by an undergrad peer tutor. The classes sponsored through peer tutoring are often historically difficult. Appointments are required for all group tutoring and must be made 12 hours in advance.
Summer 2019 Group Tutoring Offerings (schedule released one-week before summer session A):
BIOL 101/102
CHEM 101/102/ 223/ 224
PHYS 111/112
Math 117/118/ 131/132
To join the group, follow the directions below:
Login to TutorTrac
Use your LUC username/password to login
Click "Search Availability"
Select CENTER as "Tutoring Center"
Select SECTION as your course
Select REASON as "Group Tutoring"
Then click "SEARCH"
Select the date/time of the appointment and you are good to go!
---
Fall 2019 Group Tutoring Offerings (schedule released the first week of the semester):
BIOL 111
BIOL 202/ PSYC 202
ENVS 203/ 207/ 223/ 274/ 275 & UCSF 137
GNUR 294
Math 161/ 162/ 263/ 264
PSYC 304/ 202
STAT 103
Business courses Group Tutoring Offers (fall and spring - schedule released first week of the semester):
ACCT 201/202
ECON 201/202
INFS 247
ISSCM 241
FINC 301
Tutoring for business courses are located at both the Lake Shore Campus and Water Tower Campus:
Lake Shore Campus: Tutoring Center, Sullivan Center, Suite 245
Water Tower Campus: Lewis Towers, 12th floor, Room 1241
Language Tutoring (fall and spring - schedule released first week of the semester):
In collaboration with the Language Learning Resource Center (LLRC), language tutors are available to assist students in developing language skills. Tutoring sessions are held at the LLRC located in Crown Center room 208 for various languages. Appointments are required.
Arabic
Chinese
French
German
Italian
Japanese
Polish
Spanish
Expected Spring 2020 Group Tutoring Offerings:
ENGR 321 (may be covered by SI)
ENVS 203/ 207/ 223/ 274/ 275 & UCSF 137
GNUR 238/ 297
Math 161/ 162/ 263/ 264
PSYC 304/ 202
STAT 103
---
Commonly Asked Questions
Who would be in your tutoring group?
3-8 students per group within the same course (e.g. STAT 103)
Group can meet once a week for one-hour (same day/time) for the entire semester
Sessions led by a trained peer tutor
What if my class is not sponsored by group tutoring?
If your course is not currently supported by SI or group tutoring, there needs to be at least 3 students in a course (e.g. STAT 103) who need assistance and are currently enrolled in the course. If you have tutoring needs and there is not yet a tutoring group set up, please contact Annie Kelly, Associate Director of the Tutoring Center at akelly2@luc.edu and she will send you a form to complete. When at least 3 students have indicated they need tutoring in the same class, a tutoring group will be created and a tutor assigned. Students are able to partake in 1-hour of group tutoring per subject per week.
Do you offer 1:1 tutoring?
We offer 1:1 peer tutoring opportunities for ACE Scholars, students registered with Student Accessibility Center and receive tutoring as part of their accommodations, and student athletes. If you follow into one of these communities, you may request 1:1 peer tutoring.
Getting the Most Out of Tutoring
Request tutoring early in the semester (if we do not already sponsor the course)
Group members can be added throughout the semester as requests are made
Come to every tutoring session on time
Attend class, take notes, and do your homework

outside

of your tutoring time--small group tutoring is a supplemental academic support, not a substitute for doing your own work
Bring your book, notes, and questions to the tutoring sessions