archive
A powerful force for change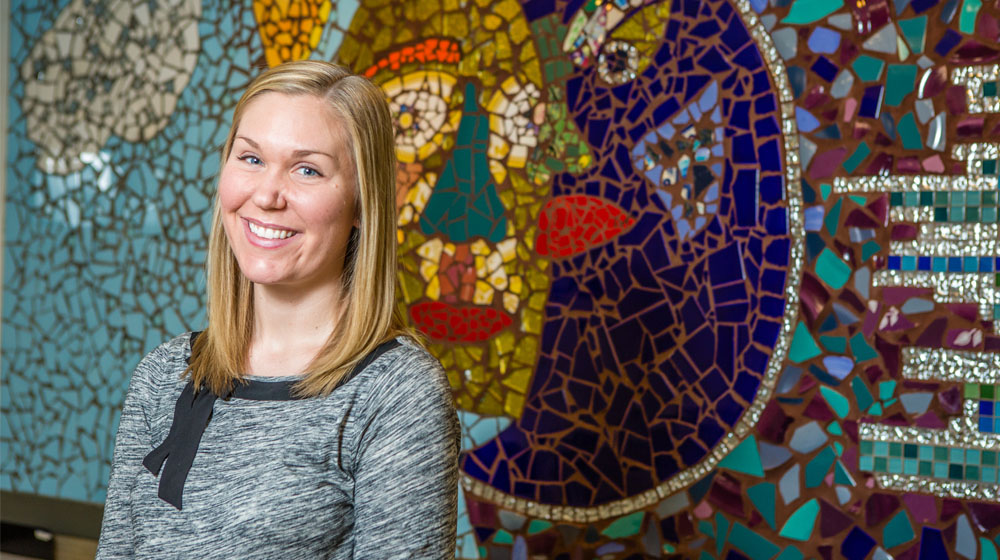 By Nick Greenhalgh (BA '15)
Candace Musick (BSW '08, MSW '09) knew from the start that she wanted to help people, but she never intended to spend her days working with teenagers. "I did not want to work with teenagers or kids. I didn't enjoy being a teenager myself, so why would I want to be surrounded by that every day?" Musick says. "But I came in here and fell in love with the work we do."
IGNATIAN HERITAGE
St. Ignatius encouraged his followers to seek God in all things, to serve those in need, and to become people for others. Learn how his mission can be seen in everything we do at Loyola.
Read more stories
Musick is the residential services coordinator at the Open Door Youth Shelter in the West Town neighborhood of Chicago, part of the Night Ministry—a Chicago-based organization that provides housing, health care, and human connection to people experiencing poverty and homelessness around the city. "The youth are just so incredibly resilient and amazing and spunky. It really keeps it interesting and made me fall in love with this work," she says.
While studying at Loyola's School of Social Work, Musick began interning with the Night Ministry. After her internship, she was offered a job there and has stayed for the past seven years.
Musick coordinates cultural activities, outings, and life-skills groups for homeless youth, spending much of her time in the shelter. She enjoys working directly with the youth in order to motivate them and help them grow as individuals.
Musick has served over 100 homeless youth ages 14 to 20 in her time at the Night Ministry. "I've met so many people over the years. It's incredible to me that youth still come in and say, 'Hi, Ms. Candace,' and want to talk to me," she says. "I know they've encountered so many people in their lives. That speaks to the connections we make."
For Musick and the Night Ministry staff and volunteers, joy comes from seeing young people accomplish small life successes that others may take for granted. "To be able to see a youth get her first job or fill out her first resume and run around the building excited to show everybody…I think those are small and important successes."
Musick attributes much of her achievement to the experience provided by the School of Social Work. She knew from her first semester at Loyola that social work was the field for her. "My freshman year, first semester, I had Social Work 101. I remember after my first class going home to my roommate and saying 'This is it. This is what I need to do.'"
Musick has seen the field of social work change over the years, though one thing has remained constant. "Empowerment is a huge part of social work and being a social worker. You're not always doing the change; you're helping empower people to make changes for themselves," Musick says. "Social work can be a powerful force for enacting change. I think it can totally change communities and people."
More Featured Stories
Women in STEM

Loyola's Girls Who Code chapter aims to provide a space for young women to learn, teach, and explore coding in an inclusive and supportive environment.


Archdiocese of Chicago

In honor of his elevation to the College of Cardinals, Cardinal Blase Cupich received a hand-carved processional cross from Loyola President Jo Ann Rooney, JD, LLM, EdD, on behalf of the University community.


Quinlan School of Business

Students from across the Quinlan School of Business engaged in a lively and interactive dialogue with leading social entrepreneur Mark Hanis as part of a leadership conversation series hosted by the Baumhart Center for Social Enterprise and Responsibility.