Coffey Hall
History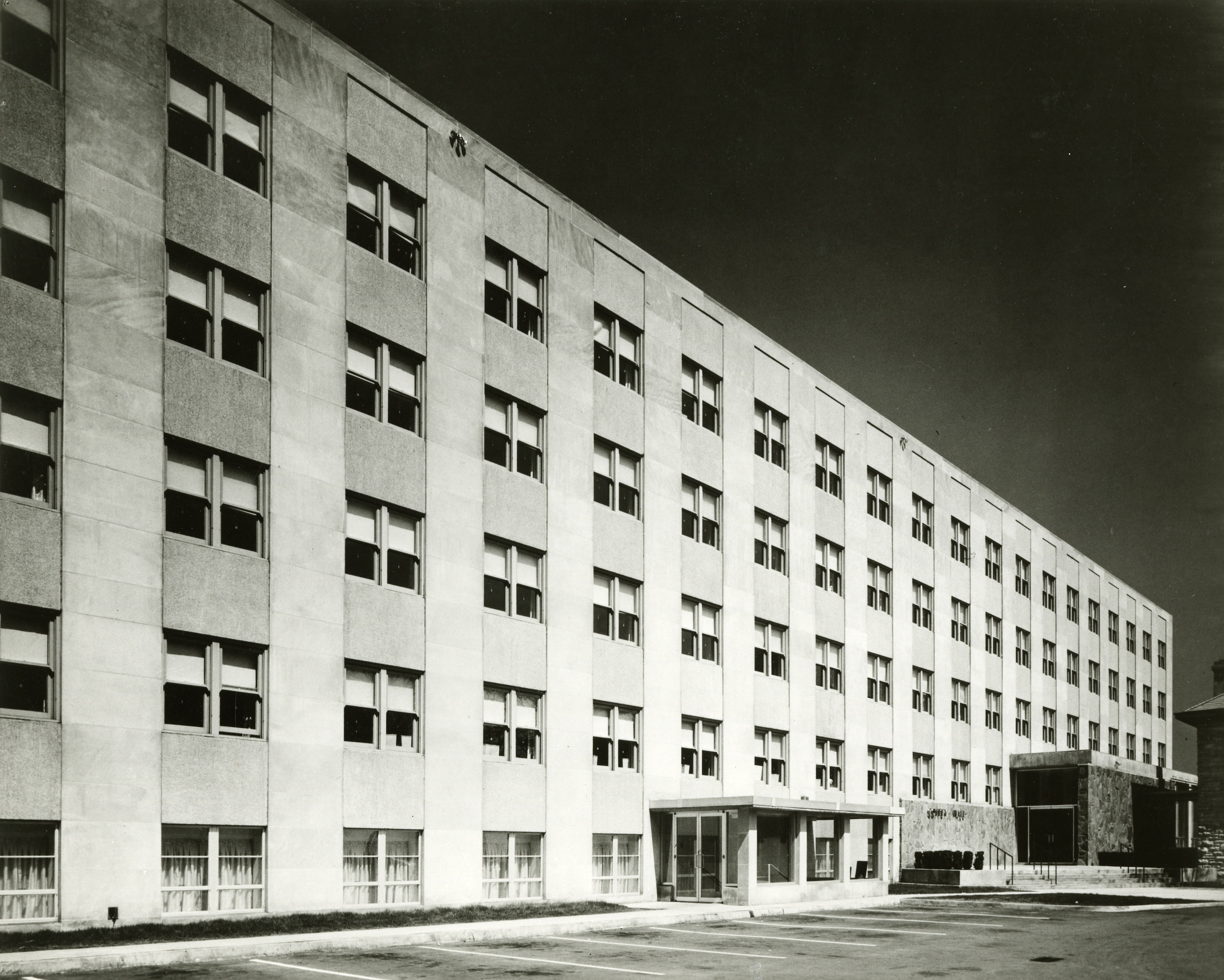 Coffey Hall, circa 1963. Mundelein College Photograph Collection
This Loyola University lakeside building, with its unique lounge featuring views of Lake Michigan through three walls of windows, was built in 1960 as a dormitory for Mundelein College students. The first and only dormitory built by Mundelein, Coffey Hall provided 206 residents with on-campus housing and areas for students to gather for a variety of recreational activities.
Mundelein College began as a self-contained skyscraper college, with its Art Deco building providing space for all the college's activities. It was expected that the school would appeal to local young women and their families who would prefer for students to live at home and commute to campus. As the college grew and more applicants requested on-campus housing, the administration purchased nearby houses and buildings to convert to student housing. In 1960, ground broke for the construction of a new dormitory, Coffey Hall.
Groundbreaking ceremony for Coffey Hall. Mundelein College Records, 1960. Preservica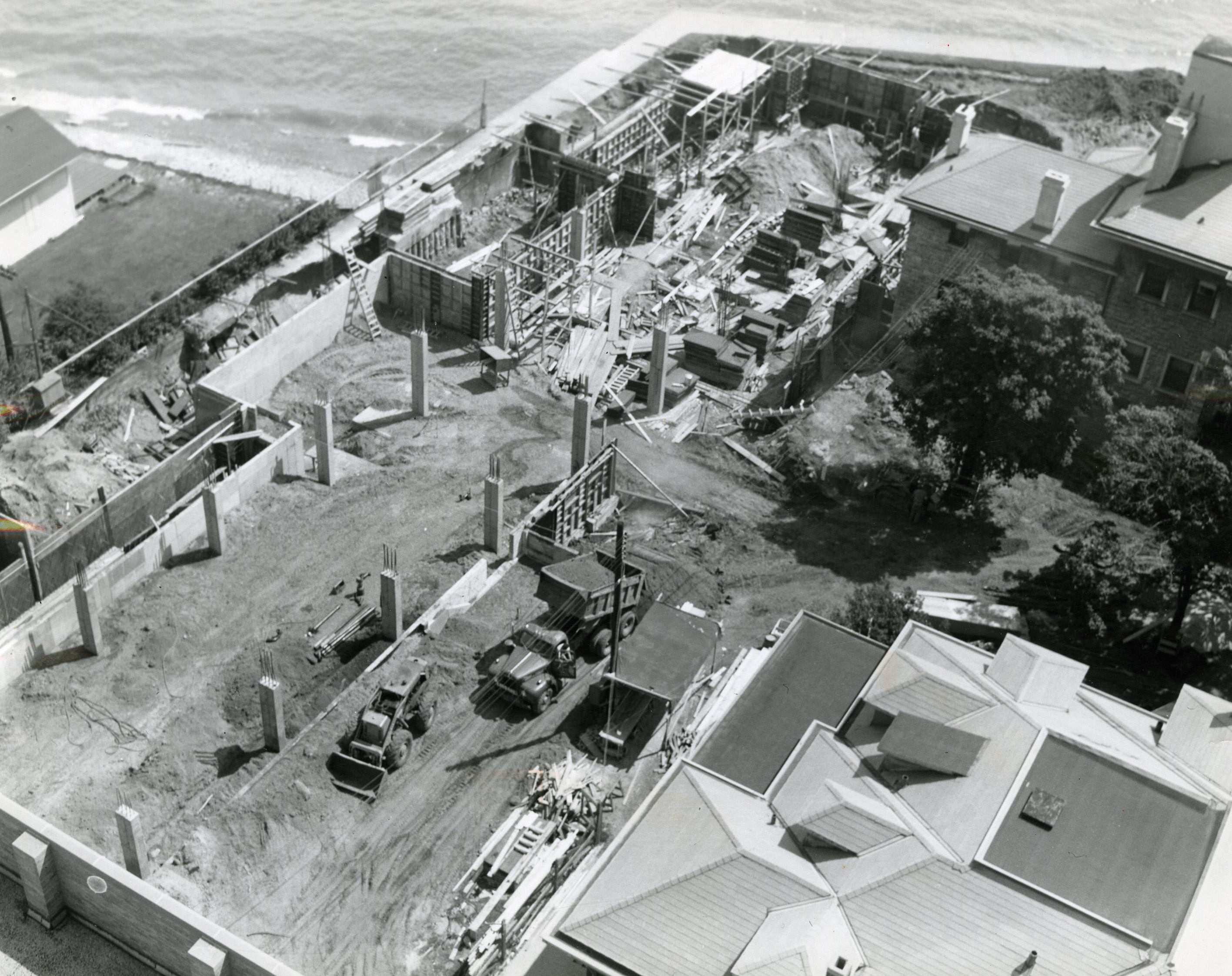 Aerial view of the construction of Coffey Hall. Piper Hall is visible to the right.

Mundelein College Records, 1961.

Preservica
Coffey Hall was Mundelein's first major building project since its opening. The dormitory was originally slated to be eight stories and on the corner of Kenmore and Sheridan, across from the Scholasticate (now BVM Hall). Plans ultimately changed to a four-story building, and the location moved to land north of Piper Hall. Piper Hall's carriage house was taken down to make room for the new building.
Chicago architecture firm Charles F. Murphy Associates designed the limestone edifice to complement the Skyscraper and utilized the location to provide views of Lake Michigan in as many rooms as possible.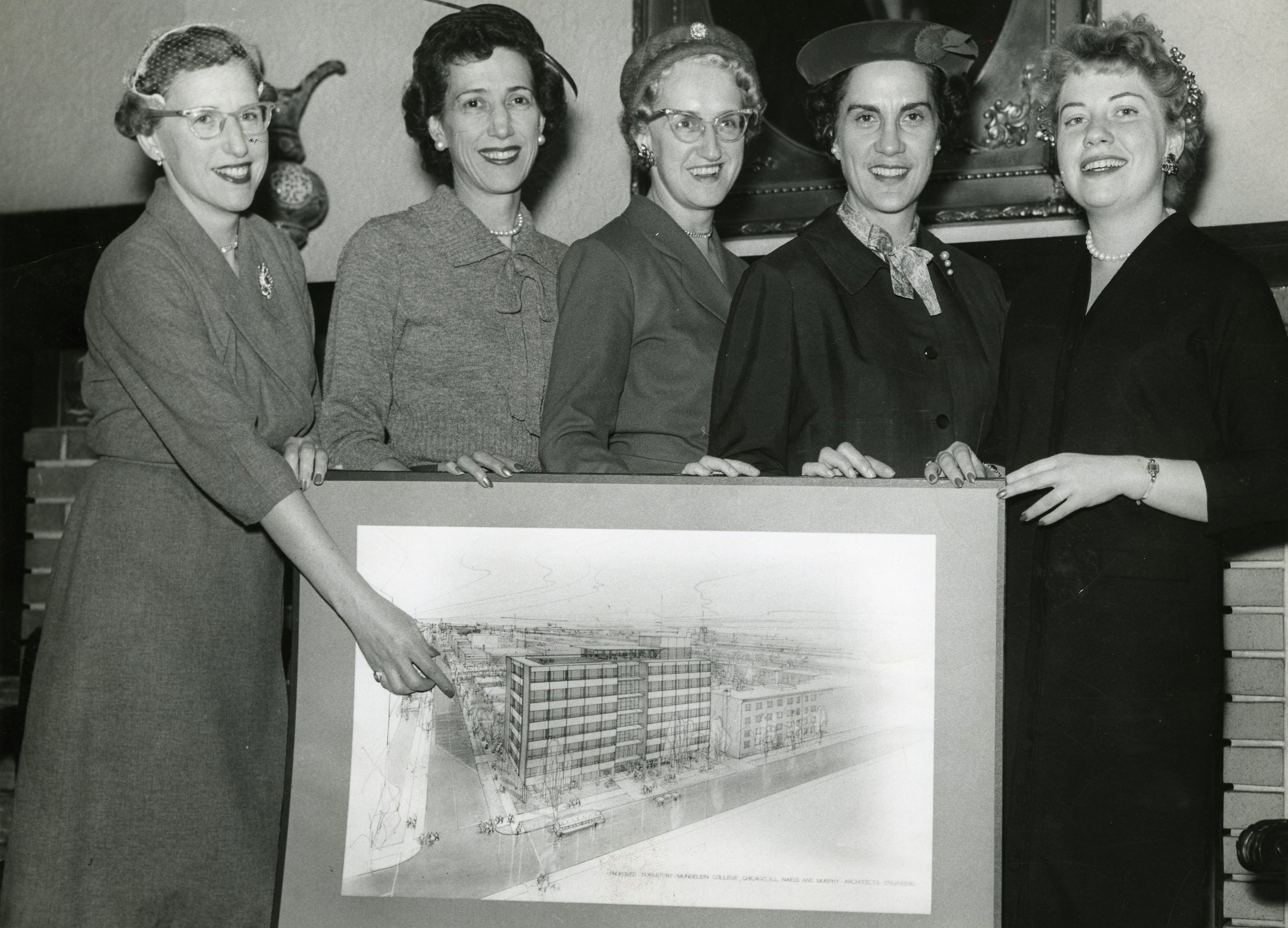 Mundelein Alumnae pose with sketch of proposed new dormitory on Kenmore and Sheridan. Dorothy Scholzen (Class of 1943), Rita Eiden (Class of 1938), LillianScholzen (Class of 1936), Cecilia Wasisco (Class of 1937), and Pat _______. Preservica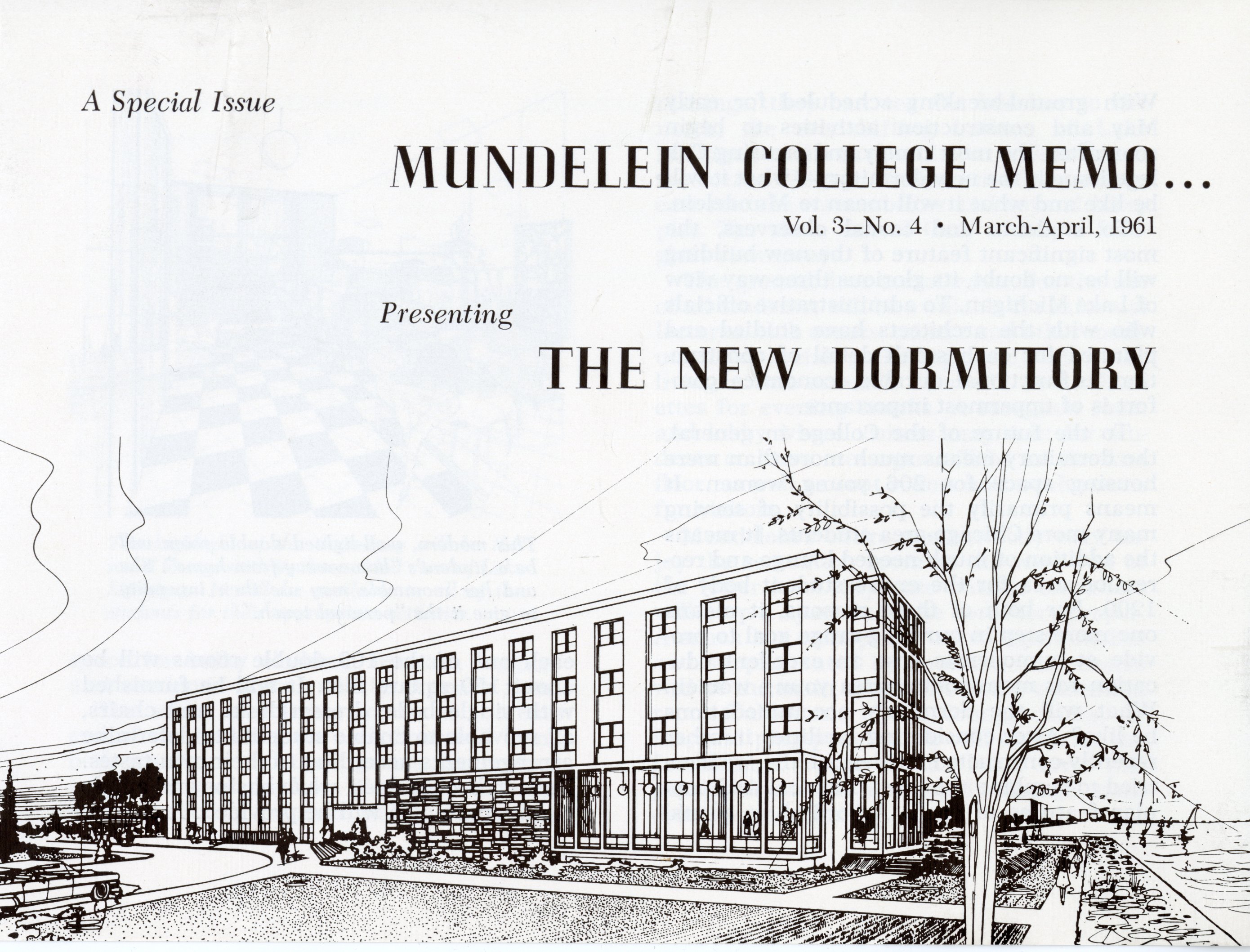 Sketch of accepted plan for Coffey Hall on the cover of the alumnae publication, Mundelein College Memo. 1961.
The hall's name is a tribute to the founder and first president of Mundelein College, Sister Mary Justitia Coffey, BVM. An experienced educator, Sister Justitia opened nearby Immaculata High School before being charged by the president of the BVMS, Mother Mary Isabella Kane, BVM, to lead the endeavor of opening Mundelein. She closely supervised the construction of the 15 story Skyscraper while building a faculty and curriculum for the 300 students who enrolled in 1930. Sister Justitia served as president from 1930-1936 and 1939-1945. Coffey Hall has retained its name throughout the building's history.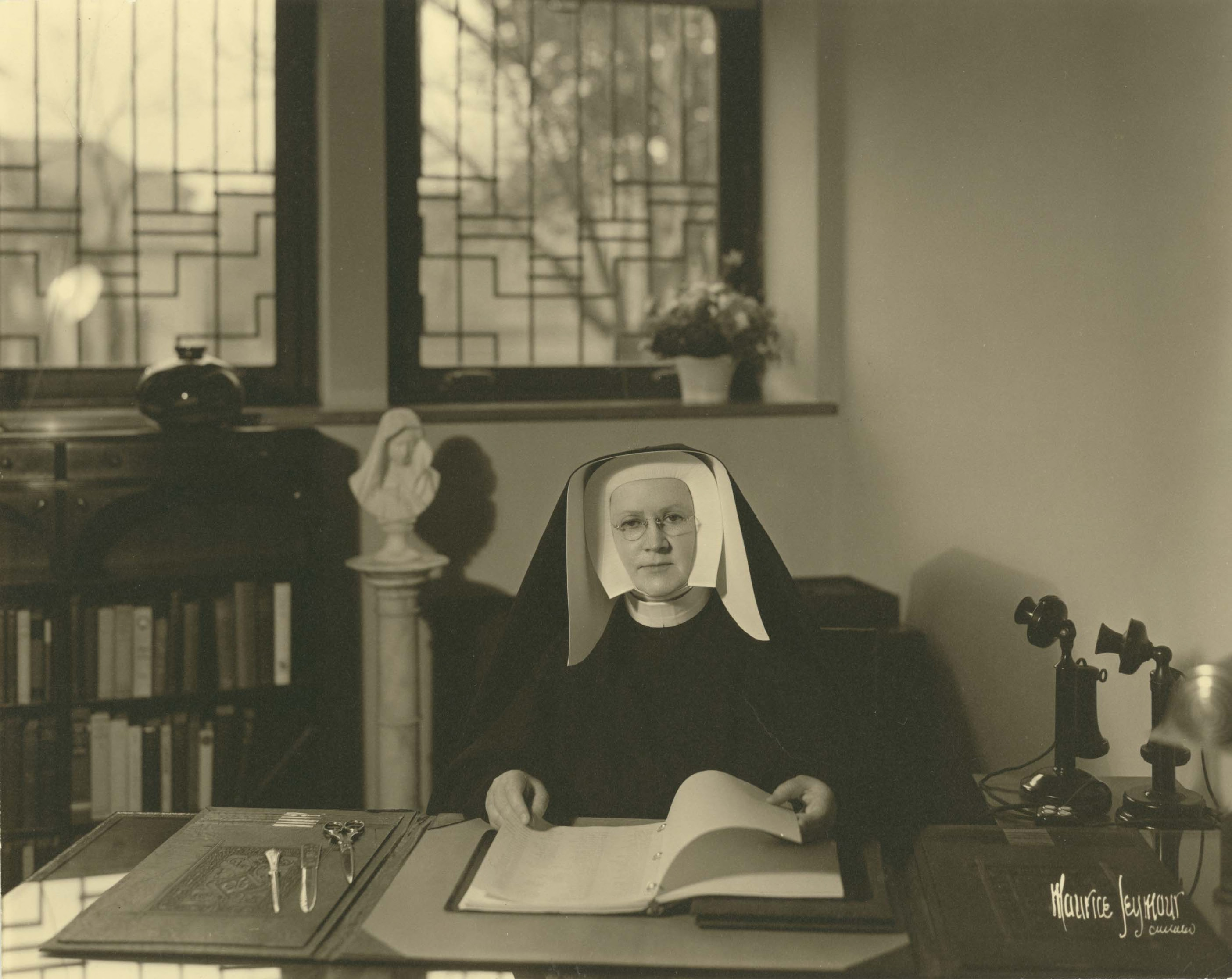 Portrait of Sr. Mary Justitia Coffey, BVM, the first President of Mundelein College, in her office. Mundelein College Collection c. 1930.
Preservica
Mundelein received a $1 million loan through the Federal Housing Act to construct the dormitory. Fundraising efforts by students, alumnae, the Fathers' Club, and the Woman's Auxiliary raised $90,000 to construct and equip recreation and lounge areas. An additional $230,000 in grants came from the McCormick Trust, Lombard, and the Lewis Foundation – a trust created by Catholic Chicago businessman and philanthropist Frank J. Lewis.
On Friday, April 26, 1963, Mundelein held a dedication for the new dorm. His Eminence, Albert Cardinal Meyer, Archbishop of Chicago, gave the blessing to the building. McCormick Lounge and Lewis Center were dedicated to their namesakes and in honor of their trusts' monetary contributions.
Women religious outside of Coffey Hall for the dedication. Mundelein College Records, 1963.
Designed with students in mind, Coffey Hall had multiple lounges, a mailroom, snack bars, and general student spaces. Many furnishings came from Marshall Field & Co., a Chicago based department store. Some of the items purchased through verbal orders from Marshall Field & Co. include drapes, mattresses, bedspreads, tables, armchairs, sofas, sectionals, and side chairs.

Mundelein College Students accessing their mailboxes in Coffey Hall. Mundelein College Records, 1962-1963.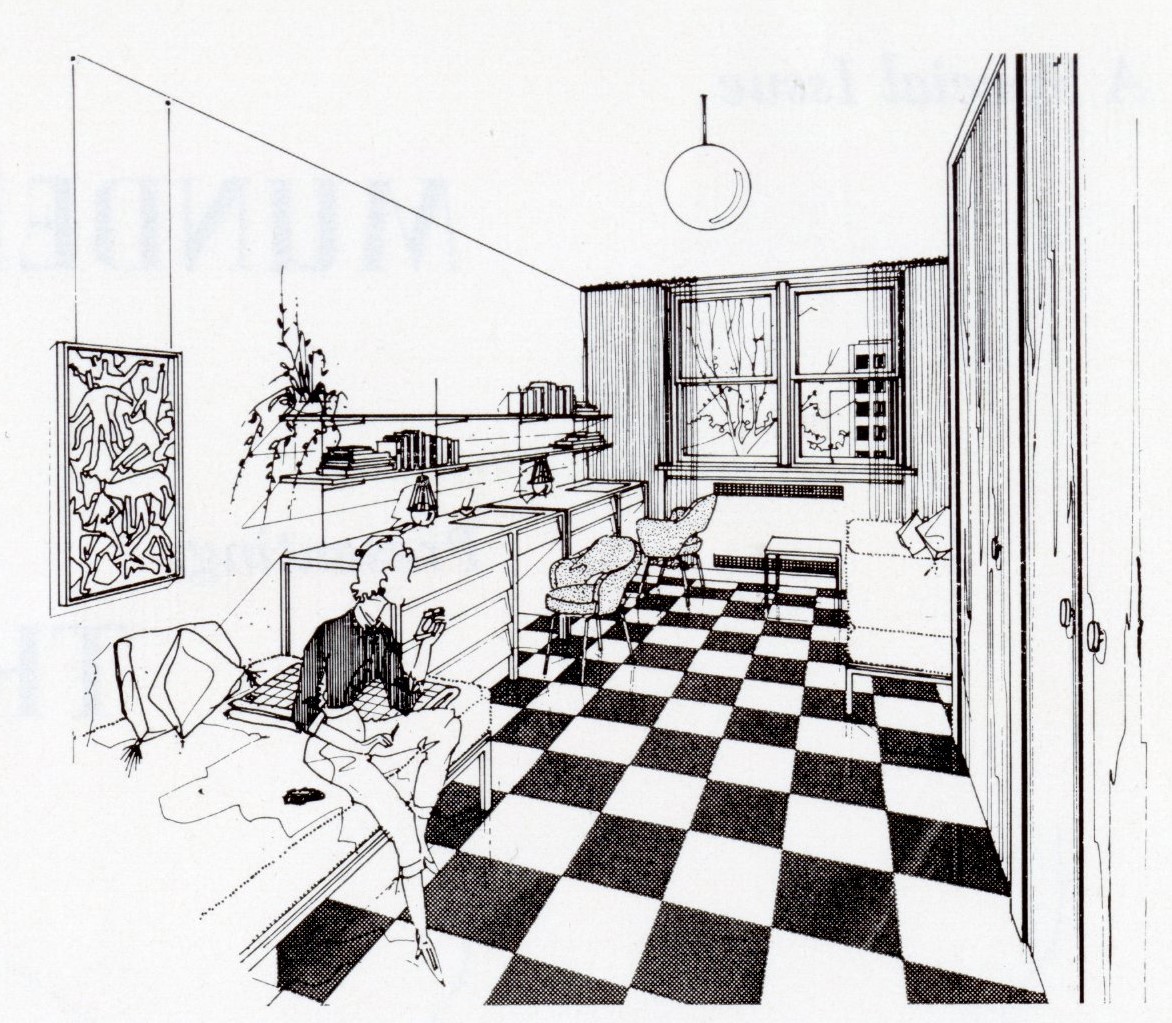 Conceptual sketch of doem room in Coffey Hall. Mundelein College Records, 1961.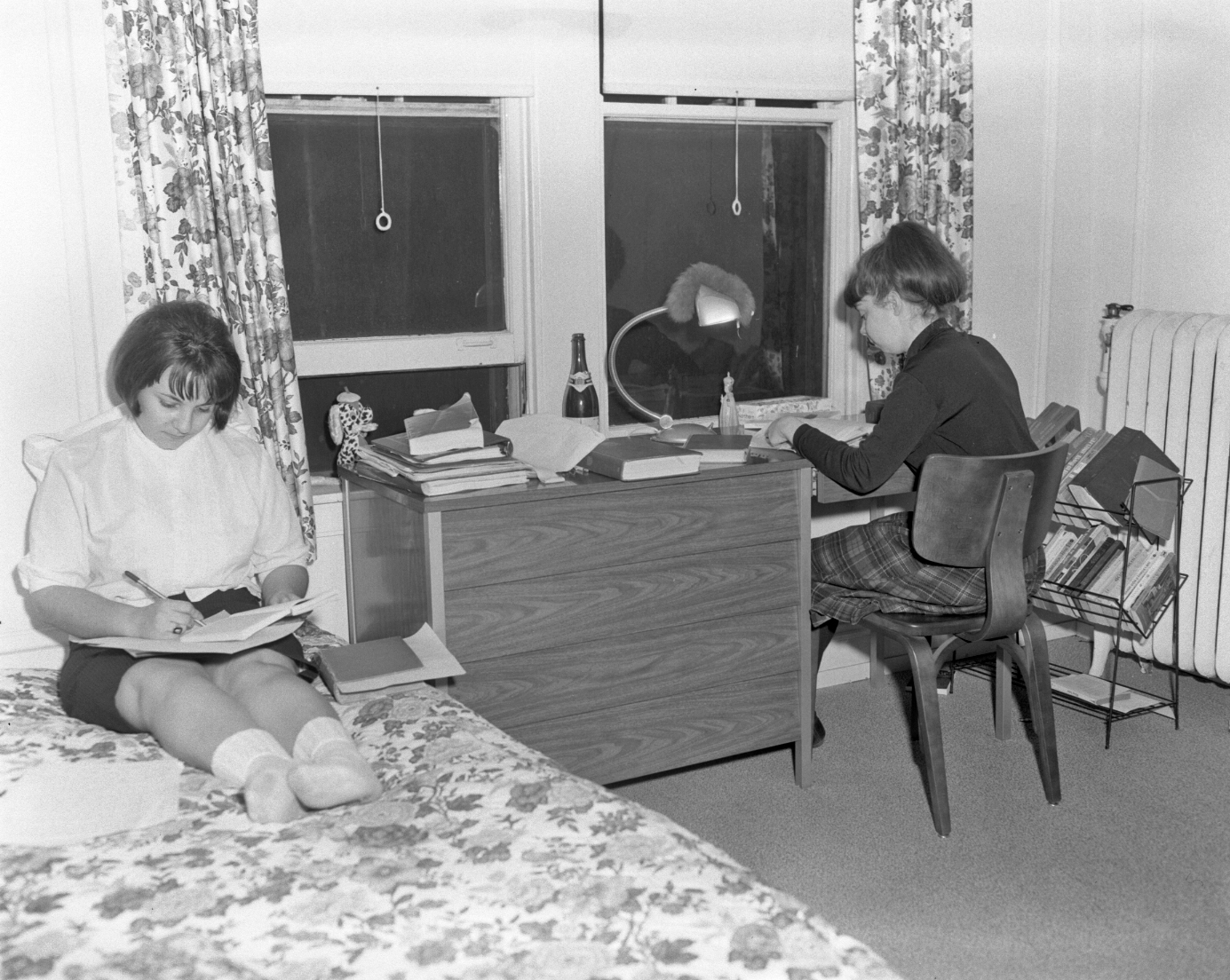 Students study in their dorm room in Coffey Hall. Mundelein College Records, circa 1963.
Each of the 150 square foot dorm rooms in Coffey Hall came furnished with two single beds, dresser-desks, chairs, and bulletin boards. Students could choose between two different bedspreads, with the color options being brown and gold or blue and green. Each floor had a lounge space on the east end with views of Lake Michigan, TVs, stoves, and refrigerators.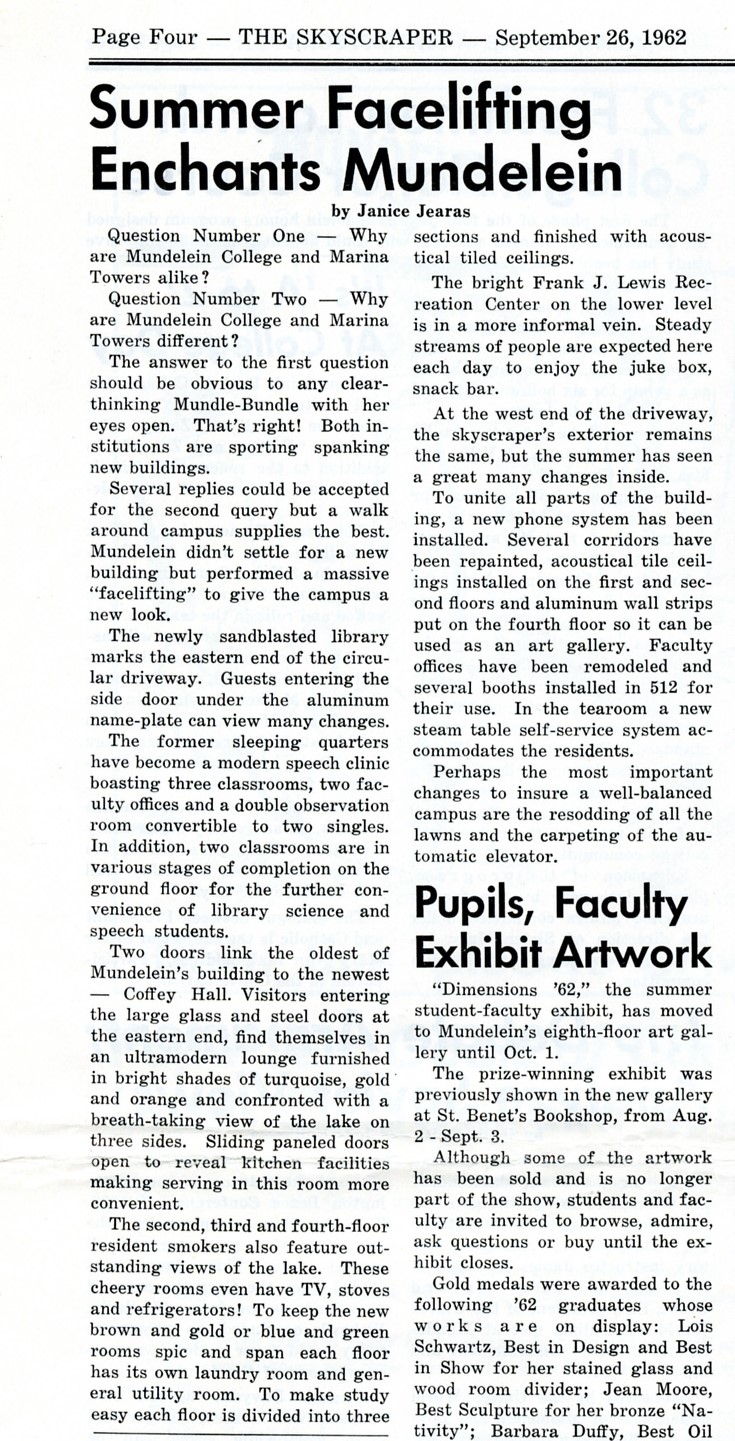 Skyscraper article 1962-09-26 pg 4 – The Student Newspaper, the
Skyscraper
, provided students insight into how the new dormitory would look. Mundelein College Records, 1962.
The Robert R. McCormick Lounge on the first floor was used as a study space and a gathering space to host speakers and performances. The room was decorated in bright shades of turquoise, gold, and orange. Some of the original furnishes included two grand pianos, a stereo hi-fi, and projection equipment.

McCormick Lounge faces the lake with large windows to optimize the view. The lounge was used as a gathering space for students and is now used for events.
Preservica
The Lewis Center in the basement could fit Mundelein's entire student body in the early 1960s. Designed as a recreation space, it had a snack bar for lunches and automatic dispensers that aided in keeping the cravings away. Ping pong tables, a jukebox, and lounge chairs also gave the area a more leisurely feel. With a separate entrance from the dorms, this area became a popular spot for club meetings, social activities like mixers with Loyola, and much more.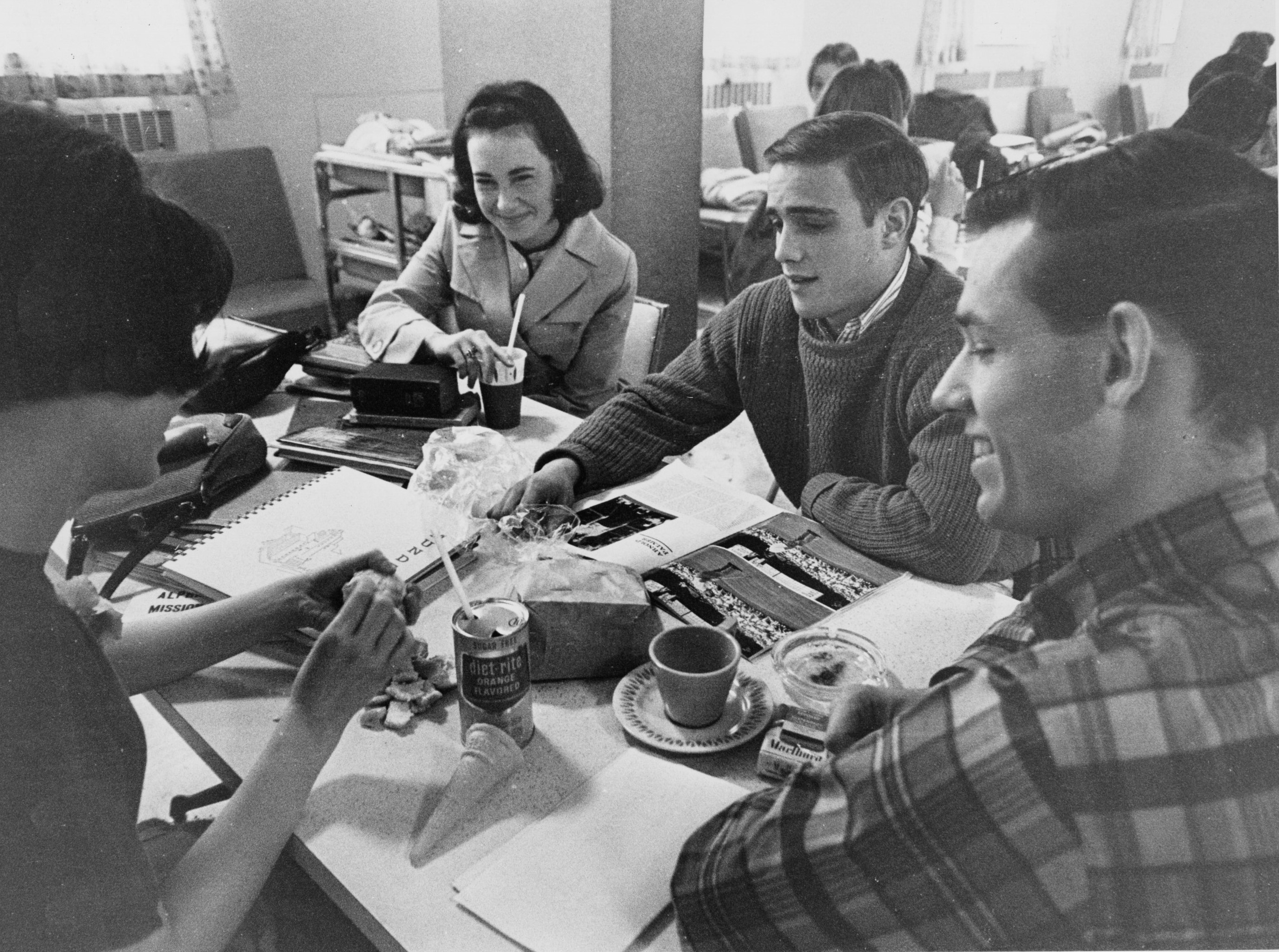 Designed as a more informal space than McCormick Lounge, the Lewis Center had a snack bar and vending machines. There was also a separate entrance from the dorms allowing this space to be used for mixers and dances. Mundelein College Records, 1962.
At the time of Coffey Hall's opening, Mundelein College was still primarily a commuter school for young women who lived near Chicago. Most residential students were only five-day residents, living on campus during the week and returning home every weekend. Students could stay weekends for an additional fee. In 1974, Mundelein's Weekend College in Residence opened and these students used the dorm rooms on Saturdays and Sundays.

Students enjoying the McCormick Lounge for studying. Mundelein College Records, 1962.
In 1991, the affiliation of Mundelein College and Loyola University brought changes for Coffey Hall. The fourth floor of the dorm was remodeled to serve as permanent living quarters for fourteen women religious, part of the affiliation agreement between Mundelein and Loyola. Today, Coffey Hall houses offices classrooms, and lab spaces for Psychology, Political Science, and other academic departments. McCormick Lounge is still used as a study space and for events. Many Mundelein College alumnae have returned to Coffey Hall and McCormick Lounge through the years for reunions, teas, and programs hosted by the Gannon Center for Women and Leadership.