archive
Carolyn Farrell, BVM Remembered
Carolyn Farrell, BVM at the Gannon Center, circa 2005
Sister Carolyn Farrell, BVM, the last president of Mundelein College and founding director of the Gannon Center for Women and Leadership, passed away on June 14, 2020. After a long career in education and public service, Farrell came to Mundelein College in 1991 to guide the women's college into an affiliation with Loyola University Chicago. To continue the college's legacy, Farrell envisioned a center that would continue to support women's education and leadership at Loyola. As she worked to make the Gannon Center a reality, she led Mundelein alumnae and friends in raising funds to restore the historic Piper Hall to be the permanent home of the Gannon Center and the Women and Leadership Archives.
Born in Des Moines, Iowa, on November 2, 1934, to parents James and Catherine Farrell, Carolyn was the oldest of six children. At the age of 18, she entered the Sisters of Charity of the Blessed Virgin Mary (B.V.M.) congregation in Dubuque, Iowa. Farrell was professed in 1956 as Sister Mary Lester, B.V.M., taking her final vows on July 16, 1961.
In 1977, Farrell was the first woman elected to the City Council of Dubuque. Because of the unique structure of the Dubuque City Council, the five council members are required to elect one of their own to serve as Mayor for one year each January. Farrell was elected Mayor of Dubuque on January 7, 1980 and became the first woman religious to serve as the mayor of a city.
In 1991, Farrell accepted the Interim Presidency of Mundelein College in Chicago, Illinois. As President, she was chief negotiator with the Chairman of the Board of Trustees of Loyola University Chicago to achieve the Memorandum of Agreement between Mundelein College and Loyola University Chicago, signed in June 1991, which brought about the affiliation of Mundelein College with Loyola University Chicago. She then went on to serve as Associate Vice President of the new Mundelein College at Loyola University. Farrell led efforts to create the Gannon Center for Women and Leadership, established in 1993, to continue the spirit and legacy of Mundelein. Plans for the center also included establishing the Women and Leadership Archives, opened in 1994. Farrell was director of the Gannon Center until her retirement in 2006. She continued to be a friend to the Gannon Center and the Women and Leadership Archives and donated her personal papers to the archives.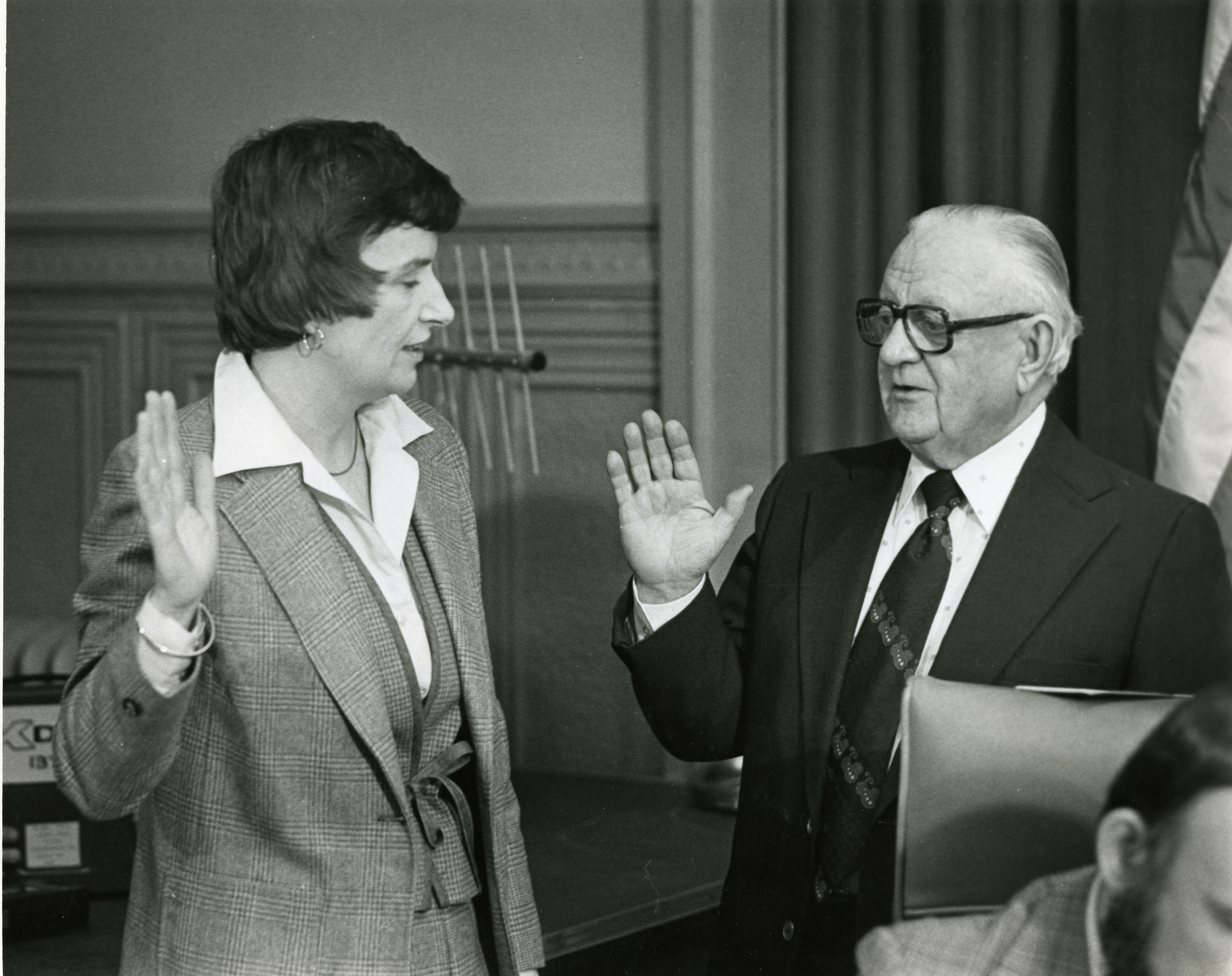 Carolyn Farrell is sworn in as Mayor of Dubuque, 1980.
If you would like more information about Carolyn Farrell, BVM or about use of photos from the WLA, please contact the WLA at wlarchives@luc.edu.