archive
Mundelein Alumnae Celebrate Class Reunion 2021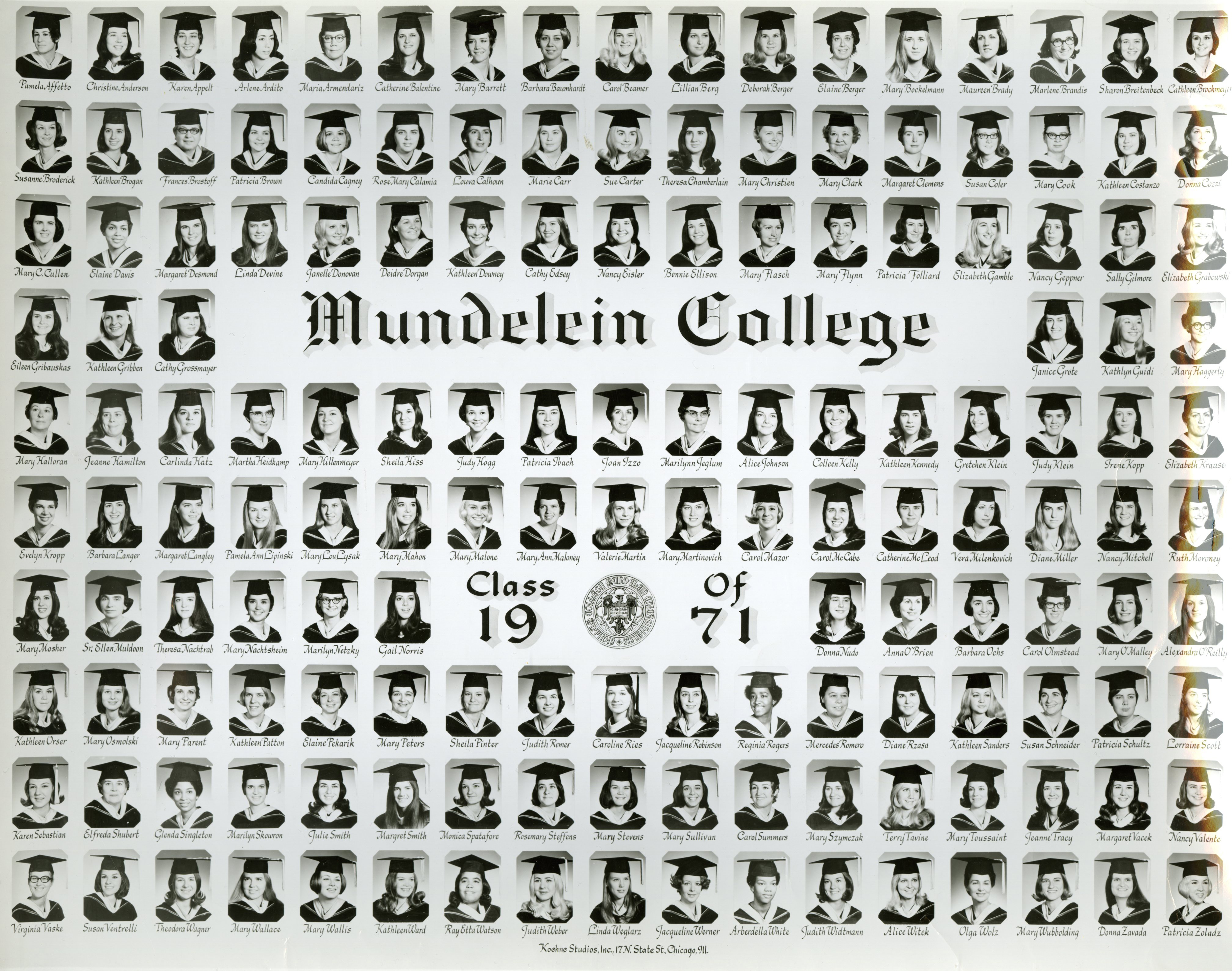 On October 2, 2021, graduates of Mundelein College will gather virtually for the annual reunion! The celebration will include honoring the 50-year reunion of the class of 1971 and their induction into the Golden Phoenix Society.
Learn more about Alumni Weekend
To celebrate the Class of 1971, we are sharing a timeline of events that took place at Mundelein College from 1967-1971, along with photos from our collection.
Glimpses of Life at Mundelein College, 1967-1971
1967: The newly built Learning Resource Center opens to the students and staff of Mundelein College, providing a modern space for the library and other academic support services. This building was later named the Sullivan Center.
Social Activities Council Board members, 1971
1967: The Class of 1971 arrives on campus as freshman. Graduates of 1971 would also include students from Mundelein's Continuing Education program and others who took different paths to earning their degrees.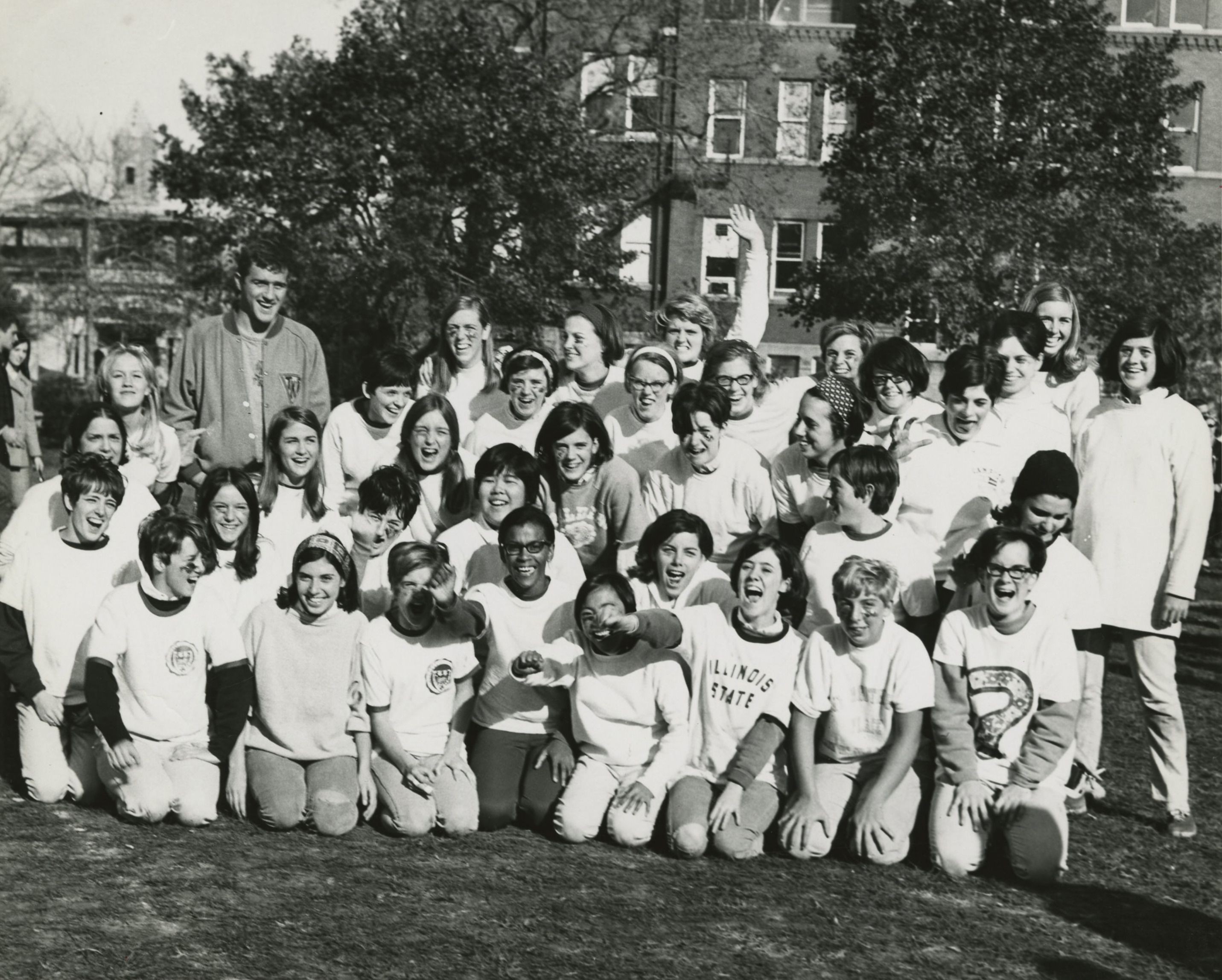 Mundelein Marauders Football Team Play during Homecoming Festivities, 1967
1968: The Graduate Religious Studies program is established, the first in the Chicago area. It is the first master's degree offered by Mundelein College.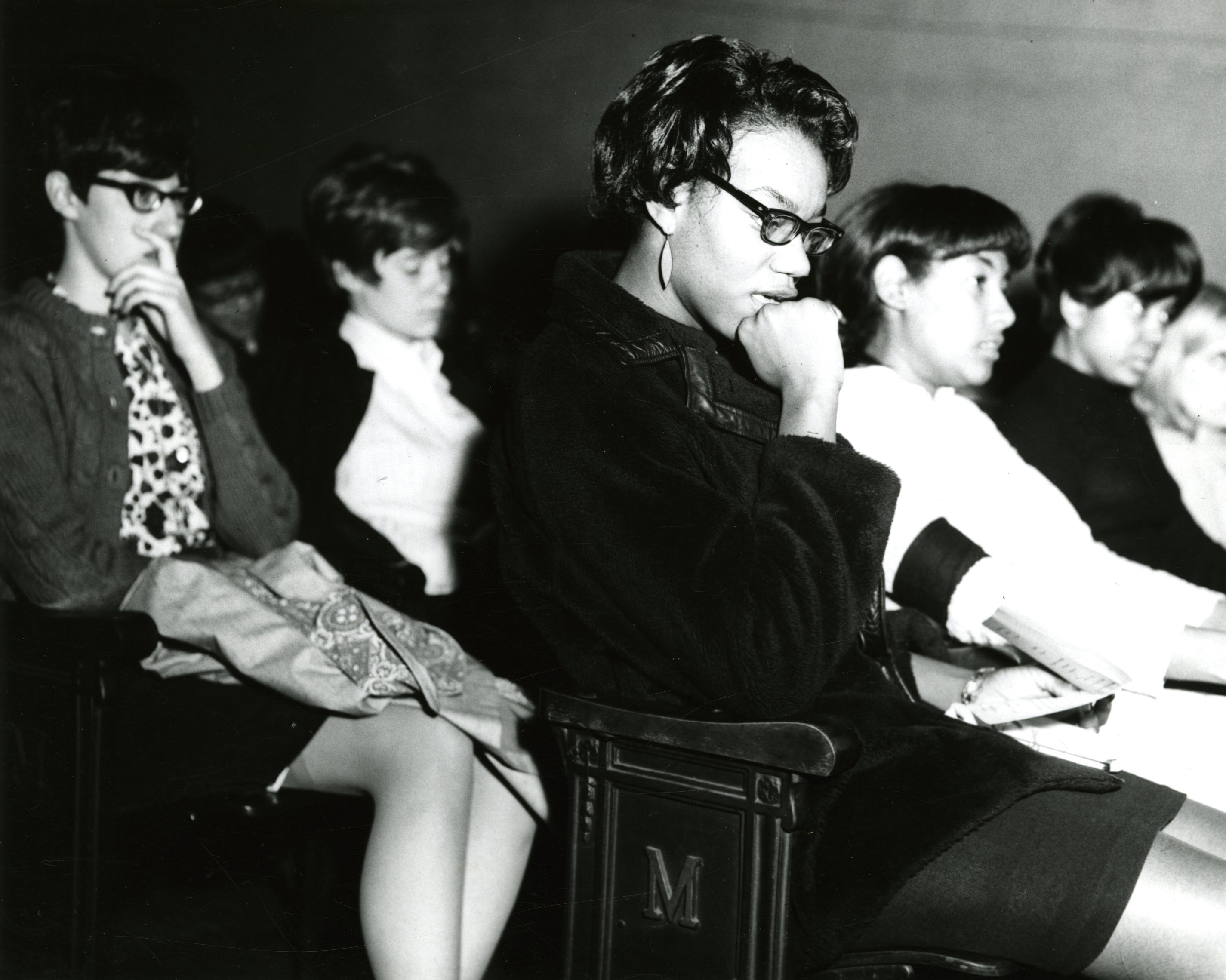 Students attend memorial for Martin Luther King, Jr., 1968
1968: The Mundelein community responds to the assassination of Martin Luther King, Jr. on April 4th with a memorial service held in the college theater and a two-page tribute was published in the Skyscraper newspaper. The Black community at Mundelein sponsored a dialogue on April 9th to begin a discussion of communication between races at the college.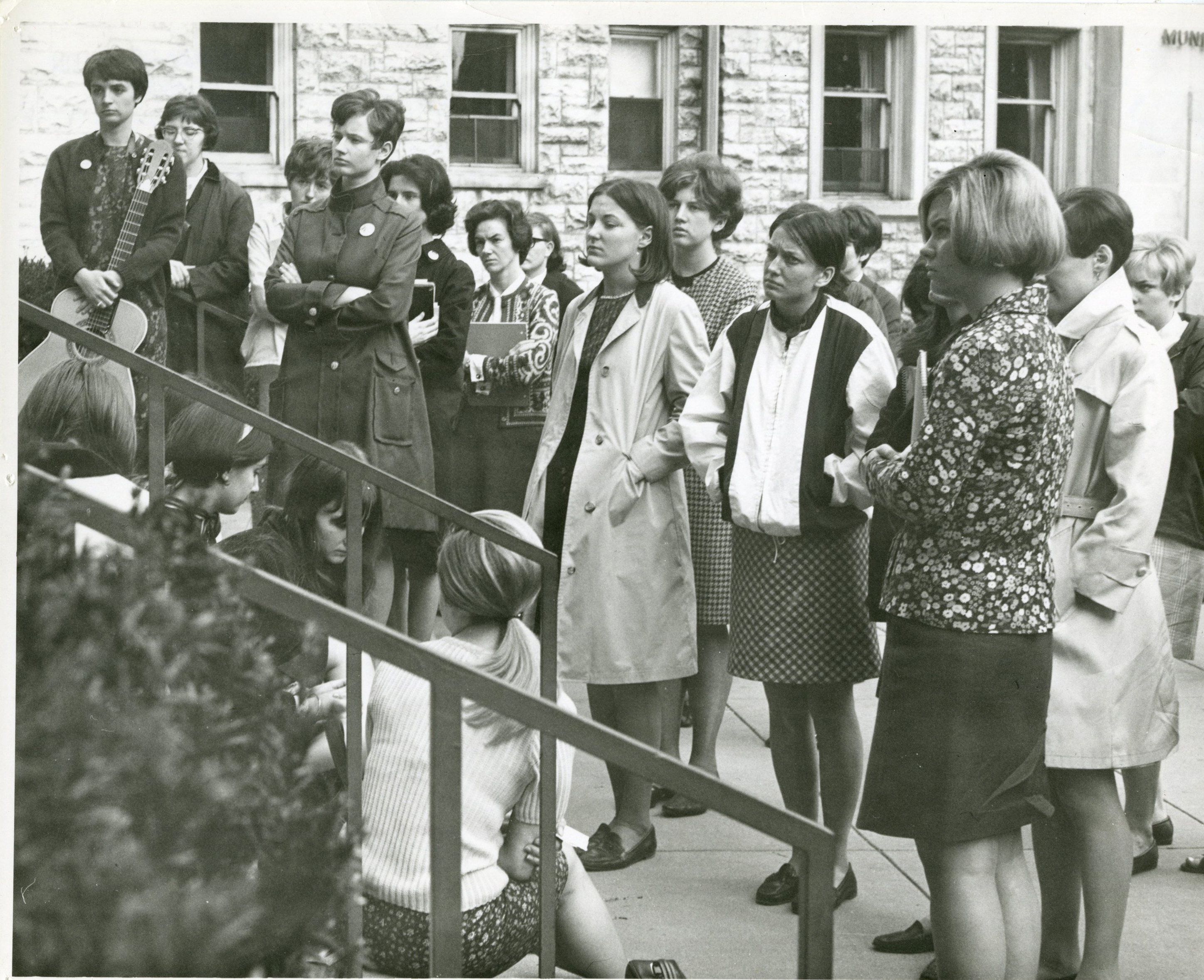 Prayer Vigil held in protest of Vietnam War, 1968

1968: Mundelein joins students throughout the nation in protesting the Vietnam War with a ten day "Mobilization of Mundelein." Activities include teach-ins and a prayer vigil. Students who supported the war also organized speakers and events.
1968: In November, the Mundelein Student Congress Rules Committee voted to discontinue the dress code for all students, except those with employment on campus. Throughout Mundelein's history, pants were not allowed to be worn in the tearoom of the Skyscraper building.
1969: Mundelein College United Black Association (MuCUBA) is founded. The student organization provided community for Black students, advocated for more supportive services and a Black Studies program, and planned programs such as Martin Luther King, Jr. Day celebrations. To support Chicago's growing Black population and increase campus diversity, Mundelein faculty agree to forego salary raises to fund scholarships for about 50 young Black women.
1970: The campus is declared "on strike." Part of a nationwide movement at high schools, colleges, and universities, the students along with some staff, protest the expansion of the Vietnam War into Cambodia and the tragedy at Kent State University. Students hold marches and plan teach-ins to discuss these important issues.
See archival documents and photos related to student involvement in protesting the Vietnam War and other issues from in our online exhibit, Activist Mundelein.
Students Socializing Outside of Red Garter, 1971
1971: Mundelein College amends its charter to allow men to enroll in the college. This was done due to the growing popularity of Mundelein's adult education programming offering classes on nights and weekends. Mundelein's traditional weekday program remained focused on young women throughout the college's history.
1971: Commencement is held June 6th for graduates of the class of 1971.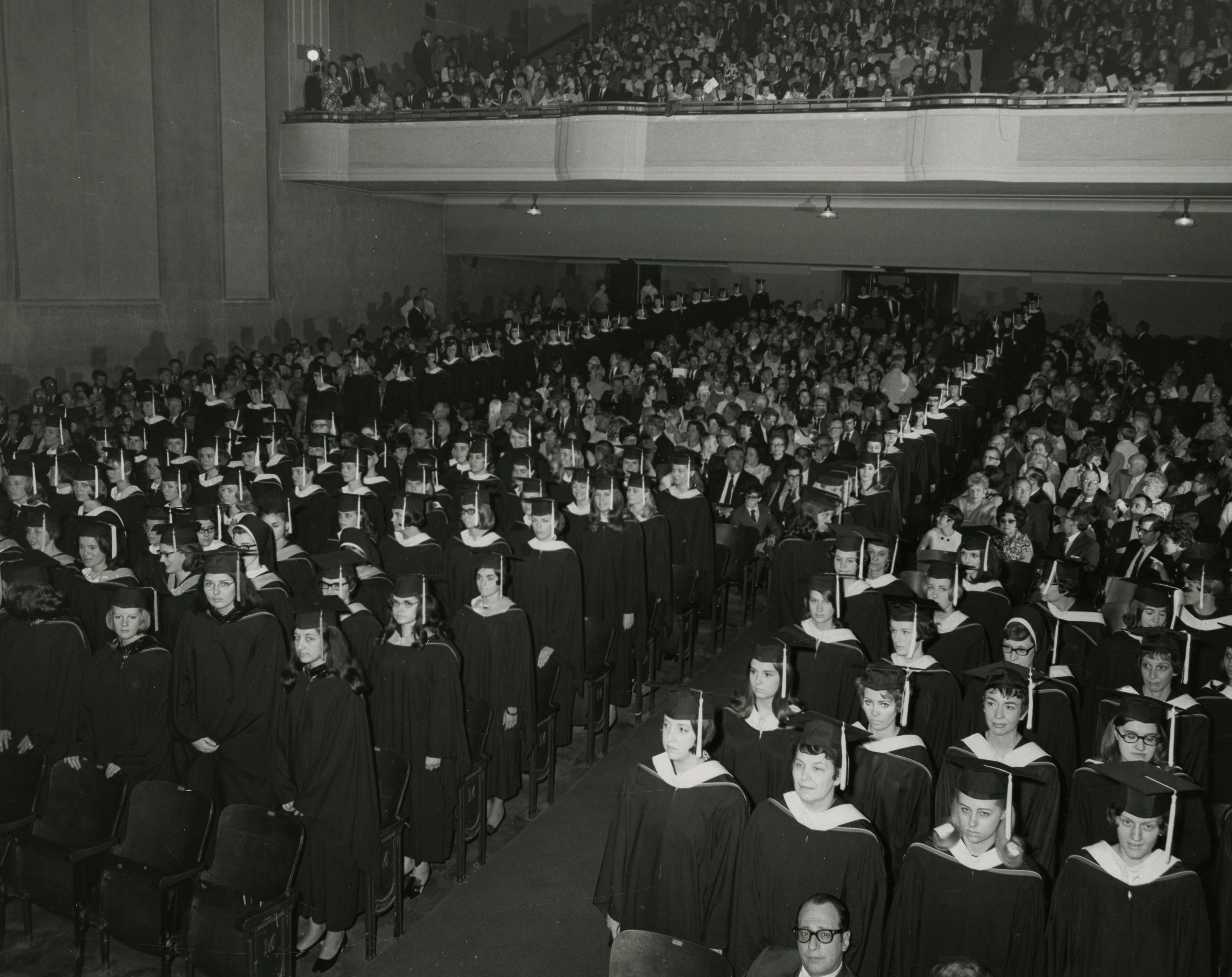 Mundelein College Commencement, 1971
The Women and Leadership Archives holds the Records of Mundelein College, as well as collections from Mundelein faculty and alumnae. We've created numerous online resources to share Mundelein College history and provide access to photos, newspapers, documents, and more! Follow the links below to learn and explore!
Resources for Alumnae and Mundelein College History
Want to get involved with Mundelein College alumnae? Connect with other alumnae!
Interested in donating materials to the Women and Leadership Archives? See our Donating Records page and contact us at WLArchives@luc.edu for more information.
We hope you enjoyed this look into Mundelein College's history! Thank you for exploring the resources at the WLA!