archive
Remembering Dr. Irene Meyer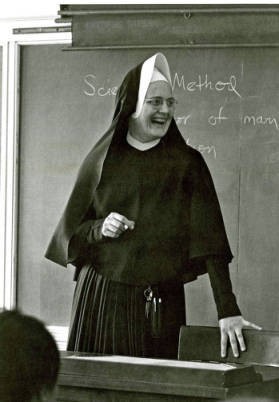 The WLA remembers Mundelein professor and activist Dr. Irene Meyer who passed away February 11, 2021 at the age of 91.
Irene Margaret Meyer was the only child of two immigrant parents from Germany. She was a first-generation college student and chose to attend Mundelein College because of the college's Catholic tradition. Meyer started her collegiate career as a music major and concert violinist, but changed her path when she discovered a passion for psychology. She graduated from Mundelein in 1951 with a BA in Psychology and a minor in Music. Meyer went on to earn her MA and PhD from St. Louis University in Research and Clinical Psychology. In 1952, Meyer joined the Sisters of Charity of the Blessed Virgin Mary (BVMs) and began her teaching career. She left the order in 1968. Meyer became a professor at Mundelein College in 1957. She was promoted from Associate Professor to Professor in 1974, and served as chair of the department from 1974 to 1978. She particularly enjoyed teaching adult students in Mundelein's Weekend College.
Due to her training in psychology, Meyer became a fervent civil rights activist. She fought to eliminate the death penalty, even personally delivering a paper opposing the practice to ABC-TV news station in Chicago. In 1965, She was one of a group of Mundelein faculty and students who traveled to Selma, Alabama to participate in the marches supporting voter rights. Meyer saw the need for strong Special Education Programs for teachers and pushed for cooperation between Mundelein's Education and Psychology departments.
Meyer continued teaching at Mundelein until its affiliation with Loyola in 1991. She taught briefly at Loyola, retiring in 1992. Throughout her life, Meyer continued her love of music, playing for the Catholic Women's Symphony, Loyola operas, and North Park orchestra.
Photo: Mundelein College Photograph Collection, Women and Leadership Archives
Visit Dr. Irene Meyer's obituary for information on services and memorials.
Learn more about Dr. Meyer:
Oral History
in our Voices from Mundelein Media Portal
Mundelein College Paper Records