How to Schedule an Appointment
To start, click "SCHEDULE AN APPOINTMENT" in the navigation menu at the top left portion of your screen.
---
Step 1: If you have not made an account,
click "Register for an account."
‌
---
Step 2: Fill out the short form to create a new profile
(you only have to do this once).
---
Keep going, and don't forget to click
"Complete Registration" at the bottom.
---
Step 3: Once you log into the system, select the most convenient Writing Center location for you from the dropdown menu at the top.

---
Step 4: Select an available tutor's open time slot by clicking on a white box.
(White means available; Blue means unavailable).

---
Step 5: When you fill out the short form, you must select whether you want to conduct the appointment online or in person.
Note

: Face-to-Face and Online appointments may only be scheduled for 30- or 60-minute time slots. Written Feedback, however, may be scheduled between 60- and 120-minutes.
---
Step 6: If you selected "Written Feedback," you are required to upload a copy of your Word document
at least three hours prior

to the start of the appointment. You may do so using the attachment option at the bottom of the appointment form.
Note

: If you scheduled a Face-to-Face or Online appointment, you are not required to upload a copy of your document.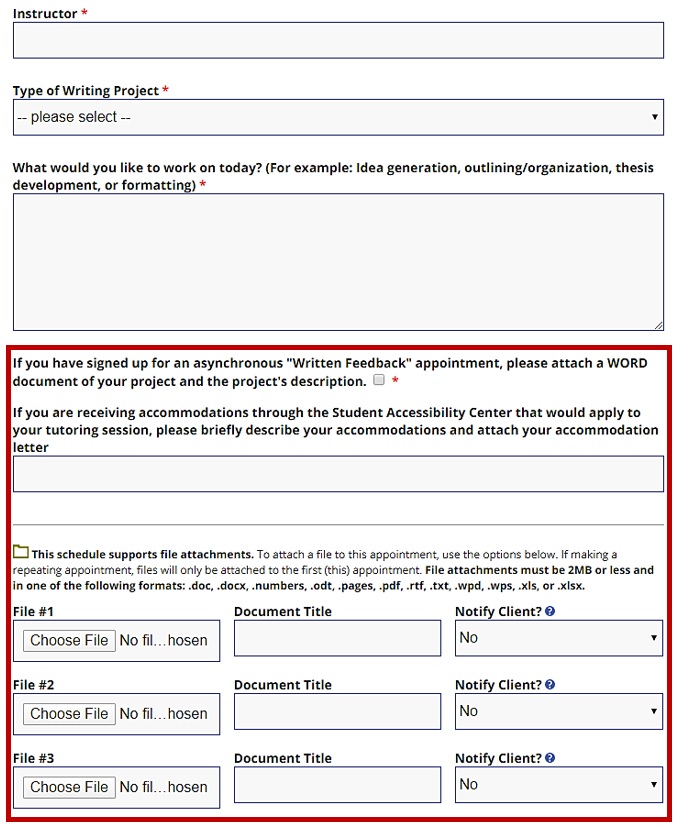 ---
Step 7: Upon completion, select "Create Appointment" to reserve the designated tutor and time slot.