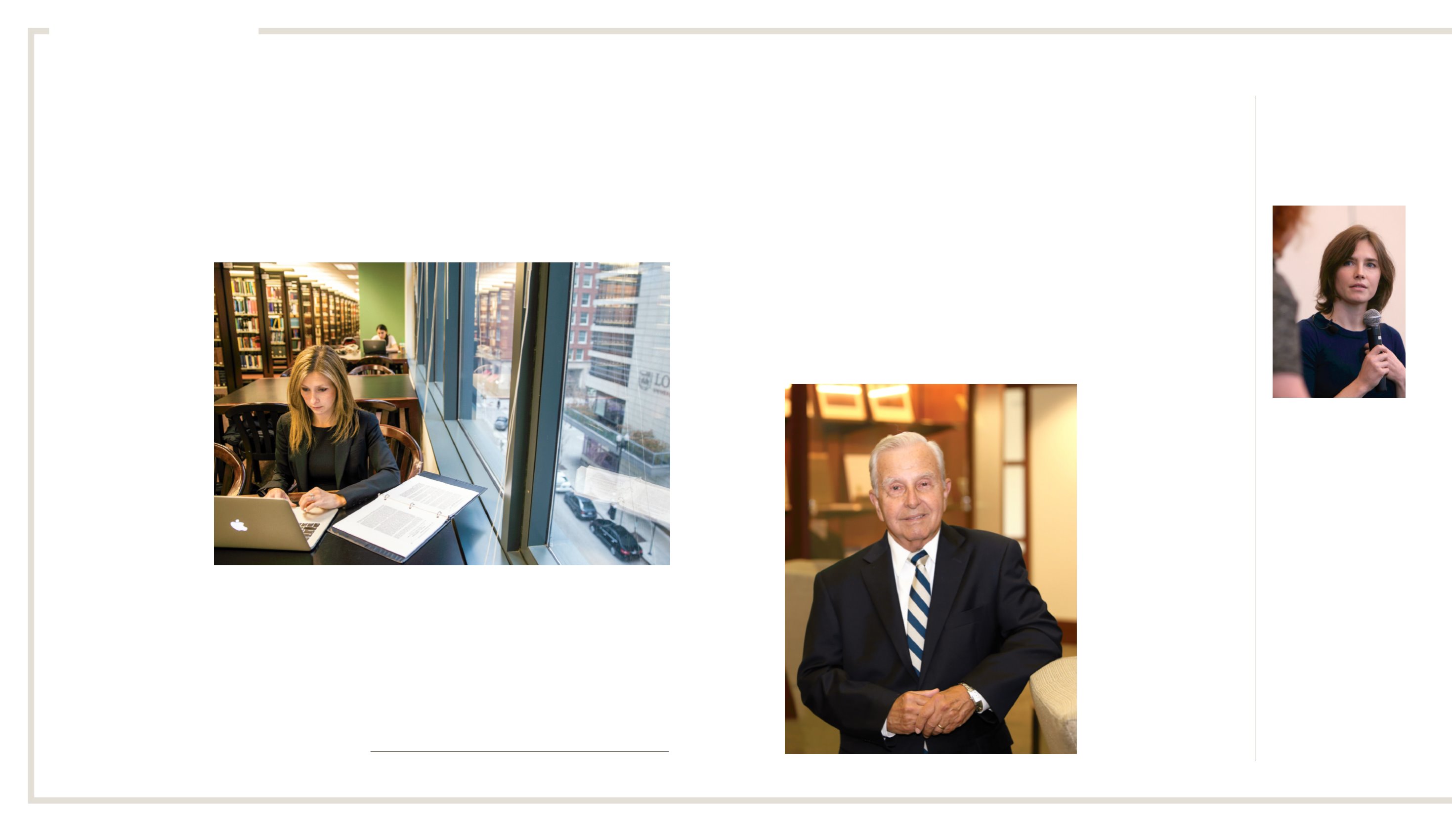 Innovative weekend
JD program to launch
NEWOFFERING
ble weekend format that will include
an innovative mix of campus-based
The new program, which will
be offered beginning fall 2016,
addresses the demands of today's
busy professionals whose work
and family circumstances might
otherwise preclude them from
pursuing a law degree. Students
will receive the same rigorous, high-
quality legal education in courses
that meet on seven weekends
each semester, rather than in the
evenings. While many American Bar
Association-accredited law schools
offer part-time JD programs in the
evening to accommodate students
who work, Loyola will be the only
law school in the country to offer
a flexible weekend program that
will allow students to earn a JD by
attending courses that meet just
"Combining an outstanding
weekend experience with online
learning is an ideal format that will
make law school more convenient
and accessible to students who
work," says David Yellen, dean of
the School of Law. "While different
in structure than our full-time
JD program, the new program
will be every bit as excellent, and
will benefit a broader and more
geographically diverse group of
aspiring lawyers who might not
otherwise have an opportunity to
programs, Loyola has become the
top law school in the country for
online legal education. The weekend
JD program will feature the same
curriculum and faculty as the full-time
program. Students will gain hands-on
training by completing the school's
experiential learning requirement,
and will have opportunities to
participate in student-run journals
and organizations. In addition,
students will receive individual
academic support and career
counseling from law school
Loyola's School of Law was
established in 1908 as a part-time
evening school to provide an
opportunity for working professionals
in Chicago to obtain a legal
education—a goal that has continued
throughout the school's history.
Graduates of Loyola's part-time
JD program, including some of
the best trial lawyers in the country,
have achieved remarkable success
serving in government agencies,
as state and federal judges, and as
leaders in the community and in
the bar. Students enrolled in the
Weekend JD program will receive
the same extraordinary opportunity
to benefit from a quality legal
The newWeekend JD program will make law school more accessible to students who work.
F O R M O R E I N F O R M A T I O N , V I S I T
L U C . E D U / W E E K E N D J D .
MILESTONE
promote values while respecting
"Jerry has an extraordinary
knowledge of criminal law and the
issues considered by the Model Penal
Code," says Professor Alan Raphael.
"Over more than three decades, my
often daily contact with him both
at school and outside of it have
shown me how much he cares about
teaching students, making the law
better, and improving our law school."
Norton holds a JD degree from
Washburn University and an LLM
degree from Northwestern University.
Before coming to Loyola, he was in
private practice, then a member of
the IIT Chicago-Kent College of Law
faculty. He is the author of several
scholarly articles on criminal law
procedure and international
Between 1992 and 2002, as
the Soviet Union was breaking up,
Norton participated in the American
Bar Association's Central and Eastern
European Law Initiative. As part of
that program, he provided reviews
of proposed legislation in many
countries of the former USSR, including
Hungary, Azerbaijan, Belarus,
Croatia, Albania, Moldova, Tajikistan,
In 1991, Norton engaged in an
extended exchange with then-United
States attorney general Richard
Thornburgh in the publication
. After Thornburgh proposed
that US Department of Justice
attorneys should not be subject
to certain rules of ethical conduct,
Norton argued against this precedent.
"I was pleased with the results when
Congress eventually passed a statute
in 1998 saying that government
attorneys must live up to the same
ethical standard as other attorneys,"
Now that he's retired, Norton
and his wife, Margaret, are finding
plenty to keep them busy. They
remain involved with their mutual
alma mater, Kansas Wesleyan
University, where Norton served as
a university trustee for nine years.
They're also freely indulging in their
"Jerry has a great deal of
intellectual curiosity and has
made himself knowledgeable
about such diverse subjects as
prairie flowers, Civil War history,
bird-watching, and opera," Raphael
says. "At the time of the party
commemorating his retirement, it
was typical of him that he was
preparing for a trip to archaeological
sites in Turkey by reading the
P
after 44 years teaching criminal
"I attended two law schools
and taught at two others, and I
always describe Loyola as the
best school I was exposed to as
a student and professor," says
Norton. "Loyola students are
bright, ambitious, and really
want to contribute to the public
welfare, not just earn a living. My
faculty colleagues are committed
to their students, and the Jesuits
Professor JerryNorton,
criminal lawexpert, retires
A
attention, was the featured speaker
at a luncheon on December 3 at the
School of Law. Knox was exoner-
ated by the Italian Supreme Court
earlier this year. She discussed her
wrongful conviction and personal
experiences as an exoneree, as well
as her work advocating on behalf of
others wrongfully convicted.
Funds raised at the event, "A
Conversation with Amanda Knox,"
will support Loyola's Life After
Innocence program, which assists
innocent people released from
prison by helping them reenter
society, clear their records, and start
Former Illinois state senator
Dan Kotowski was honored at the
luncheon for his work on behalf
of those who have been wrongly
convicted. Kotowski assisted
Loyola's Life After Innocence
program in passing important
legislation reform that directly
benefited exonerees in Illinois.
Amanda
Knox speaks
at Loyola
WRONGFULLY CONVICTED
2
LOYOLA LAW
WINTER 2016
3