Al Gini, PhD
Professor, School of Business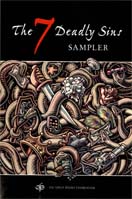 The 7 Deadly Sins Sample
The Great Books Foundation: 2007
(ISBN: 978-1-880323-19-9)

Synopsis:

Why does it often feel good to do something bad? In a world where we are encouraged to indulge, splurge, live a little visit Sin City has the ancient religious concept of sin lost its sway over the moral imagination?

The Seven Deadly Sins Sampler, a new collection of stories published by the Great Books Foundation, allows readers to peer into the hidden recesses of sinful thought and behavior. Without moralizing, the authors in this book Margaret Atwood, Raymond Carver, Flannery O'Connor, and D. H. Lawrence, to name a few use fiction to explore our all too human thirst for transgressive pleasure.

For readers who know that good and evil isn't simply a matter of black and white, this collection will provoke lively conversation and sober contemplation. The Seven Deadly Sins Sampler comes with discussion questions for both book group and classroom use, as well as a foreword by Al Gini that explains the history of the seven deadly sins and their place in popular culture today.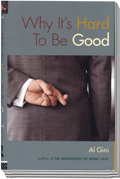 Why It's Hard To Be Good
(ISBN: 415972639)

Synopsis:

It isn't easy to be good. In fact, it's very, very difficult. Al Gini at home both in a philosophy classroom and the corporate boardroom speaks here in an engagingly direct voice about why we have so much trouble doing the right thing in life whether it is at home, with family, or with strangers at work. Businesses struggle with ethical issues every day, and so do ordinary people. But a multinational corporation and a single thinking human being are bound together by the same dilemma: How to choose the right thing to do and then do it?

Why It's Hard To Be Good examines the concept of stepping out of the shadow of the self to stop thinking only of one's self as the center of the universe. It's hard to be good, Gini explains, until we realize that being good only has meaning in relation to other people. Ideas of justice, fairness, and ethical behavior are just that abstract ideas until they are put into action with regard to other people. Gini argues that we may worry too much about good versus evil big concepts that give us plenty of room to sit on the right side of the equation. Instead, we need to be thinking about how being good involves an active relationship toward the people that surround us.

This warm and generous book is for anyone who wants to know how to use ethical thinking as way to live, work, and be with others.
Case Studies in Business Ethics Fifth Edition
(ISBN: 131127462)

Synopsis:

This classroom text book has been in print since 1985, and has become a standard in the field. It offers and studies hands-on cases and accessible essays on real life issues in business ethics.
The Importance of Being Lazy: In Praise of Play, Leisure, and Vacation
(ISBN: 415938791)

Synopsis:

A great American fantasy is about leisure: wooded getaways, Caribbean crises, white-water rafting, and the lights of Las Vegas. Yet one in four Americans does not take a vacation at all. As a culture whose mythology is steeped in the hard work and accomplishments of our pioneering forbearers, we just don't do nothing well! We know how to work hard but not how to play.

What we really need, argues Al Gini, is some time off. The Importance of Being Lazy takes us on family road trips, to Disneyland, on shopping sprees, on extreme sports adventures, and into the ultimate vacation retirement showing why we venerate vacations and why doing nothing is a fundamental human necessity.

In a witty, breezy tour of our workaholic society, where summers at the seashore have been supplanted by the long weekend, Gini draws on studies of Americans vacation habits as well as interviews, personal stories, and the wry observations of philosophers, writers, and sociologists from Aristotle to Mark Twain to Thorstein Veblen.

Without true leisure, Gini says, we are diminished as individuals and as a society. Even if we love our jobs, find creativity, success, and pleasure in our work, we also crave, desire, and need not to work. The Importance of Being Lazy is our road map for learning how to play, doze, gaze, amble, and goof off without guilt.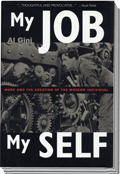 My Job, My Self: Work and the Creation of the Modern Individual
(ISBN: 041592636X)

Synopsis:

As Al Gini sat on the front steps of this Chicago home in the 1950s, he noticed that the men around him – his father, his uncle, the neighbors – spoke only of one thing: work. And weather they complained and cursed or bragged and boasted, it was clear that their work defined them. In fact, it dominated their lives.

Why do we work: And why do we work so obsessively? Gini observes that work rules, runs, and sometimes ruins our lives. But what is intriguing is that in spite of this, many of us come to love, or a least need, that which holds us captive. Peppered with real voices from workers and employers across America, and with references from psychology to history to economics, My Job, My Self shows us the human cost of lifetime of labor for every working man or woman.

Arguing that adults require work just as children need to play, Gini teaches us that the purpose of work isn't merely to produce products but to create emotionally healthy people. In this provocative, lively, and sometimes disturbing meditation, Gini reveals that work is not only a fundamental aspect of our humanity but a profound reflection of our deepest selves.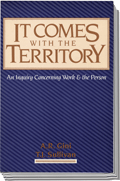 It Comes With the Territory: An Inquiry Concerning Work and the Person
McGraw-Hill Companies: 1989
(ISBN: 75573008)

Synopsis:

A series of essays by the co-authors and a selection of articles by experts in the field on how we effect our jobs and how our job affects us.