Developing Regenerative Supply Chains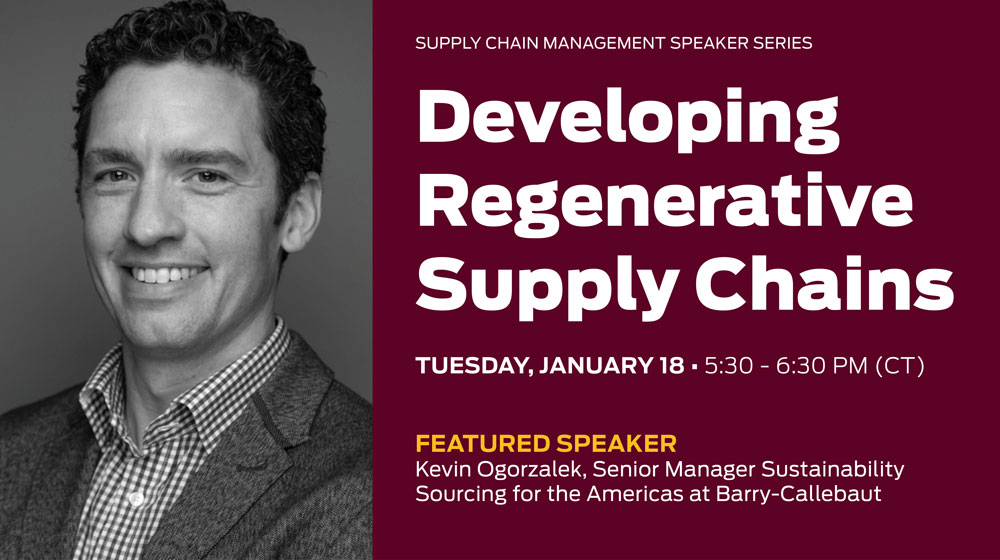 Current environmental and human rights trends require us to urgently rethink and take action within commodity supply chains to regenerate ecosystems and communities. Business partners must undertake tough change management processes to move from doing less harm and seeking efficiencies to restoring and stewarding where we operate. This discussion explored the multiple challenges and opportunities within complex commodity supply chains, as well as accompanying strategies and tactics to regenerate ecosystems and communities in which commodities are harvested for eventual human use.
---
About Kevin
Kevin Ogorzalek is Senior Manager Sustainability Sourcing for the Americas at Barry-Callebaut where he is responsible for leading sustainable sourcing of non-cocoa ingredients. Prior to joining Barry-Callebaut, Kevin was Director of Impact Partnerships at Bonsucro. Before Bonsucro, Kevin was the VP of Sustainability Metrics for the Innovation Center for US Dairy.

Kevin started his career at WWF leading the global sugarcane program to improve environmental and social outcomes from sugarcane production – including several pioneering field projects with producers and supply chain partners. While at WWF Kevin also led the development of the North American bison conservation management guidelines. He spent over two years as Chairman of Bonsucro, leading the organization as one of the fastest growing sustainability certification organizations. He also led the founding of the Bioplastics Feedstock Alliance.

Kevin is also a past Chair of the Brushwood Center at Ryerson Woods, an organization dedicated to promoting the intersection of the arts, nature, and community well-being. Kevin received his undergraduate degree at Duke University and Master of Environmental Science from Yale University. He lives in Chicago with his wife, two kids, and a high maintenance, yet lovable Portuguese water dog.
---
This event is part of our Supply Chain Management Speaker Series Class, which is held every semester to further our mission of complementing our students' classroom experience with the advice and expertise of practitioners.