Indirect Procurement: Your Career Growth Strategy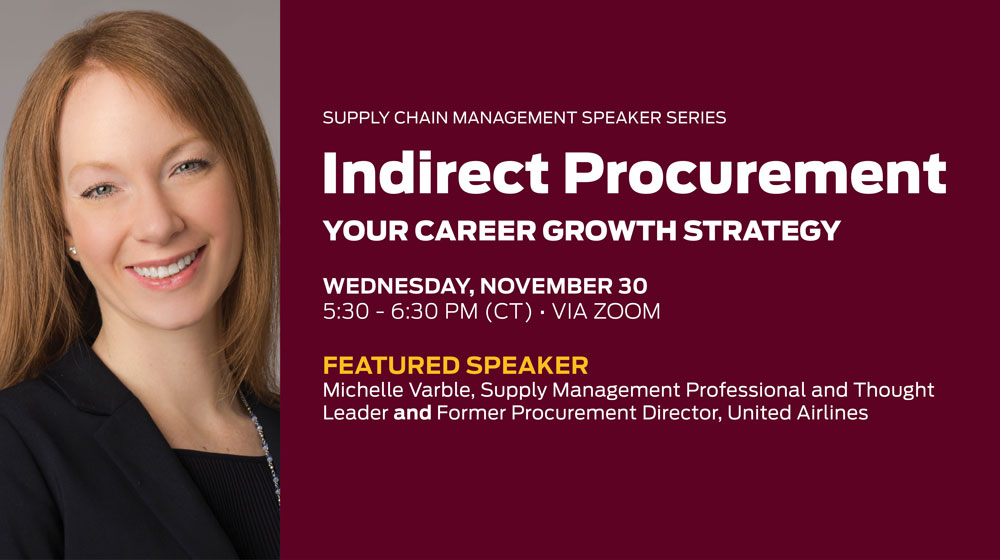 A virtual conversation with Michelle Varble, Former Procurement Director at United Airlines, and Supply Management Professional and Thought Leader.
With all the hype around today's global supply chains, there is no wonder why someone might consider a career in direct materials procurement. Yet, a career in indirect procurement can be equally fascinating. During this session, Michelle discussed some of the most compelling reasons why a career in indirect procurement should be considered and how it offers opportunities for personal and professional growth.
About Michelle
Michelle Varble has over fifteen years of experience serving in procurement and supply chain roles within the manufacturing and services sectors, most recently as a Director of Corporate Services Procurement at United Airlines. Michelle is a Certified Professional in Supply Management (CPSM) and a Certified Six Sigma Green Belt (CSSGB) and holds a Bachelor's degree in Business Administration from Loyola University Chicago and a Master's degree in Liberal Arts from the University of Chicago. Michelle is passionate about thought leadership and enjoys comparing and analyzing seemingly unrelated concepts to promote new ways of thinking.
---
This event is part of our Supply Chain Management Speaker Series Class, which is held every semester to further our mission of complementing our students' classroom experience with the advice and expertise of practitioners.