Supply Chain Transformation and Adaptation to COVID-19 at UChicago Medicine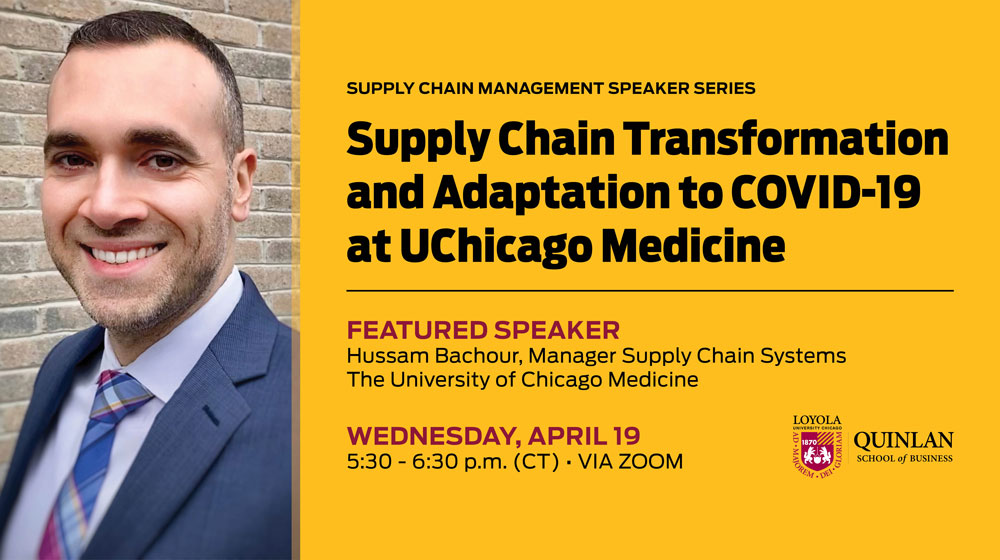 In 2011, the lean transformation of the University of Chicago Medicine medical center encompassed substantial renovation of its internal supply chain. This included moving from a centralized warehouse-based system managed largely by clinical teams to a lean, decentralized, just-in-time system managed by supply chain professionals.

In early 2020, the COVID-19 pandemic brought new challenges to the University of Chicago Medicine's supply chain. Accommodating for the COVID-19 pandemic required numerous changes to the supply chain design and operations.

This presentation focused on the story of supply chain transformation, sustainment, and adaptation to COVID-19. Featuring Hussam Bachour, Manager Supply Chain Systems The University of Chicago Medicine.
Event details
Date: Wednesday, April 19
Time: 5:30-6:30 p.m. (CT)
Format: Zoom
About Hussam
Hussam is inspired to enable supply chain optimization and digital transformation through data analytics and technology implementation.

He has immense experience in the supply chain industry from two world-renowned healthcare organizations and a proven track record in designing and implementing data analytics and technology solutions that improve business performance.

Hussam is passionate about leading and developing people. In his current role, he leads the UChicago Medicine Supply Chain Business Process team, which is dedicated to optimizing the supply chain procure-to-pay information flow and supporting data-driven decision-making with analytics. He also led cross-functional projects to build business intelligence platforms, process automation tools, supply chain forecasting and optimization models, and Oracle Cloud analytics platform.

Prior to joining UChicago Medicine, he held the role of Supply Chain Performance Manager at Northwestern Medicine, where he led process improvement and data analytics projects.

In addition to his industry experience, Hussam was an adjunct faculty at Loyola University Chicago, where he graduated with a Master of Science in Supply Chain Management and an MBA in Information Systems and Operations Management. Hussam co-authored a research article published in the European Journal of Operational Research and an award-winning case study.

Hussam was recognized as the Supply Chain Rising Star in 2020 by Loyola University Chicago. He was awarded Loyola President's Medallion in 2015 for his scholarship, leadership, and service achievements. He led the winning team of the APICS/ASCM regional and global supply chain simulation competition in 2015, 2016, and 2017. He was also recognized as the Future Supply Chain Star by CSCMP in 2016.

Hussam has spoken about supply chain analytics and technology at national conferences such as the Vizient Summit and the Supply Chain Innovation Summit.
---
This event is part of our Supply Chain Management Speaker Series Class, which is held every semester to further our mission of complementing our students' classroom experience with the advice and expertise of practitioners.