Talk to Action: A Practical Guide to Freight Sustainability in the Modern Supply Chain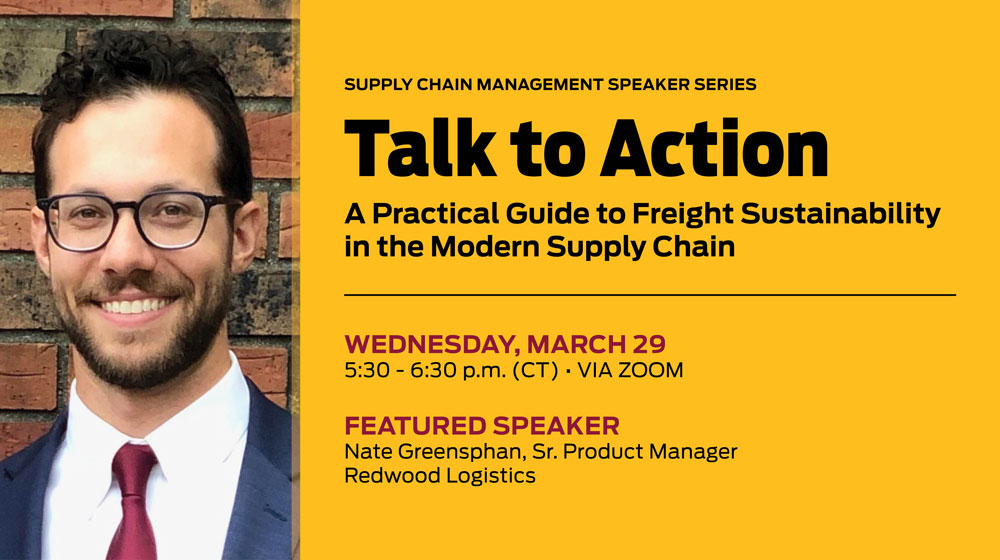 A virtual conversation with Nate Greensphan, Senior Product Manager at Redwood Logistics.
ESG and sustainability initiatives are catching a lot of attention in the headlines. What does that mean, and how does that relate to my freight transportation? With supply chain accounting for up to 80% of a company's emissions, how we transport goods and leverage underlying data and tooling can make a real impact.

In this webinar we discussed why sustainability is an increasingly important topic in freight transportation, what issues we're identifying, and steps that can be taken towards reaching corporate emissions targets.
Event details
Date: Wednesday, March 29
Time: 5:30-6:30 p.m. (CT)
Format: Zoom
About Nate
Nate Greensphan is a product leader at Redwood Logistics. After joining the Redwood team to grow the product function, he now drives strategy and delivery for Redwood's SaaS products, including sustainability offerings to meet shippers where they're at on their sustainability journey. Having studied Environmental Science at the University of Illinois, he has been bringing his passion for the planet into the transportation industry for over six years. On his free time Nate loves to travel, exploring new places such as his pursuit of visiting all of the US National Parks.
---
This event is part of our Supply Chain Management Speaker Series Class, which is held every semester to further our mission of complementing our students' classroom experience with the advice and expertise of practitioners.