The Future of Supply Chains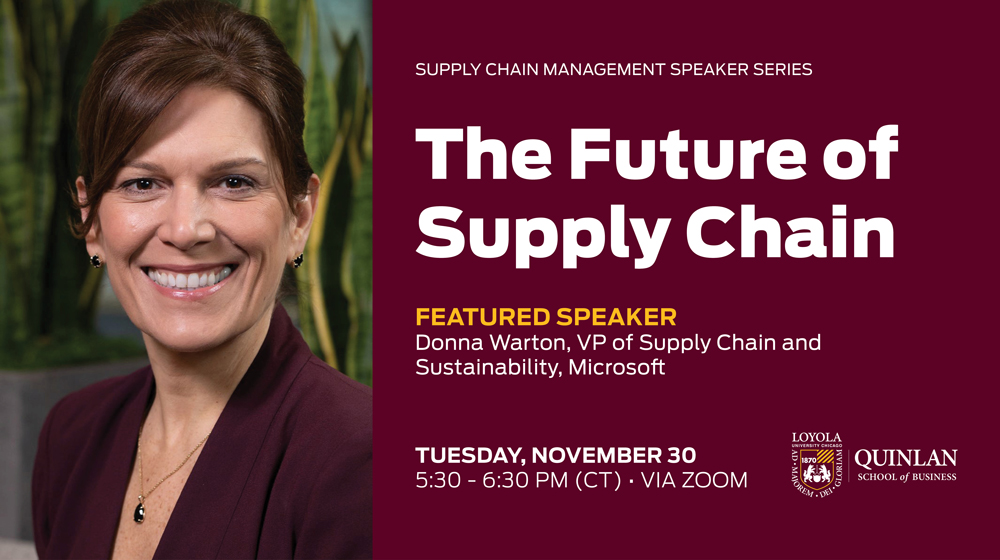 A conversation about the future of supply chain, featuring special guest Donna Warton, Vice President of Supply Chain and Sustainability at Microsoft.
About Donna
Donna Warton is the Vice President of Microsoft Devices Supply Chain and Sustainability responsible for managing the end to end supply chain for hardware including Surface, Surface Hub, HoloLens, Xbox, Games and Accessories. With double-digit business growth, Donna is transforming the supply chain through technology and sustainability to scale operations, create product circularity, drive customer satisfaction and be a showcase for Microsoft. Over the last several years, the device business has become a core part of Microsoft's strategy to empower every person and every organization on the planet to achieve more.

Prior to joining Microsoft, Donna was VP of Global Operations for Dell where she transformed Dell's famous configure-to-order supply chain into a segmented supply chain model unleashing improved customer experience and business value.

Before joining Dell, Donna led the Global Supply Chain for Mettler-Toledo International, a precision balance and scale manufacturer for laboratory, retail & industrial markets. She was responsible for Global Procurement, Logistics, Supplier Quality, and Supply Chain Operations.

Prior to Mettler-Toledo, Donna was Corporate Vice President of Global Operations and Supply Chain for Motorola's Mobile Device business. During her time at Motorola, she ran the supply chain that launched RAZR, which at the peak was shipping 100 million units a year.

Donna started her career in finance supporting various functions including sales & marketing, engineering, manufacturing, merges & acquisitions, and corporate finance.

Donna has a passion for business and building great teams. In 2019, Microsoft Devices Supply Chain won the talent diversity champion of the year award. In 2013, Donna won the Inspiring Leader award at Dell's company-wide annual leadership meeting. Donna holds a Bachelor of Science degree in Accountancy from Northern Illinois University and an MBA from Loyola University.
---
This event is part of our Supply Chain Management Speaker Series Class, which is held every semester to further our mission of complementing our students' classroom experience with the advice and expertise of practitioners.