Women in STEM
Student profiles
Tomorrow's STEM leaders
Loyola University Chicago recently ranked seventh for graduating the highest share of female STEM (science, technology, engineering, and mathematics) students in the country. In fact, nearly 50 percent of Loyola's STEM degree recipients in 2015-16 were women—a number that far exceeds the average.
Eunice Montenegro and Olajumoke "Jummy" Bamgbose are two current students with a passion for science who are striving to make a difference in their fields. We asked each of them about how they got interested in STEM, how Loyola has helped them along the way, and what advice they have for other young women aspiring to STEM careers.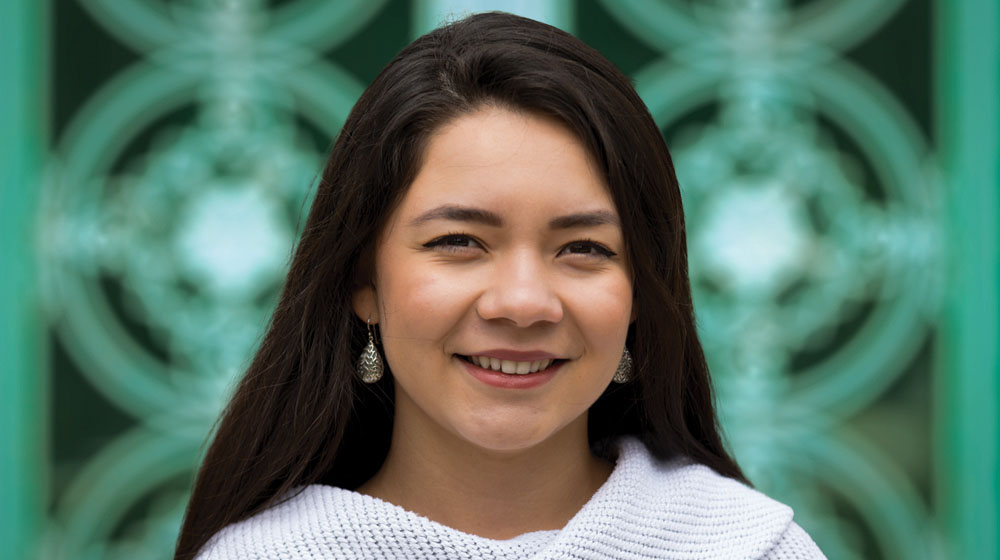 Eunice Montenegro
Junior, Information Technology
What STEM related activities are you involved in?
I decided to go the technology route after I took web design classes in high school and I really enjoyed them. I've taken various classes at Loyola to see where my interests lie, but there was always something about tech I didn't want to let go.
I'm currently involved with Loyola's chapter of Girls Who Code, an organization dedicated to closing the gender gap in technology. I love how it's specifically for girls, because unfortunately there aren't a lot of females in the tech industry. It's really nice to see that there are programs like Girls Who Code that target young girls to get involved and persuade them to go into tech and see that it's not all about coding behind the computer 24/7. Tech involves so much more than that—there are big projects, management opportunities, so it's nice to see that girls get to see that at a young age.
I also work at Loyola's Help Desk for the Information Technology Services Department. It made me realize just how broad IT and technology is as a whole. I get to see people's various issues they run into—whether it be hardware related or Wi-Fi related issues—and it's really rewarding to assist others.
Do you think it's important to encourage more women to enter the IT and technology fields?
There are definitely more males than females for most, if not all, of the technology classes I'm in. I have a professor, María Sáenz, who was also a student at Loyola in the computer science department. The reason she decided to teach is because she said when she was a student here, there were no female faculty members who solely taught computer science. So she wanted to be that change. Her actions as a professor and mentor motivated me to strive for my goals and reassured me that that I'm never alone.
I think we're blessed to be at Loyola and in the Chicago community where we're all very diverse and come from different backgrounds. There are moments when you hear comments like, "Oh, guys would understand this better than girls would." I don't think it's intentional in any way, I think it's just stereotypes. It's a matter of defeating that, and getting more girls intrigued by technology.
You're set to graduate in December 2019. As of right now, what are your post-graduation plans?
I want to pursue my master's degree through Loyola's BS/MS dual degree program for Information Technology. After that, I want to stay in Chicago because there's a lot of great opportunities in tech fields here. I'll continue volunteering and hopefully still be involved with Girls Who Code.
I'm also interested in becoming an instructor or professor because I want to help younger generations so they won't stumble when they enter their first computer science class. I want to inspire them to love tech as much as I do and to keep striving for their goals.
What advice would you give others who are thinking about entering STEM fields?
Don't be afraid to ask questions. With STEM fields it's easy to be intimidated or lost but there will be mentors to guide you. Tech is huge, and there are a lot of things under the umbrella. Technology is a growing field with constant updates and new programs, so one must continue learning to be successful.
Olajumoke "Jummy" Bamgbose
Senior, Molecular and Cellular Neuroscience
What STEM related activities are you involved in?
I am a pre-med student and I'm currently working in Associate Professor Anne Sutter's synesthesia lab. It's a psychology research lab where we work with synesthetes—people whose senses are triggered by another sense. In our research, we're trying to understand why they see color instead of black and white when reading. This will give us insight into the cognitive condition and also help us better understand perception as a whole.
I also volunteer at Northwestern Memorial Hospital in the same-day surgery area where I bring patients back from the waiting room and talk them through prepping for surgery. I also shadow with the doctors at the stem cell transplant area at Ann & Robert H. Lurie Children's Hospital.
Why did you decide to study at Loyola?
I wanted to be pre-med, and I knew Loyola had a great STEM program. I also loved the campus, and heard there were a lot of great research opportunities at the school so I applied, got in, and it all ended up working out.
I like how the school puts its Jesuit values first and tries to make everything equal. I like that they're able to bring their Jesuit values into the STEM program and prepare everyone to live extraordinary lives. I also really love all of my teachers. I like that the classes are smaller here at Loyola and it's made it easier to make connections with professors. I have a lot of professors I'm still in contact with—my chemistry 101 professor has been helping me with the MCAT and things like that. It's pretty neat because I had her my freshman year and I'm a senior now.
Where does your interest in STEM come from?
I've always wanted to be a doctor. Now I'm working towards going medical school after I graduate from Loyola. I really liked science in high school, so I thought I'd probably come here and pursue medicine.
My younger brother had to get a bone marrow transplant a few years ago and I was his donor. The entire process was eye opening for me and has kept me motivated. Every time the doctor and staff showed up, it made us feel better. They were always willing to answer questions and walked us through the process. It made me want to do that for other people. Plus, I've loved all of my science classes, which has helped reaffirm this is what I'm supposed to do.
What advice would you give others who are thinking about entering the STEM fields?
Being a student in STEM can be really difficult. I take my scores very personally. Sometimes if I don't get what I want on an exam I have to remind myself that it's OK—you don't have to get an A on everything. Just keep trying and if it's what you want to do, you're going to get there somehow.
#7
Loyola ranks among the top schools in the country for graduating women in STEM majors.
48.7%
of Loyola's STEM degree recipients in 2015-16 were women.
35%
of undergraduate STEM degrees nationwide are earned by women.
24%
of STEM jobs nationwide are held by women.