Emily Edkins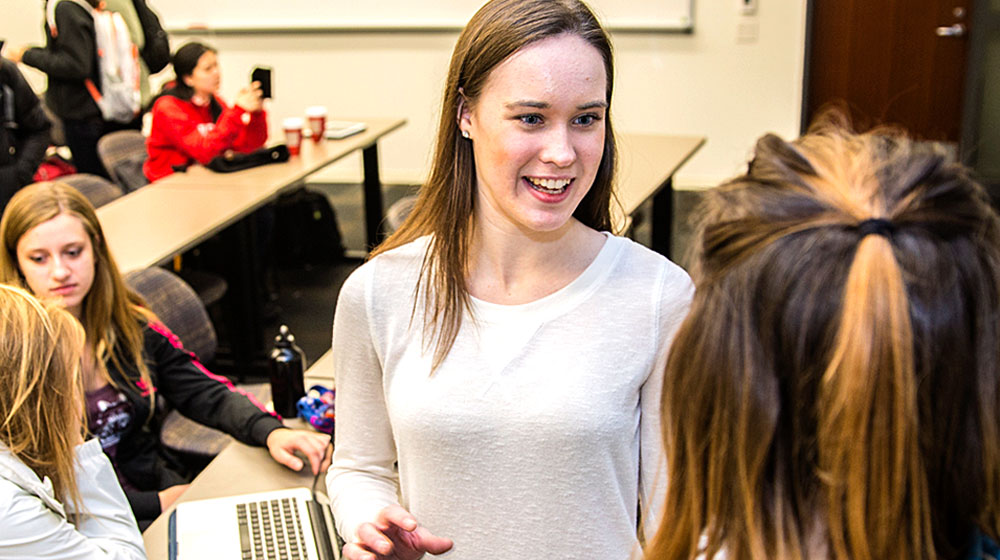 Quinlan School of Business
Emily Edkins
Emily Edkins, a double major in finance and information systems at the Quinlan School of Business, is committed to much more than just academics.
While Edkins is chair of the Student Advisory Board for the Teradata University Network and a former president of Loyola's Enactus business organization, she also knows the importance of giving back. She has served as president of Loyola's Autism Speaks chapter and worked as a tutor and peer mentor at a local elementary school. In addition, Edkins volunteers to help teens at the Ann & Robert H. Lurie Children's Hospital of Chicago.
Here, Edkins talks about her commitment to service, ice-skating in Millennium Park, and her aspirations after Loyola.
What's your favorite Loyola memory?
I remember the first snowfall during my freshman year. Campus swelled with excitement and anticipation, and Lake Michigan's frozen waves crafted a kind of endless ice sculpture. That evening, my friends and I went figure skating at Millennium Park and felt completely immersed in the beautiful city lights. The rhythm was palpable, and I knew that Loyola was already creating an important chapter in my life.
Talk a little about a professor or mentor who inspired you.
An abundance of mentors fill my life—mentors who inspire me to live a full and meaningful life. Gezinus Hidding, PhD, and Nenad Jukic, PhD, from the Quinlan School of Business have been especially influential. They have challenged and encouraged me to lead with integrity and make meaningful contributions to the world. I have grown personally and professionally by learning from others' experiences and embedding their insights into my own journey.
Tell us about your volunteer/service work and what it means to you.
Service gives me the courage to live a full life and share in someone else's suffering and joy. I've come to realize the connections between lives that seem disparate at a distance. Volunteering at the Ann & Robert H. Lurie Children's Hospital, Jordan Elementary Community School, and nonprofit organizations, such as Autism Speaks, has shown me different faces of the world, and in each face lies an authentically human story.
Any advice you would give students about how to get the most out of their education?
Stretch yourself. Pursue your curiosities by speaking with professors outside of class, questioning global affairs, participating in student organizations, visiting cultural exhibits, shadowing professional role models—the possibilities are endless. Expose yourself to new perspectives: This will reveal your inner passions, and these passions will ultimately lead you to your purpose. Your learning and development will grow to the extent that you put in time and effort.
Any spots on campus or in Chicago that you'll miss?
Lewis Library, the Newberry, Saint James Chapel, Lurie Children's Crown Sky Garden—Chicago is a city of beauty and history. Watching the sunset over Lake Michigan reminds me of life's renewal. It's a moment of simplicity when I focus on my true priorities.
And finally, what do you hope to be doing 10 years from now?
I hope that today—and in 10 years—I am making a difference in someone's life. I aspire to achieve an MBA from Harvard Business School, write and publish a book, serve in the Peace Corps, and create a nonprofit. Yet, a part of me embraces the uncertainty of my future. No matter what I am doing, I hope I am giving myself to others and making a positive impact.