Jonathan Sheffield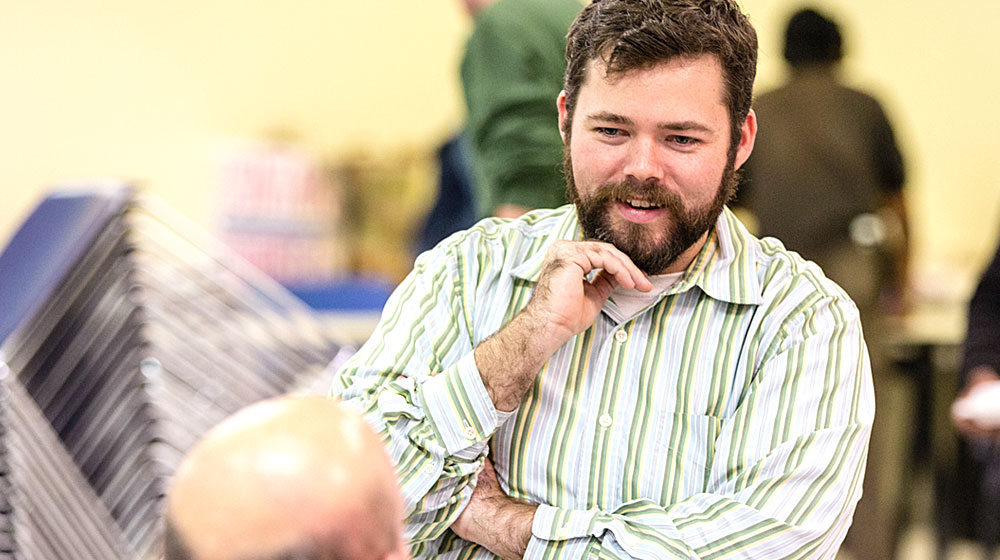 School of Law
Jonathan Sheffield
There's very little down time in Jonathan Sheffield's life—and he wouldn't have it any other way.
Sheffield, who ranks 8th out of his class of 251 law students, is the managing editor of the Loyola Law Journal and has been on the board of the University's chapter of the National Lawyers Guild for the past two years. Outside the classroom, he regularly serves meals to the residents of Lawson House YMCA.
Here, he talks about his love of tutoring, why attorneys should help the less fortunate, and how a certain statue on campus inspires him each and every day.
What's your favorite Loyola memory?
I enjoyed every minute when I tutored Civil Procedure and Constitutional Law for Section Two. The students were bright, funny, grateful, and interested in learning—truly a fantastic bunch. It felt great hosting a packed review session, helping students connect the dots from class, answering questions, and all while cracking a few good jokes.
Talk a little about a professor or mentor who inspired you.
I had four professors who, from day one at Loyola, made me the best law student I could be. Spencer Waller showed me how to simplify complex legal concepts and to enjoy being a lawyer above all else; Allyson Gold taught me the substance of poverty law and how to practice it; Alexander Tsesis empowered me to think and write more like an academic; and Mary Bird is my social justice idol, always centering me on why I came to law school.
Tell us about your volunteer/service work and what it means to you.
During law school I didn't want to just provide free legal services to low-income people. I wanted to grow close to them, learn from them, and be changed by that experience. So I also regularly served meals at Lawson House YMCA, a permanent supportive housing development for people who were once homeless or have extremely low incomes. Volunteering there helped bring people into my life who might seem different on the surface but with whom I share a deeper connection—our humanity.
Any advice you would give students about how to get the most out of their education?
Use law school as a time to start incorporating some level of unpaid work toward the good of our society into your regular practice as a lawyer. Because starting with your first day of law school, you are building a skill set that 99 percent of the population lacks. Incorporating this service into your law school experience will allow you to get the most out of your education for many reasons, one good reason being it will put faces to abstract legal concepts.
Any spots on campus or in Chicago that you'll miss?
There is a study spot on the fifth floor of the law library where I've studied the past three years that I will definitely miss. I also have found inspiration walking past the Mother Teresa statue as I arrive and depart from campus; that's a unique part of going to a Catholic school that I have abundantly appreciated. Off campus there are several coffee shops that I call a home office on the weekends.
And finally, what do you hope to be doing 10 years from now?
My dream job combines civil rights, affordable housing advocacy, and direct service. Developing and preserving adequate, affordable housing for all people—while also creating neighborhoods of opportunity—that's what I want to do. This could mean working as an attorney for the United States Department of Housing and Urban Development, Department of Justice, or for a nonprofit that handles housing-related issues.