Kailee Phelps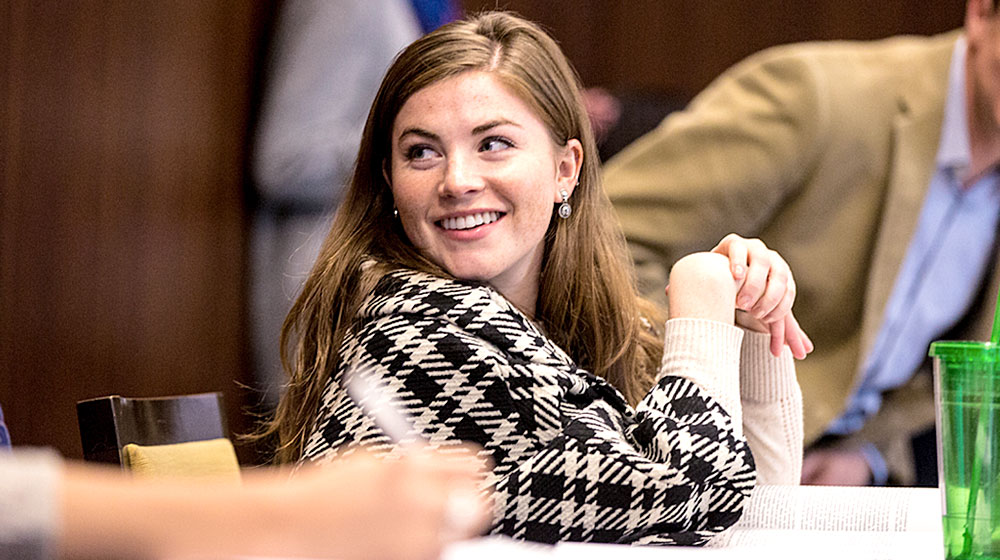 School of Communication
Kailee Phelps
When asked to describe Kailee Phelps, her professors use words such as "remarkable," "energetic," and "a true person for others." It's easy to see why.
Phelps has been a tutor and dance teacher for students in Rogers Park; she's packed bagged lunches for underprivileged children in the area; and she's worked with her church in Michigan to help coordinate the parish's annual service week programs. She's excelled in the classroom as well, making the Dean's list every semester at Loyola.
Here, she discusses her passion to help others, why she'll miss Lake Michigan so much, and how—sometimes—clichéd advice is the best advice.
What's your favorite Loyola memory?
I'd have to say my final for my Story for Film & TV course with instructors Beth and Gary Hoover. We had a two-hour table read of all the TV episodes that we wrote and helped develop throughout the semester. It was full of great work, lots of laughs, and my first vegan pizza experience—which was amazing.
Talk a little about a professor or mentor who inspired you.
I've been blessed to have had many amazing and influential people come into my life, but one that stands out is Professor Elizabeth Lozano. I took several courses with her that helped solidify my interests. She is an inspiring, intelligent, and genuine professor who has definitely helped me develop as a student and human being.
Tell us about your volunteer/service work and what it means to you.
I have really enjoyed getting involved in Rogers Park by tutoring, teaching dance, judging debate, and assisting the elderly. I have also been part of an amazing student group, Invisible Conflicts, which helps a number of great international causes. It's incredibly important to me to serve the world, but also to serve the local community in a hands-on way. Loyola gave me opportunities to do both.
Any advice you would give students about how to get the most out of their education?
I know it's cheesy, but it's true: You'll get out of your education whatever you put into it. Part of this is going to class, but it also involves being open to new experiences, people, topics, opportunities, and anything that gets you out of your comfort zone. Pushing yourself to learn (in and out of the classroom) will help lead to unforgettable experiences and amazing connections—which is what college is all about.
Any spots on campus or in Chicago that you'll miss?
I absolutely adore Loyola Beach and Park, and I'll miss it immensely. One of my favorite things to do on a nice day is walk north on the beach from campus to my apartment off the Morse stop. Seeing the water, grass, and artwork is a great way to blend the bustling city with nature and a small-town community feel.
And finally, what do you hope to be doing 10 years from now?
The blessing of my majors—communications studies and global and international studies—is that they are both open-ended. But it's also a dilemma. I have not singled out the best path for my passions and talents yet, but I hope to be working in the communications field for an international business, nonprofit, or nongovernmental organization. I'm looking forward to seeing what the future holds and helping people with my Jesuit education.