Nicholas Baumgardner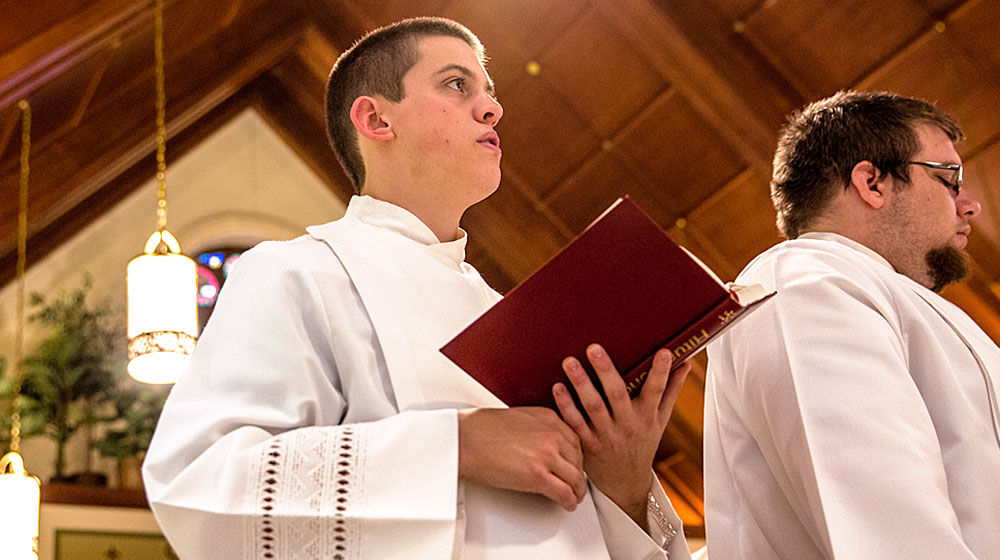 St. Joseph Seminary
Nicholas Baumgardner
Nicholas Baumgardner is a strong believer that service and volunteer work are key to improving any educational experience.
As a philosophy major and seminarian, Baumgardner speaks from experience. He spent several months last year bringing Holy Communion to the sick and elderly around Loyola. And he now serves as a resident assistant at the seminary, where he started a weekly Bible study group and helps lead communal prayer sessions.
Here, he talks about the inspiration his spiritual mentor provides, the benefits of helping others, and why deep-dish pizza is (almost) the best food on Earth.
What's your favorite Loyola memory?
Definitely finals breakfast during fall semester last year. It was my first finals week at Loyola—I'm a transfer student—and I had never experienced anything like that at the previous university I attended. One of the reasons I enjoyed the experience so much, I think, is the fact that I actually wasn't aware that it was going on until some of my brother seminarians essentially "kidnapped" me and took me there.
Talk a little about a professor or mentor who inspired you.
Fr. John Murphy, S.J., one of the Loyola Campus Ministry chaplains and my spiritual director, has been a great source of inspiration for me. If you've ever talked with Fr. Murphy you know why—not only is he incredibly intelligent, but he's also amazingly gifted at helping you realize just how valuable and loved you are. I've never met anyone else who is as wise or as caring as Fr. Murphy.
Tell us about your volunteer/service work and what it means to you.
Service is an amazing opportunity to become more like Christ, who came not to be served, but to serve. I learned this in a beautiful way last year when I had the privilege of bringing Holy Communion to the residents of a local nursing home. Weekly encounters with poverty and suffering taught me how to look beyond my own daily crosses and to appreciate the needs of others.
Any advice you would give students about how to get the most out of their education?
Try to see the purpose behind everything that you study—it's a lot easier to persevere when you realize that what you are learning actually matters. If you're having a hard time realizing this, try to do an internship or some volunteer work in your field of study. There's nothing like a healthy dose of "the real world" to give you a perspective on the value of your education.
Any spots on campus or in Chicago that you'll miss?
Lickity Split and Giordano's. I'm a Wisconsinite through and through, and so I enjoy everything dairy—especially frozen custard. I'm also a big fan of Chicago-style deep-dish pizza. I have a seminarian friend who likes to tell people that deep-dish pizza ranks second only to the Holy Eucharist in the category of the best food on Earth. I happen to agree with him.
And finally, what do you hope to be doing 10 years from now?
I hope to be a Roman Catholic priest for the Archdiocese of Milwaukee.