Rosalin Walcott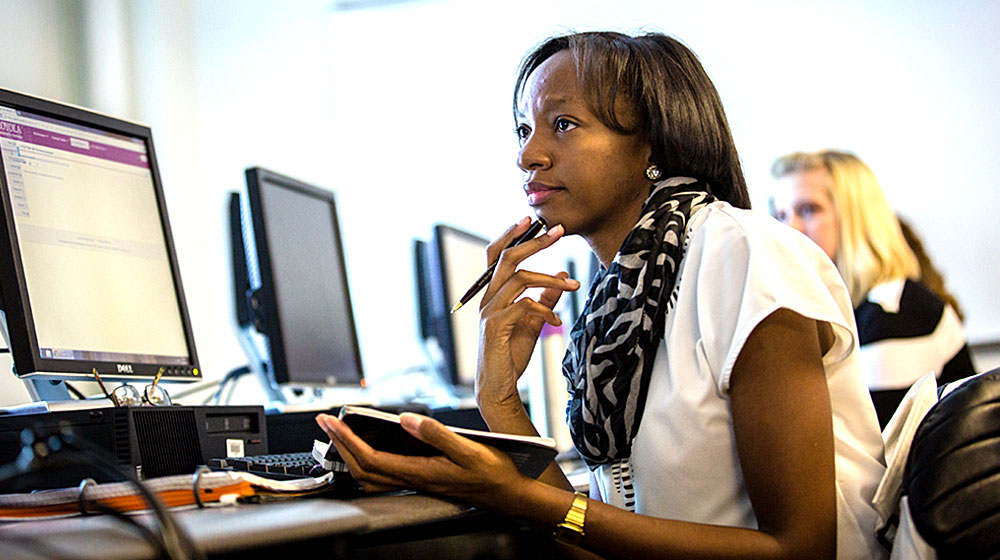 School of Continuing and Professional Studies
Rosalin Walcott
Rosalin Walcott grew up in public housing in New York City, and as a young girl she quickly saw the importance of helping others. Now, as an adult, she's dedicated her life to serving those in need.
Walcott, who received her certificate in paralegal studies earlier this year, currently works at a Chicago law firm that represents a number of nonprofit organizations. She also volunteers for several local groups that work with children and families.
Here, she talks about her first day at Loyola, how sports can bring families together, and why learning should always be fun.
What's your favorite Loyola memory?
My first class as a paralegal student. It was Introduction to Paralegal Studies, and we all sat quietly in the classroom. Then Katherine Greenwood came in and just filled the room. She was almost laughing kind of slyly; she loved taking us out of our comfort zones for the sake of learning. She told us we were going to learn and be uncomfortable—but love it. She set the tone for the program, and it made me excited to be there.
Talk a little about a professor or mentor who inspired you.
Instructors like Kelly Barry and the staff at Loyola have been remarkable and very helpful. But if I had to pick one person who inspired me in my life, I would have to say Brother Brian Carty, who was my middle school principal at De La Salle Academy in New York. I have met few people with a heart as big as his. He gave me the tools and showed me how to build the wings to fly and reach my dreams. He made a great team along with my mother and four older siblings in inspiring me to consistently move forward and help others.
Tell us about your volunteer/service work and what it means to you.
A large chunk of my volunteer work has been with children. Kaboom! and Chicago Youth Sports Alliance use play and sports to build confidence and values. Playing opens a means for dialogue and helps bridge gaps between families and generations. It's also a lot fun! We all transform and get lost in positivity when we play. The changes in the children and their parents in just one activity is overwhelming to see.
Any advice you would give students about how to get the most out of their education?
My high school advisor gave me tips that apply to getting the most out of many situations. First: Get to know the professors and those in charge. Ask questions because you never know what wisdom they have that can be helpful in your own growth. Second: Finish strong. You may have some trouble early on, but you must keep trying. And third: Enjoy it. Learning should always be fun.
Any spots on campus or in Chicago that you'll miss?
The Information Commons on the Lake Shore Campus. The library is almost all glass and overlooks Lake Michigan. It doesn't matter what season it is. It's always beautiful.
And finally, what do you hope to be doing 10 years from now?
I hope to be making a difference somewhere. Maybe I'll start a nonprofit; I don't know yet. I just know that 10 years from now, I would love to be helping our underserved youth in some capacity.