MA in Christian Spirituality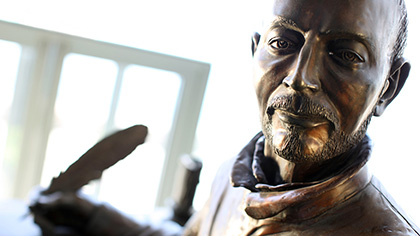 Available Online

Drawing on the wisdom of the Ignatian tradition, the Master of Arts in Christian Spirituality equips students for meaningful and holistic living and ministry meeting the personal and social challenges of our time by deepening their knowledge of God and self. Joining contemplation to action, the Ignatian approach to spirituality and spiritual formation is grounded in a personal relationship with God/Christ, lived in the world and addresses the needs and issues of our time, ecumenical in its appeal to all Christians, and adapted to each person's uniqueness.
The Master of Arts in Christian Spirituality is a 36-hour degree program which can be completed entirely online, entirely face-to-face at Loyola's Water Tower Campus, or by taking a combination of online and on-campus courses. Students also have the opportunity to take IPS summer courses offered in Rome, many of which fulfill requirements for the MA in Christian Spirituality. Full-time students can complete the program in two years.

Students completing the MA in Christian Spirituality may choose to pursue a concentration in Spiritual Direction. The Spiritual Direction concentration is designed to prepare spiritual directors to facilitate the regular, on-going practice of accompanying people as they attempt to deepen their relationship with the divine. Unique to the Institute of Pastoral Studies, students have the opportunity to receive training on how to direct and make use of the Spiritual Exercises of Ignatius of Loyola (30-day or 30-week format) in spiritual direction.

To learn more about the Master of Arts in Christian Spirituality, please visit our request for information form or attend an online information session.
The U.S. Department of Education requires any institution offering distance education/online programs to students outside of its home state to acquire authorization from the states in which students reside. Regulations vary from state to state. While Loyola University Chicago is authorized, exempt or pursuing authorization in most states, some restrictions apply. Please see our State Authorization page for the most up-to-date information.
Loyola University Chicago is registered as a private institution with the Minnesota Office of Higher Education pursuant to sections 136A.61 to 136A.71. Registration is not an endorsement of the institution. Credits earned at the institution may not transfer to all other institutions.