Alicia Crosby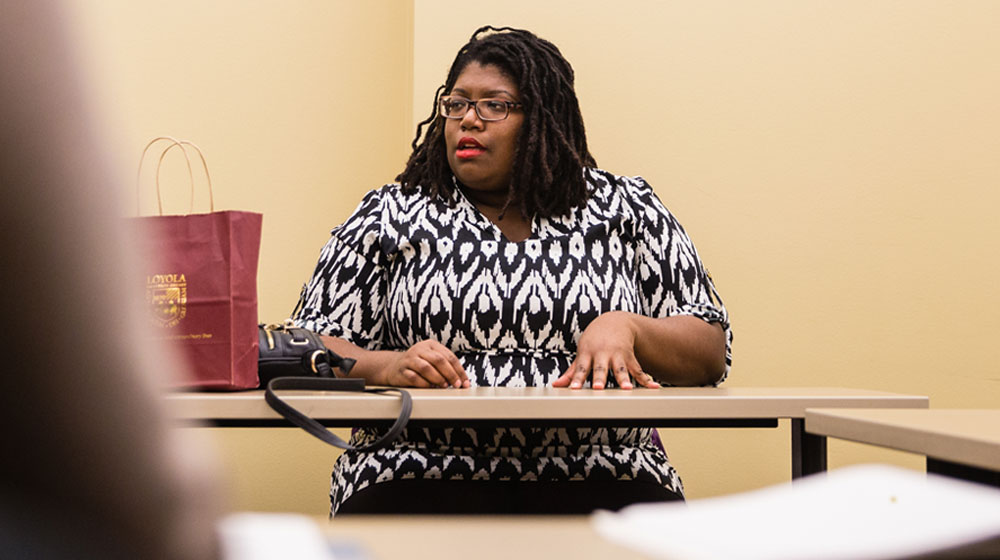 Institute of Pastoral Studies
Alicia Crosby
Alicia Crosby has a passion for social justice.

She is the co-founder of the Center for Inclusivity, which describes itself as "a place of peace at the intersection of faith, gender, and sexuality." Or as Crosby, who is pursuing a master's degree in social justice, puts it: "We want to create an authentic community where people can be wholly themselves. … We want to celebrate you." (Read more about Crosby and her mission in this TIME.com story.)

Here, she talks about meeting her classmates for the first time, what she loves most about her office at Loyola, and why hearing "no" is a lot better than wondering "what if."

What's your favorite Loyola memory?
I remember sitting around a table at Orientation with this incredible group of men and women speaking about our passions and what brought us to Loyola; I felt like I had found my people. Over the last year we have formed a little family. We've celebrated one another's accomplishments and holidays, stayed up far too late supporting one another through crises and assignments, and lived life together. That night is my favorite because it reminds me of our beginning.

Talk a little about a professor or mentor who inspired you.
Professor Peter Jones is absolutely amazing. He has pushed me in my thinking about so many things from theology to ethics to social justice—then allowed me the space to process my thoughts both in and out of the classroom. He's been an incredible mentor to me, and working with him is one of the highlights of my time at Loyola.

Tell us about your volunteer/service work and what it means to you.
I'm the co-founder of the Center for Inclusivity—an organization geared toward fostering healing communities for those exploring the intersection of faith, gender, and sexuality. I get to commit my passions and God-given gifts to building something that helps people see the individuals behind the "issues." Engaging in my work means that I get to affirm the sacredness and inherent worth of all people, giving embodiment to the love and community that I personally experience through Jesus.

Any advice you would give students about how to get the most out of their education?
Self-advocate and never be afraid to ask questions. The answer to every question you will ever have will be "no" unless you give voice to it. If you don't speak up you'll limit your opportunities and doors will remain shut to you. The worst that can happen is that you'll be told "no"—but if you fail to ask, you'll have to live with the "what if."

Any spots on campus or in Chicago that you'll miss?
I'll miss my office. I'm a student worker in my department, so I'll miss being a part of the busyness in the IPS offices and hearing the sounds of Michigan Avenue from my desk.

And finally, what do you hope to be doing 10 years from now?
I'll be continuing my work as an advocate, removing barriers where I see them so that people are able to explore the fullness of what God has for them. I will continue using my talents and gifts to clear the way for others to become who they are called to be.
The 2015-16 President's Medallion Recipients
School of Nursing

School of Social Work