Anita Cheng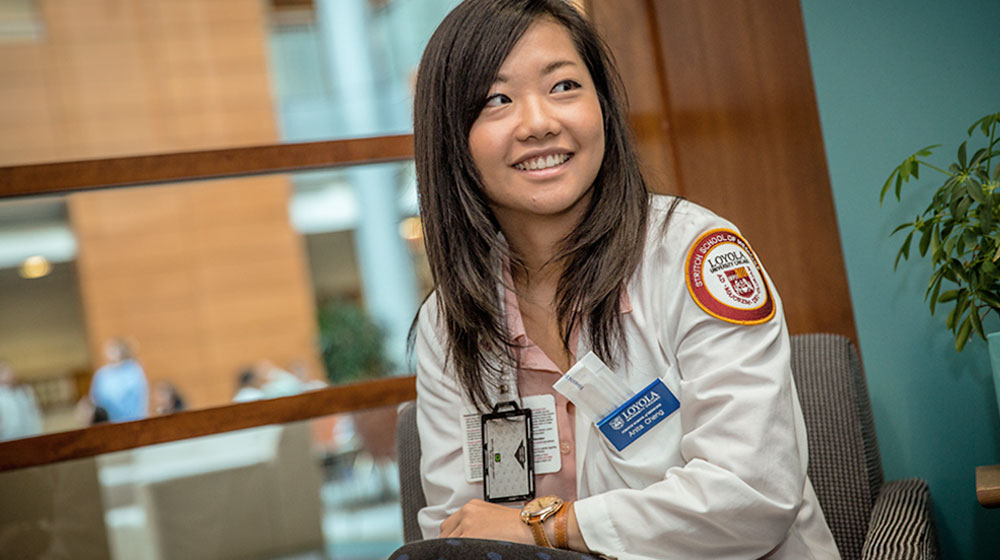 Stritch School of Medicine
Anita Cheng
Medical student Anita Cheng excels in—and outside—the classroom.

She's been inducted into Alpha Omega Alpha, the highly selective national medical honor society, and won multiple scholarships and awards. She's volunteered at a health clinic, where she oversaw first- and second-year medical students and provided care to the uninsured. And she's even raised money to help victims of the 2013 typhoon in the Philippines.

Here, she talks about being a "Panda Warrior," how working in a clinic has shaped her plans for the future, and why you can't just study all the time in medical school.

What is your favorite Loyola memory?
Stritch has had a long running tradition of an annual M1 vs. M2 powderpuff game. As a second-year medical student, I was part of the decorating team that secretly transformed the school into a jungle for our "Panda Warriors," surprising our opposing first-year classmates. It was such a joyous and unifying moment to see the whole class come together in coordinating T-shirts and headbands to support our players and cheerleaders. And, of course, we won.

Talk a little about a professor or mentor who inspired you?
I first met Dr. Paul O'Keefe as a second year in the Mechanisms of Human Disease course, where his passion for his field in infectious disease and medical education was absolutely contagious. Working in his HIV clinic showcased his compassion for this unique patient population. Even though he is the Chair of the Department of Medicine, he is one of the most approachable professors I have ever worked with and I hope to be able to bring his enthusiasm to my own area of practice.

Tell us about your volunteer/service work and what it means to you.
I had the privilege of serving as a member of Stritch's board at Chicago's Community Health Clinic (CHC), one of the nation's largest free clinics for the uninsured. Being able to address their patients' basic needs in a system that otherwise limits their access to care due to their socioeconomic status is a truly humbling experience. My time at the CHC has really built on my foundational interest in working with the urban underserved, something I aspire to incorporate into my future practice.

Any advice you would give students about how to get the most out of their education?
The friends I have made in the past four years have incorporated color and fun into an otherwise rigorous curriculum. Study hard for sure, but also go to the social events and build those friendships. In addition, if you find a certain aspect of the curriculum falling short of addressing a particular topic, specialty, or patient population, start an interest group, a discussion, and/or a research project. You will always be able to find faculty and peers to support your vision.

Any spots on campus or in Chicago that you'll miss?
I am a huge foodie, and Chicago has consistently delivered on its vibrant culinary scene—something that I will certainly miss should I leave the area. I will most definitely miss having easy access to Lake Michigan, which has been a calming backdrop to this bustling city.

What do you hope to be doing 10 years from now?
I definitely picture myself being involved in medical education, either teaching residents and/or medical students. I also hope to be dedicating a portion of my practice in a global health context—either engaging in clinical work and/or research in an under-resourced country.
The 2015-16 President's Medallion Recipients
School of Nursing

School of Social Work