Hussam Bachour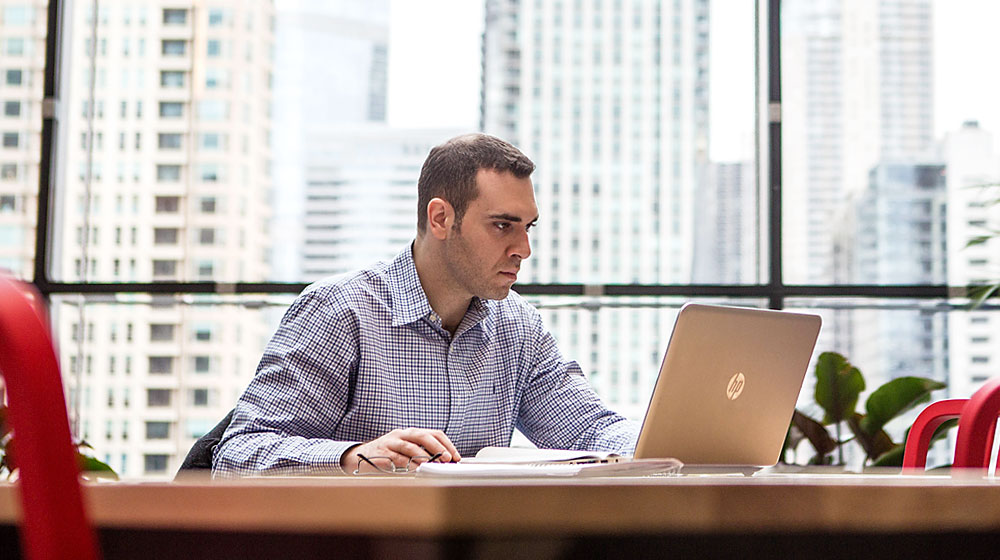 Quinlan School of Business
Hussam Bachour
Hussam Bachour grew up halfway around the world, but he's managed to make Loyola his home.

A native of Syria, he does extensive service work in Chicago and makes it a point to help those around him. Bachour—who is earning a dual degree MBA/MS in supply chain management and has a near-perfect 3.94 GPA—has also worked to help displaced civilians in his home country. "Without helping other people," he says, "I am not complete."

Here, he talks about getting accepted at Loyola, how students can make the most out of their education, and why he's committed to making the world a better place.

What's your favorite Loyola memory?
It was on November 26, 2013, when I received an e-mail from the graduate program office to congratulate me on my admission. I will never forget that day for all my life; it was a very emotional moment. I was very delighted and proud, and I realized that God started a new great chapter in my life.

Talk a little about a professor or mentor who inspired you.
I have been truly blessed to work with and be mentored by the extraordinary faculty and staff at Quinlan. They are my family, and my relationship with them is my greatest treasure. Professors Maciek Nowak, Michael Hewitt, and John Nicholas have been especially influential. The knowledge, support, and advice they gave me are invaluable; I really can't find words to describe how much I respect them. They will always inspire me.

Tell us about your volunteer/service work and what it means to you.
Service has given a different meaning to my life. Helping displaced civilians in my home country of Syria, participating in the MBA Day of Service and other events at Quinlan, working with Net Impact, and working with my family on social service activities opened my eyes to new perspectives about life. I learned that giving provides much more happiness and satisfaction than taking does; I also learned that without helping other people, I am not complete.

Any advice you would give students about how to get the most out of their education?
Devote your time to school and enjoy it. This is probably the most rewarding period of your life. Our faculty, staff, and students are amazing, so spend time with them. If you do that, you will learn a lot inside and outside the class, receive much love and support, and most importantly, strengthen your ethics and enrich your knowledge. There are tremendous opportunities at Loyola; make sure you take advantage of all of them.

Any spots on campus or in Chicago that you'll miss?
I will miss Lewis Library, the hallways and office rooms where I spend time talking to my professors and fellow students, and the Corboy lobby. In fact, I will miss every single place at the Water Tower Campus. This place means a lot to me.

And finally, what do you hope to be doing 10 years from now?
I want to contribute to the academic research and discoveries in the field of operations management/supply chain management. I'd love to teach students and business professionals and give them the same care and knowledge I received from my professors—plus provide the industry with solutions to problems that have never been solved before. Above all, I learned at Quinlan that our mission is to make the world a better place, and I will always work to achieve that.
The 2015-16 President's Medallion Recipients
School of Nursing

School of Social Work