Maggie Nykaza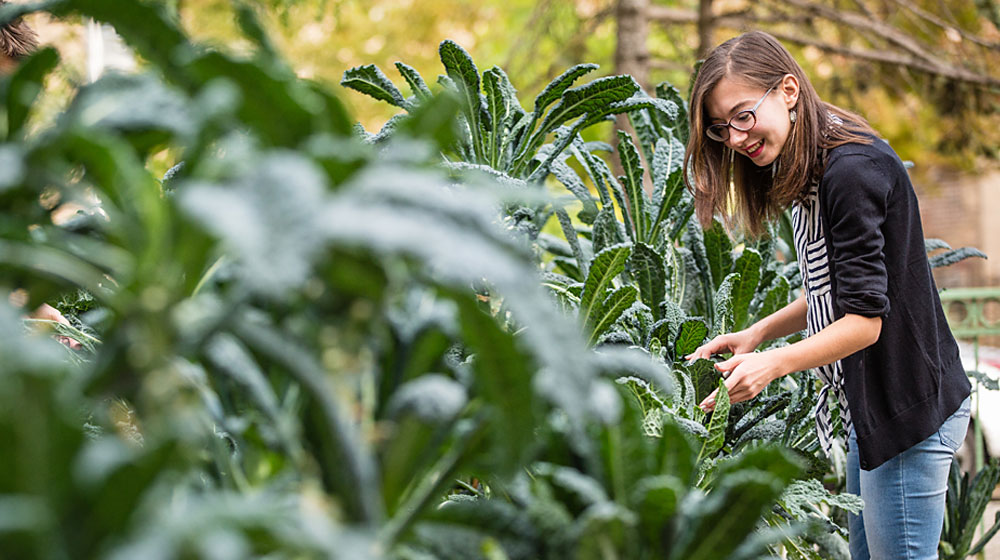 Institute of Environmental Sustainability
Magdalena Nykaza
Give Magdalena Nykaza an open space on campus, and she'll likely turn it into a vegetable garden.

Nykaza, who was one of the first interns at the student farm on Loyola's Retreat and Ecology Campus, is heavily involved in the University's urban agriculture program. She manages several gardens on campus, coordinates food donations, and oversees harvesting for the Loyola Farmers Market—all while serving as co-president of the Growers' Guild and a member of The Green Initiative Fund.

Here, she talks about her love of plants, how volunteering can bring people together, and why you shouldn't be afraid to be busy.

What's your favorite Loyola memory?
I can definitely say that my best memories were made at the gardens on campus. I put so much work, effort, and passion into the gardens, and I always enjoyed working with plants. Having so much green space on an urban campus is a privilege. Through Loyola Urban Ag and the Growers' Guild, I got to meet other students who are also passionate about plants, which made being there even more pleasant.

Talk a little about a professor or mentor who inspired you.
The Institute of Environmental Sustainability is filled with dedicated and enthusiastic professors, as well as staff members who educate students outside of the classroom. Urban Agriculture Coordinator Kevin Erickson, for instance, helped me develop my work ethic and passed on his knowledge of plants. Inside the classroom, Professor Lisa Erceg of the French department was also a great inspiration to me.

Tell us about your volunteer/service work and what it means to you.
It means using the skills you have to contribute to the well-being of the community. One of my main goals as co-president of the Growers' Guild is to incorporate as many volunteer opportunities as possible into the club's activities. We set up volunteer days at the gardens on campus where students have the chance to work with plants, as well as volunteer at off-campus urban farms. Volunteering is a great way to connect with others.

Any advice you would give students about how to get the most out of their education?
Use your time wisely. There are so many exciting opportunities that come and go during these four years besides what happens in the classroom. You can learn so much from jobs, internships, and clubs. Most importantly, don't be afraid to be busy. If you are enjoying the classes and activities you devote your time to, all the hard work is worth it.

Any spots on campus or in Chicago that you'll miss?
This campus is beautiful and I will definitely miss it. The spots that I will miss most are the gardens, the libraries, and the lake. I am most happy when surrounded by plants or books. I am fortunate enough to have worked at two jobs on campus (at Cudahy Library and at Loyola Urban Ag) where I was always happy to be part of the team, and I will truly miss them.

And finally, what do you hope to be doing 10 years from now?
I hope that 10 years from now I will have a job that impacts society in a positive way and makes me happy. I hope I will be surrounded by people I love. I would love it if in 10 years plants are still a big focus of mine and I have a beautiful garden of my own.
The 2015-16 President's Medallion Recipients
School of Nursing

School of Social Work