Onward 150
Strategic Plan
Members of the Loyola University Chicago Community:
You are critical to shaping Loyola's future and we want to hear from you! Students, faculty, and staff know and experience Loyola. We want to tap your expertise and hear your ideas as we plan the University's next five years -- together. As the University begins its 150th year, help us think about the next five years.
To kick-off our strategic planning process, I am excited to invite you for a pizza lunch and to hear Dr. Freeman A. Hrabowski III, President, University of Maryland Baltimore County (UMBC) on Friday, October 4 at 1 p.m. in the Centennial Forum, Rambler Room on the Lake Shore Campus. We are honored to welcome Dr. Hrabowski as our keynote speaker. His topic: "The Future of Higher Education in America: Challenges and Opportunities."
I look forward to seeing you on October 4 at 1 p.m.
Sincerely,
Margaret Faut Callahan, CRNA, PhD, FNAP, FAAN
Interim Provost and Chief Academic Officer
Senior Vice President, Strategy and Innovation


Dr. Freeman A. Hrabowski III, President, University of Maryland Baltimore County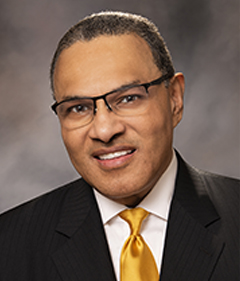 Dr. Hrabowski's research focuses on science and math education, with a focus on minority participation and performance. He chaired the President's Advisory Commission on Educational Excellence for African Americans in the second Obama Administration. In addition, he holds honorary degrees from more than 40 colleges and universities, including Harvard, Princeton, University of North Carolina at Chapel Hill, Georgetown University, and Harvey Mudd College.
As the Loyola University Chicago community convenes to plan its future, we are pleased to welcome Dr. Hrabowski, a visionary and charismatic leader in higher education who will inspire us as we begin this important work. Please join us for Dr. Hrabowski's presentation and an opportunity to meet him at a reception following.