Onward 150

Members of the Loyola University Chicago Community:
Thank you to the nearly 300 students, faculty, and staff who participated in the recent campus conversations to gather input as we plan the University's future. Your collective brainstorming generated hundreds of ideas and sparked many conversations. For those unable to participate, I invite you to share your comments this month when we also will gather input from the Board of Trustees.
Campus conversations focused on several questions, including:
How should we build and differentiate our research infrastructure and capabilities?
How should we explore and enhance philanthropic initiatives to better support strategic initiatives across the University?
How should we identify best practices, staff and organizational resources to support strategic initiatives?
How do we enhance the relationship with our Academic Medical Center Partner?
How should we enrich, enliven, and make more visible the University's vital Jesuit Catholic mission, under the guidance of the Universal Apostolic Preferences?
How should we develop a more diverse, equitable, and inclusive student-focused community?
How should we grow innovative, mission-aligned, and revenue-enhancing academic programs to serve students at every age and every stage of their lives?
How should we support the faculty of the future by developing, appointing, and realigning faculty in areas of mission-centric and strategic research, curricular, and student enrollment growth?
How should we deepen the University's connections with local and global partners?
As Loyola University Chicago celebrates its 150th year next month, we will begin drafting the University's strategic plan that will look ahead to the next five years. We again will seek this community's feedback – including our alumni community – during focus groups in March.
All of us have a stake in the University's success. Please take a moment to provide feedback on areas and/or ideas you believe are important as we work together to move Loyola University Chicago – and our mission -- forward.
Sincerely,
Margaret Faut Callahan, CRNA, PhD, FNAP, FAAN
Interim Provost and Chief Academic Officer
Senior Vice President, Strategy and Innovation
View photos from the recent strategic planning session.
Dr. Freeman A. Hrabowski III, President, University of Maryland Baltimore County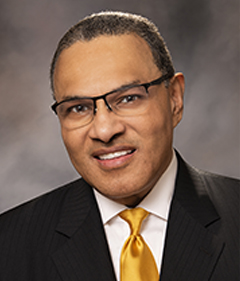 Dr. Hrabowski's research focuses on science and math education, with a focus on minority participation and performance. He chaired the President's Advisory Commission on Educational Excellence for African Americans in the second Obama Administration. In addition, he holds honorary degrees from more than 40 colleges and universities, including Harvard, Princeton, University of North Carolina at Chapel Hill, Georgetown University, and Harvey Mudd College.
As the Loyola University Chicago community convenes to plan its future, we are pleased to welcome Dr. Hrabowski, a visionary and charismatic leader in higher education who will inspire us as we begin this important work. Please join us for Dr. Hrabowski's presentation and an opportunity to meet him at a reception following.