Onward 150
Thank you to everyone who participated in last fall's campus conversations. Nearly 300 students, faculty, and staff participated; more provided feedback online.
Please register and join us for one or more of the six upcoming focus groups:
March 4: Health Sciences Campus (HSC)
March 9: Lake Shore Campus (LSC) and Water Tower Campus (WTC)
March 10: HSC
March 17: LSC
March 18: WTC
(Refreshments and snacks will be available.)
During these focus groups, we will review the ideas generated last fall and listen to your feedback at this stage in the planning process. We will add metrics and other components later.
The Strategic Planning Steering Committee (comprised of faculty, staff, and two students) gathered your ideas from the fall's campus conversations. Together with feedback from the Board of Trustees and within the context of the "Greater Good" document (authored by the University's deans), the Jesuits USA Midwest Province Go Forth! report, and the Universal Apostolic Preferences, the Committee has developed draft "enduring values" and accompanying "priorities" for you to consider.
While we encourage you to register and participate in these focus groups, there will be opportunities to submit feedback online.
As Loyola University Chicago celebrates its 150th anniversary, thank you for sharing your ideas, hopes, and dreams for the University's next five years – and beyond!
Sincerely,
Margaret Faut Callahan, CRNA, PhD, FNAP, FAAN
Interim Provost and Chief Academic Officer
Senior Vice President, Strategy and Innovation
Dr. Freeman A. Hrabowski III, President, University of Maryland Baltimore County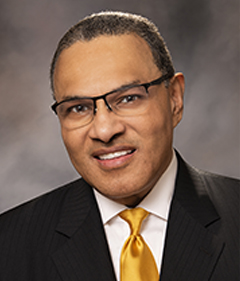 Dr. Hrabowski's research focuses on science and math education, with a focus on minority participation and performance. He chaired the President's Advisory Commission on Educational Excellence for African Americans in the second Obama Administration. In addition, he holds honorary degrees from more than 40 colleges and universities, including Harvard, Princeton, University of North Carolina at Chapel Hill, Georgetown University, and Harvey Mudd College.
As the Loyola University Chicago community convenes to plan its future, we are pleased to welcome Dr. Hrabowski, a visionary and charismatic leader in higher education who will inspire us as we begin this important work. Please join us for Dr. Hrabowski's presentation and an opportunity to meet him at a reception following.