Centro Romero
The Easter egg scavenger hunt ended at Chicago Futsal Academy where students found bunny ears and candy.
At the Children's Day celebration, BRAVE students exhibited art pieces for their parents. Then, they announced the name of the art gallery: Pueblo Unido Gallery! People United Gallery!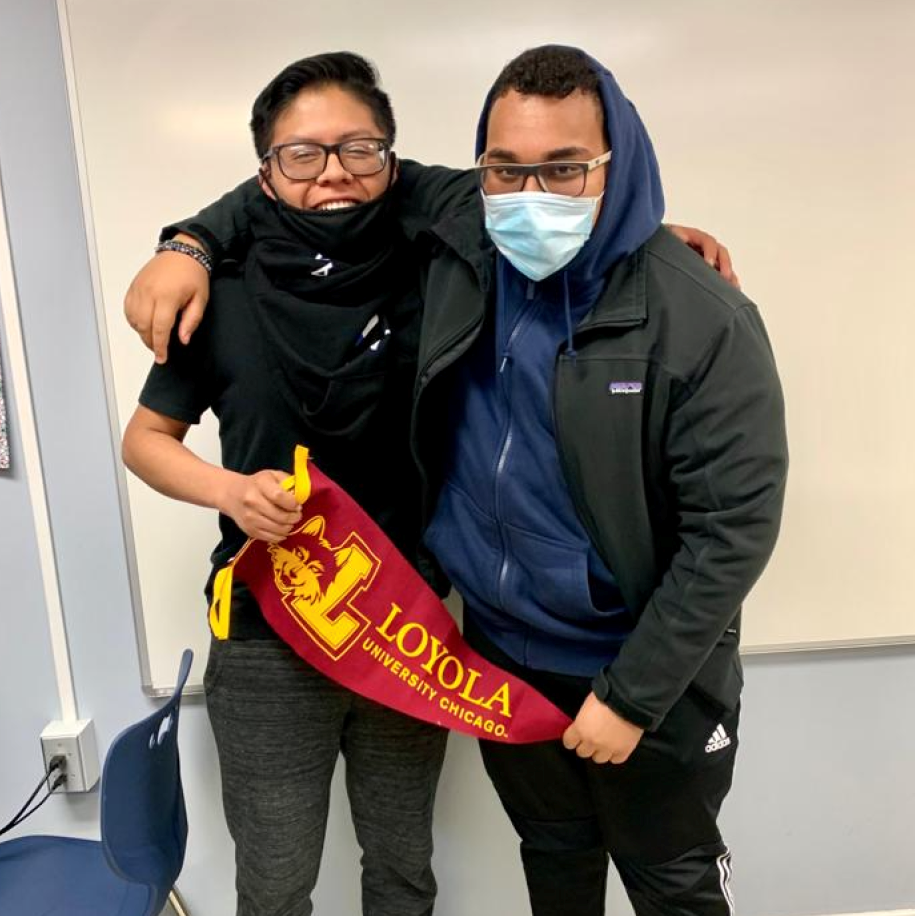 Two students pose for a picture while celebrating the victory of the loyola basketball team.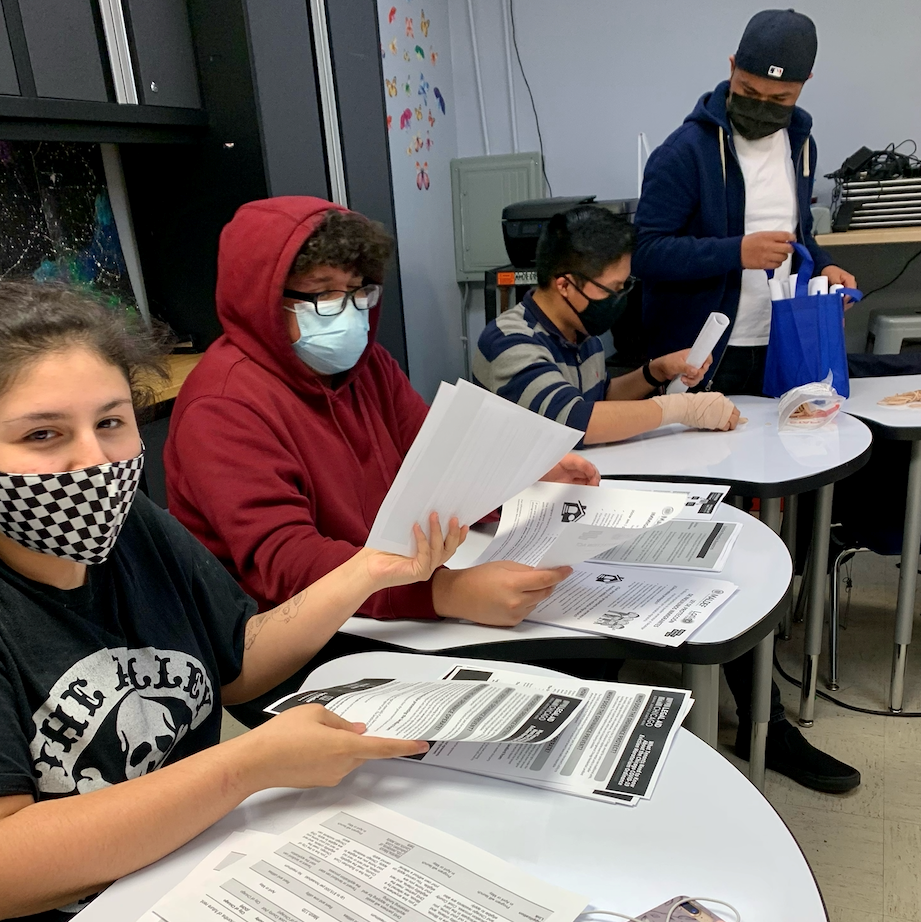 Students having a group study session together.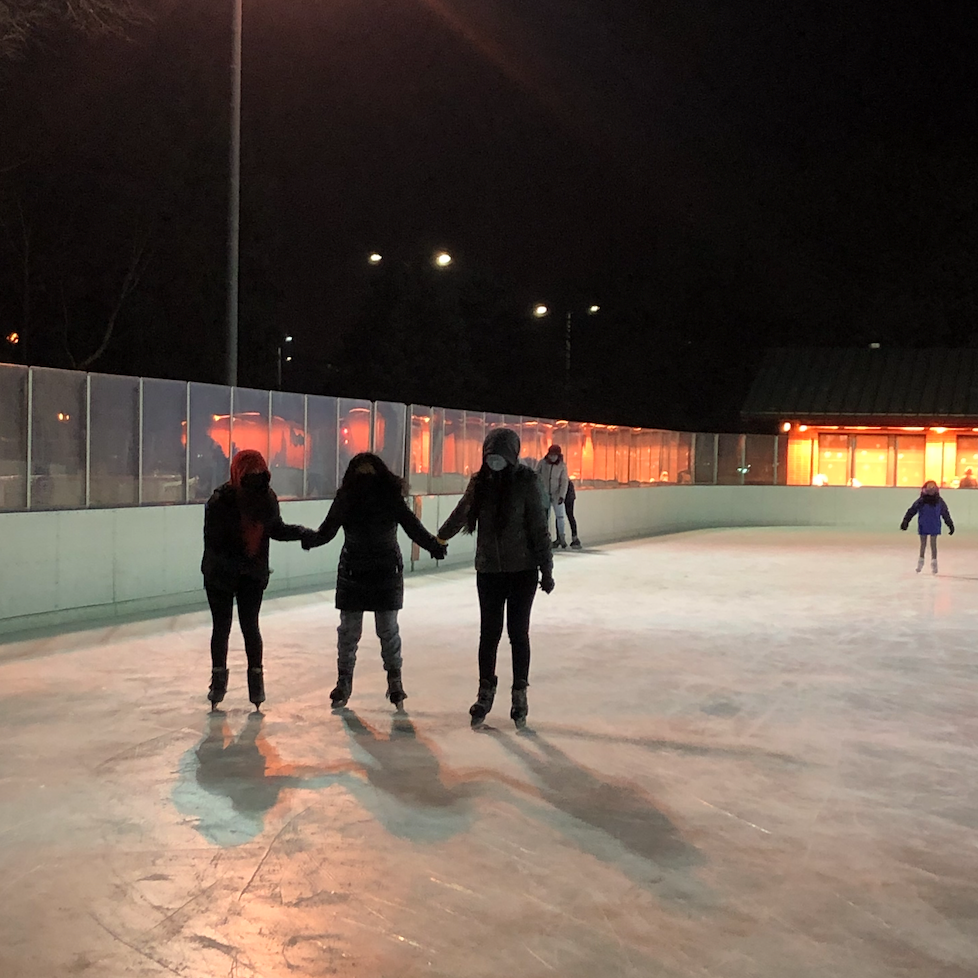 Students teaching each other how to skate during the field trip to the Warren Park Ice Rink.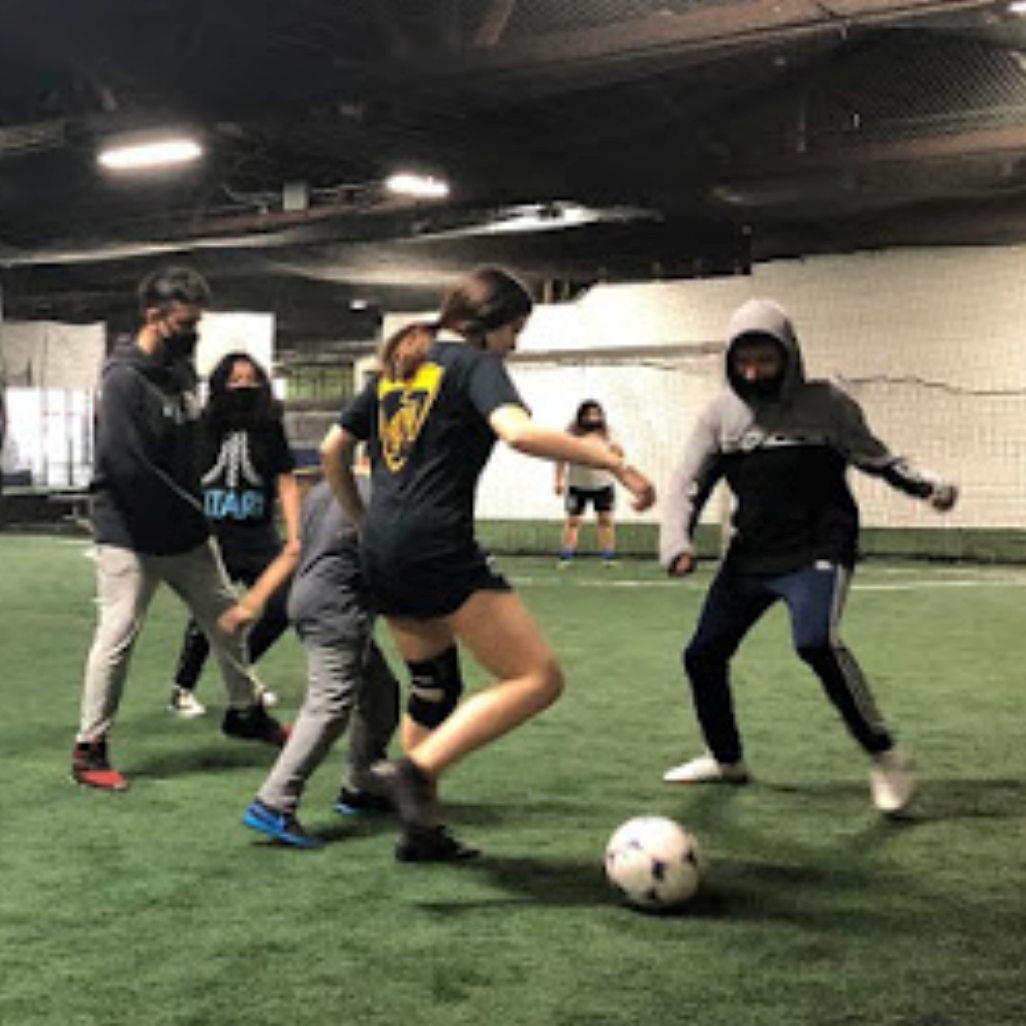 Indoor soccer at futsal is no joke for the BRAVE students.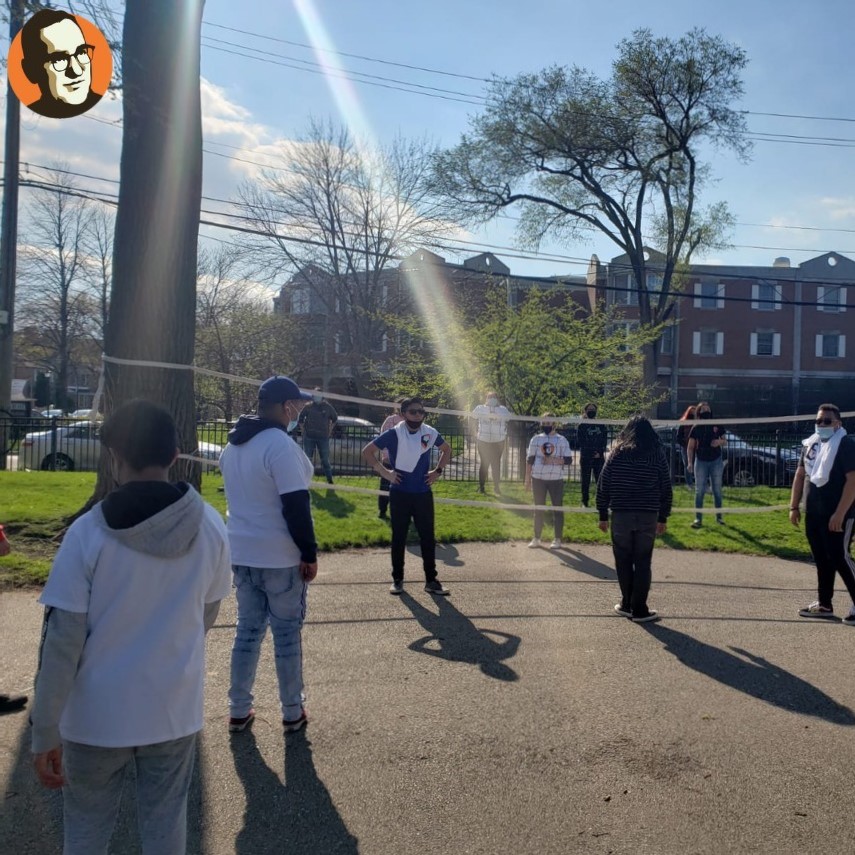 Spring calls for volleyball in Emmerson Louis Park.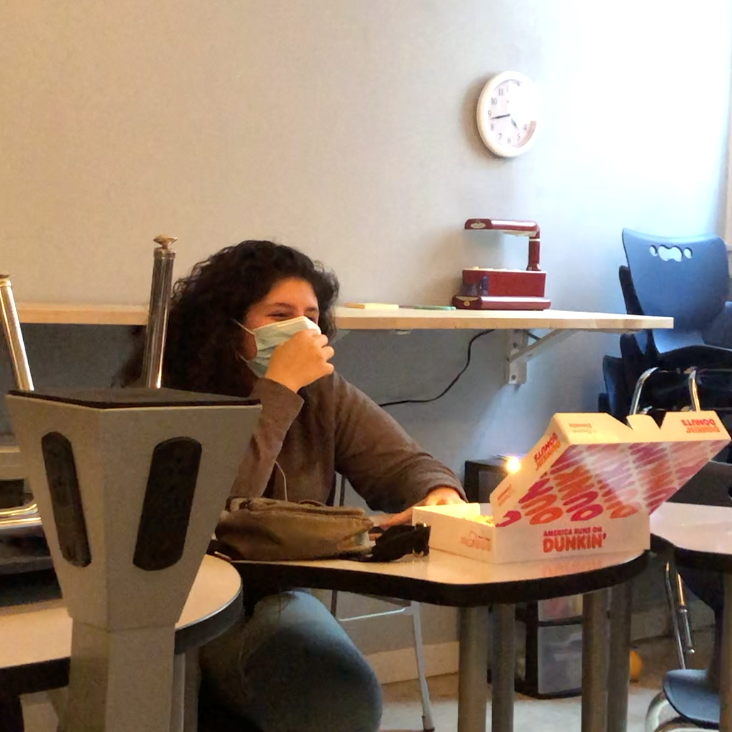 Dunkin Donuts is the goto snack for our students.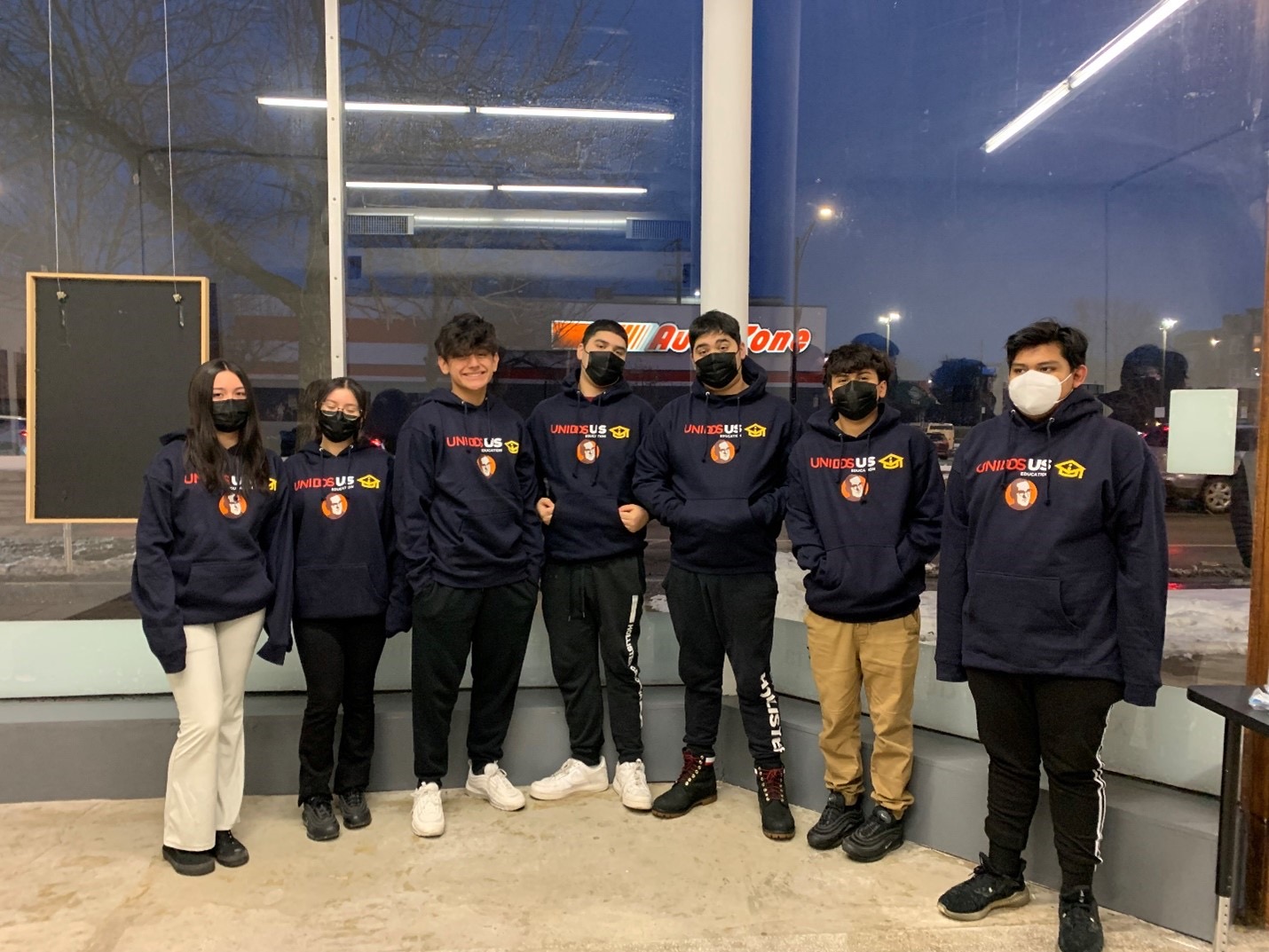 Students love their new cozy sweatshirts received through from funding from CASA curriculum from UnidosUS. BRAVE students at Centro Romero learn to take pride in their community and be change agents through the CASA curriculum from UnidosUS.
Once per week, students rush over to Chicago Futsal Academy as soon as school ends and join into the soccer game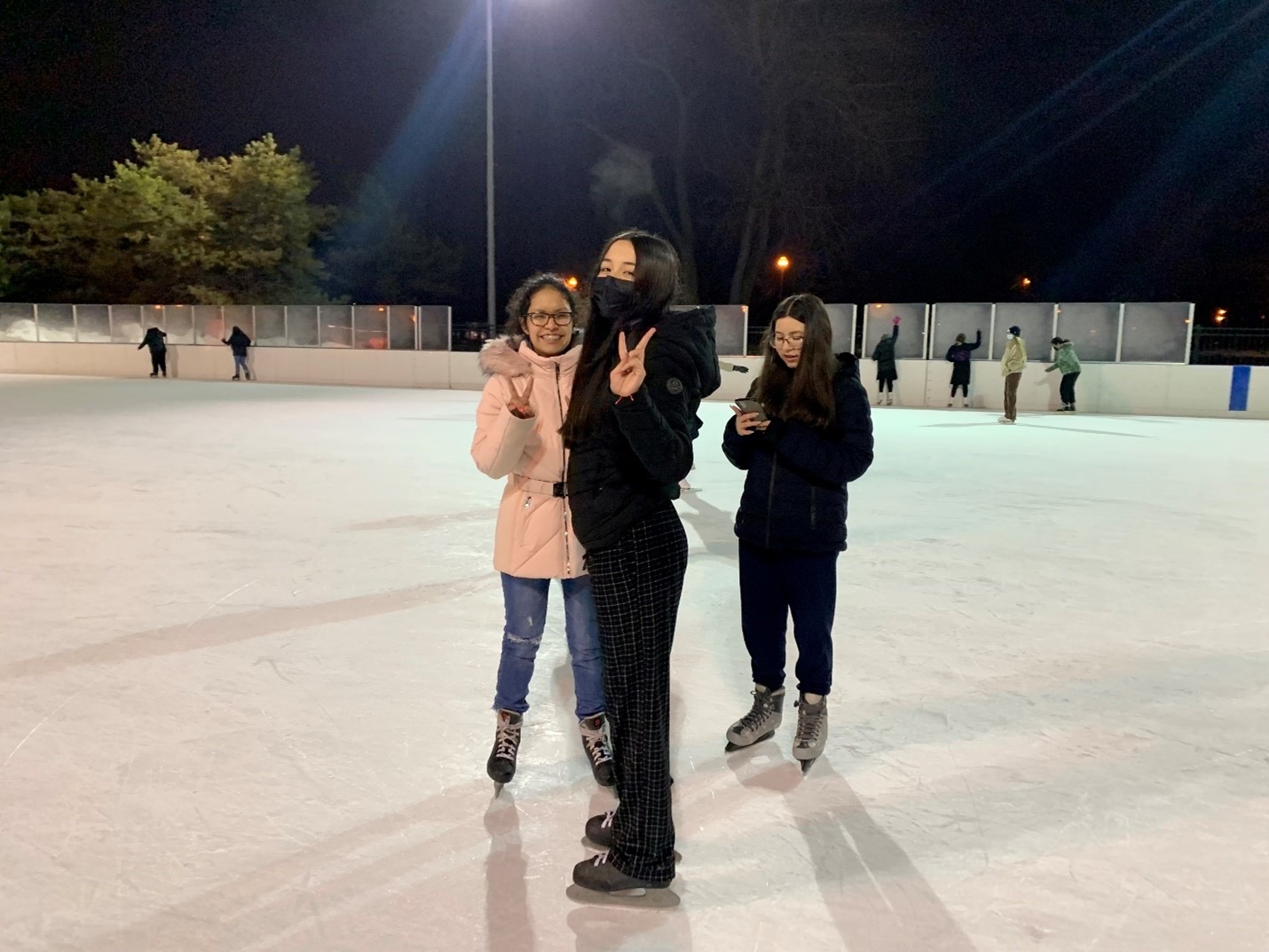 In January BRAVE took a field trip to Warren Park to ice skate!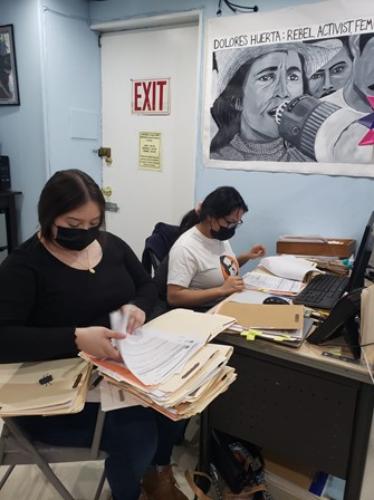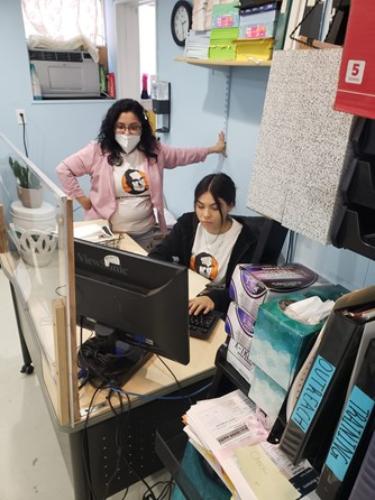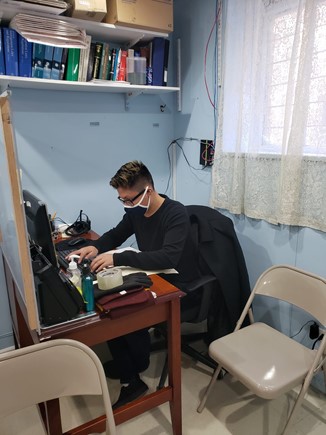 BRAVE students come on Saturdays to volunteer in the legal department. By organizing files and emailing or calling clients, BRAVE students are able to help other young people who are applying for DACA or community members applying for citizenship.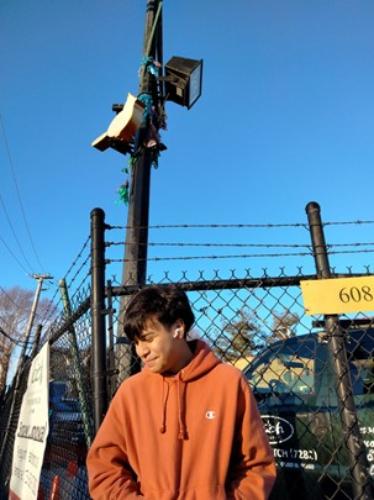 BRAVE student during CASA community walk noticing need to address litter in the community. He took note of pap-el picado stuck on the light post.
BRAVE student during CASA community walk noticing need to address litter in the community. He took note of pap-el picado stuck on the light post.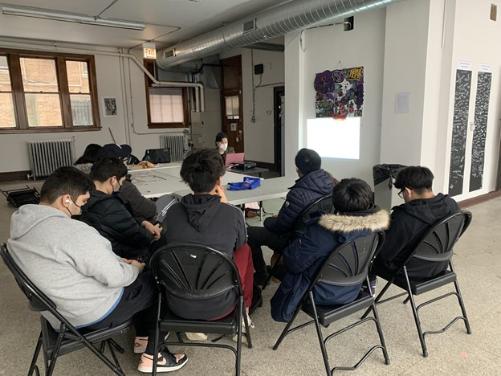 LUC MSW intern conducting a sleep health training.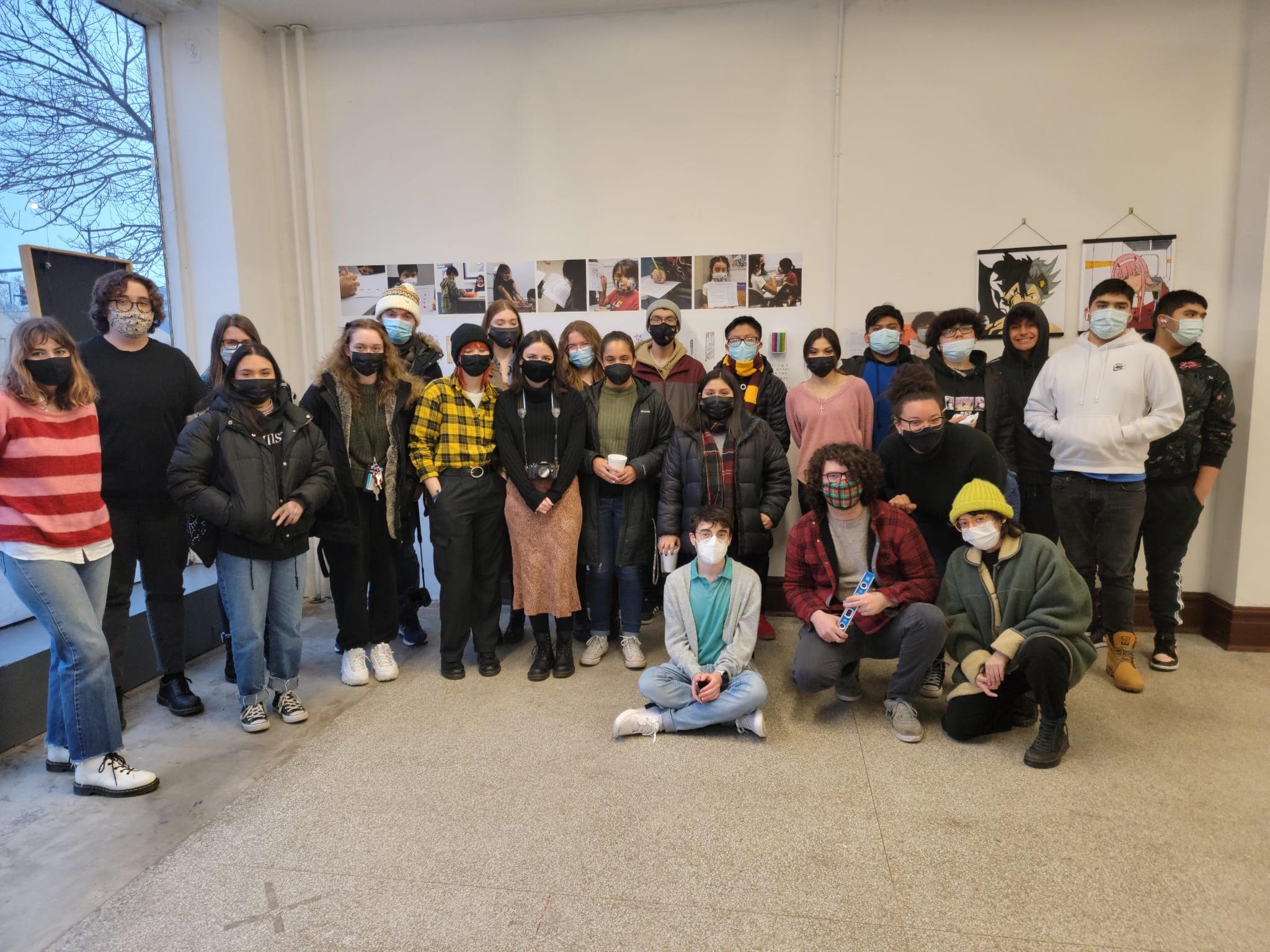 Students from Columbia College and Centro Romero students pose in front of one of the displays in Centro Romero's newly established gallery space. A photography class from Columbia College partnered with Centro Romero's high school program to teach Centro students photography skills as well as help them plan and eventually execute photography projects to display in the gallery. Along the way, students from both Centro and Columbia learned what goes into creating and setting up an art gallery space.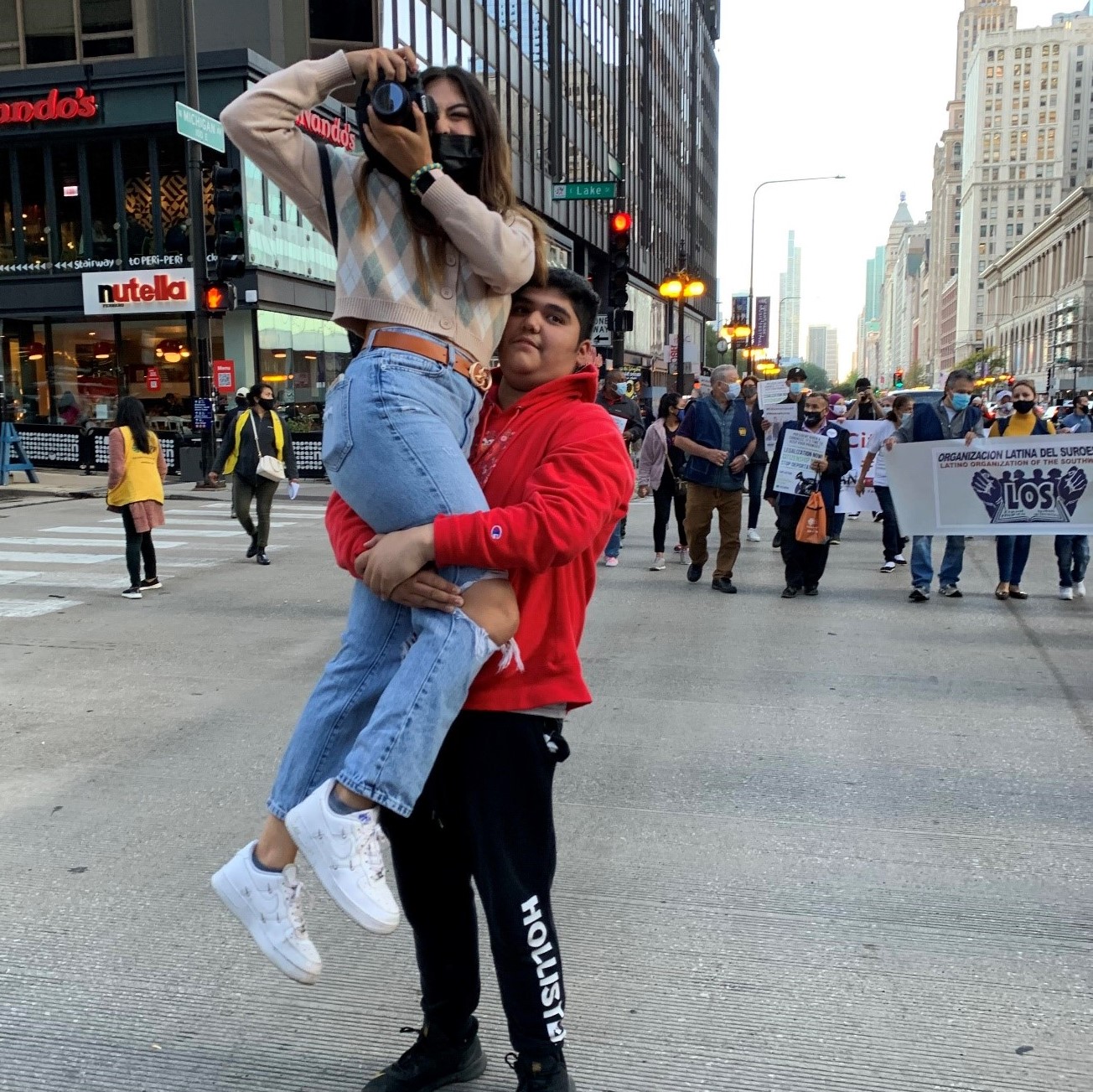 One student lifts another to help her capture a photograph at the March for Citizenship for All in downtown Chicago.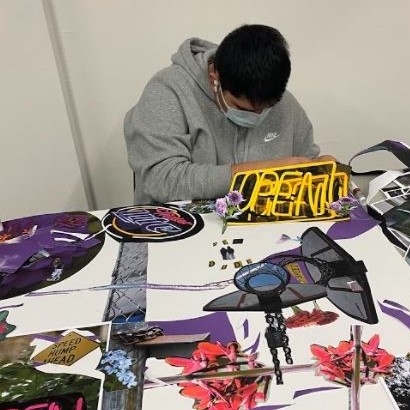 A student works on a photo collage for the art gallery.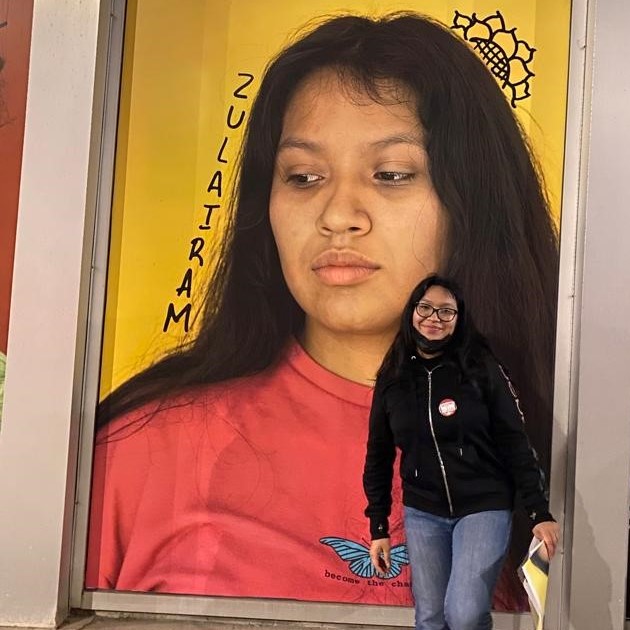 A Centro Romero student poses in front of a portrait of herself on display at the Weignberg/Newton Art Gallery in Chicago.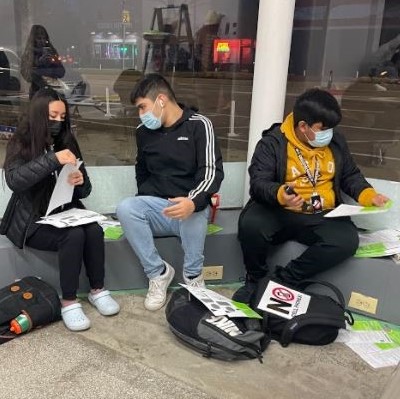 Students participating in the Community Navigators program preparing informational flyers for patrons of the Centro Romero legal department.
One student works on a drawing for the gallery while another constructs a collage.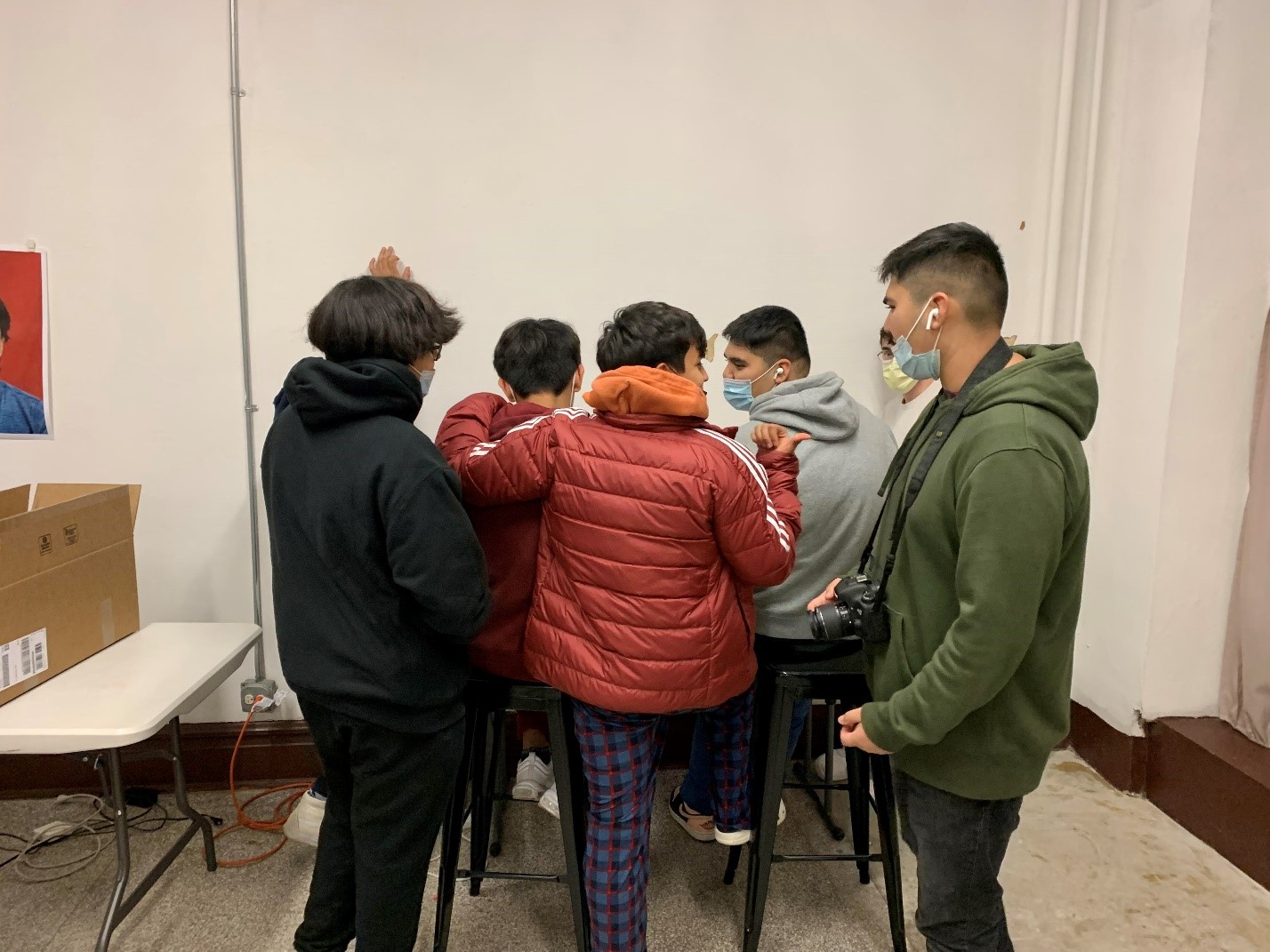 A group of boys from Centro Romero gather around a computer to watch a fellow student edit photos with his new Photoshop skills.
Centro Romero BRAVE 2021 High School Graduates! Next stop college at Loyola University Chicago and Arrupe College.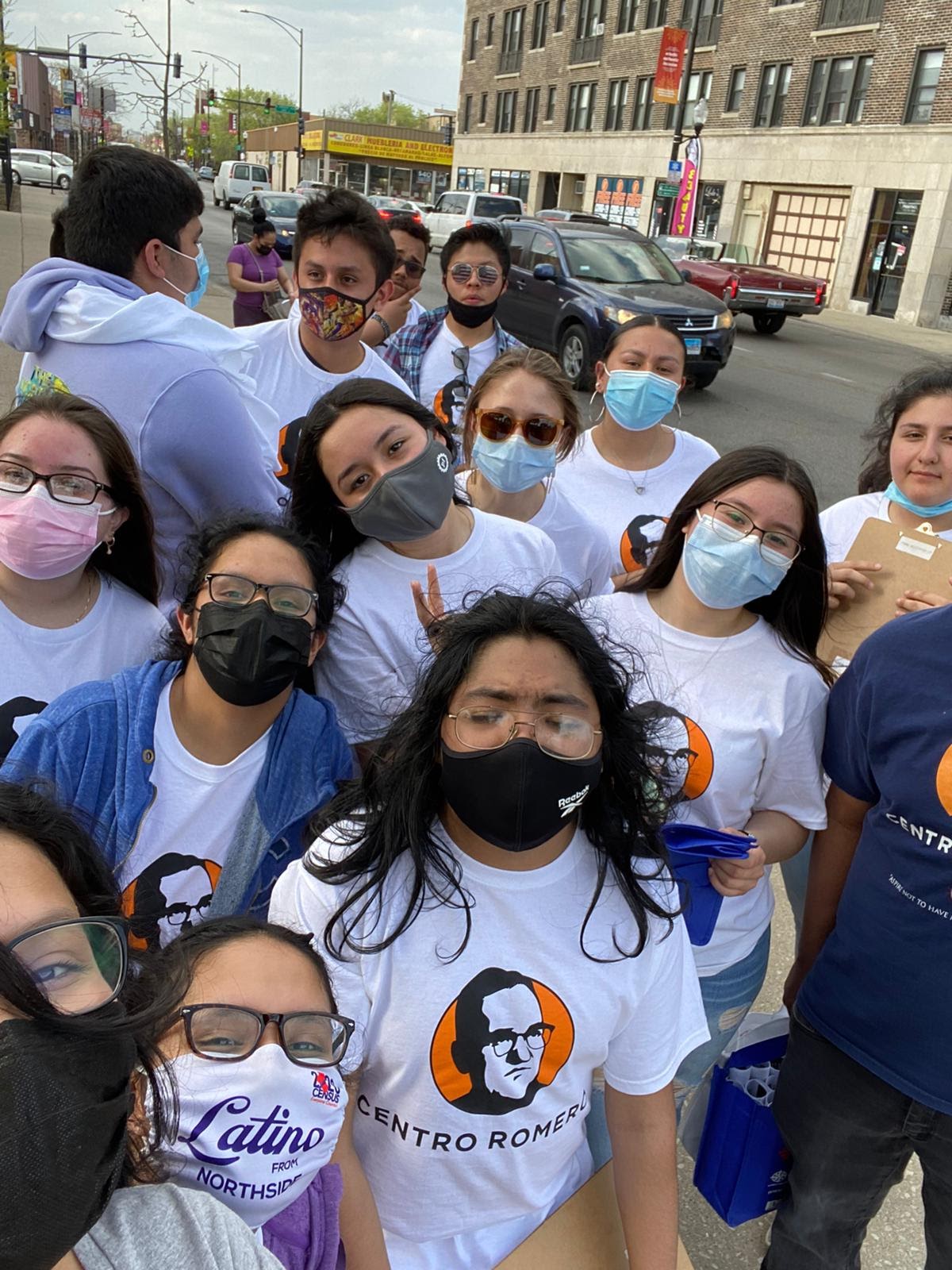 BRAVE students huddle before going out to do community outreach about the COVID-19 Vaccine and Know Your Rights with Eviction through the community navigators program.
Centro Youth, Keep Being Amazing