Loyola CTA Renovation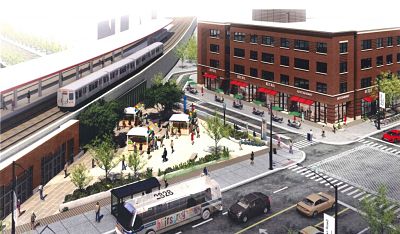 ‌
‌Loyola University and 49th Ward Alderman Joe Moore hosted a community meeting on April 30, 2012 to discuss two development proposals put forth by the University. Forty-eight people attended, and a strong majority was in support of everything proposed.
The first proposal completely redesigns and reorients the entrance to the Loyola Avenue L station further north and west along the embankment. This configuration is intended to make the commuter experience safer and more inviting as it will direct pedestrians to a new four-way signalized intersection at Loyola Avenue and Sheridan Road for a safer street crossing.
The new intersection will be stamped with a highly visible traffic calming substance called DuraTherm that adds both an attractive campus identifier and a slightly reflective street surface. Loyola Avenue itself will be extended west of Sheridan with a driveway accessing the parking behind the buildings. Finally, Sheridan Road will gain left-turn lanes which will prevent waiting cars from blocking through traffic.
This project is valued at over $17 million and is part of Loyola's agreement to provide direct community benefits within the Devon-Sheridan TIF district. The first $10 million was a federal earmark obtained by Loyola University through Senator Dick Durbin. Loyola University's land acquisition, tenant relocation, lost revenue and auxiliary resources are valued at $7 million. The CTA's direct contribution is $2.5 million. And, finally, a Federal Highway Administration grant of $1 million was secured by Loyola for the purposes of building the public plaza.
The second proposal brings a new mixed-use, 4-story building to the west side of North Sheridan Road approximately the site of the "old Beck's bookstore" and the vacant lot to its north. Also owned, developed, and managed directly by Loyola University, this building boasts 41 one-bedroom market-rate apartments and four new storefronts. Thirty-one required parking spaces and 20 additional parking spaces will be located on the parking lot west of Sheridan Road.
The CTA improvements, which also include rehabilitation of the viaduct, water-proofing, new windows, new bike racks, and a new entrance on the south side, will begin in early July. The entire redevelopment project will be complete in August of 2013. The CTA station will never close during construction.