archive
Blog to Connect Students and Businesses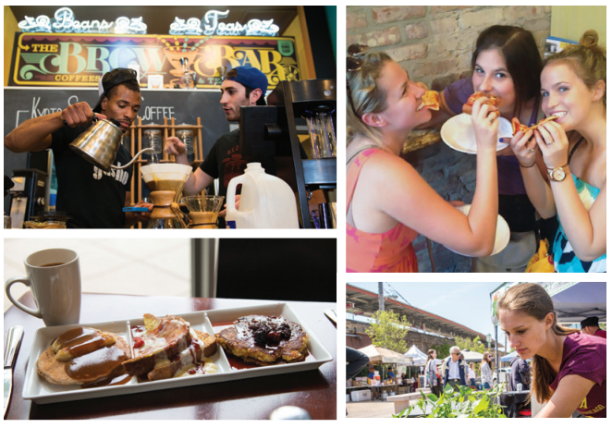 Community Relations is pleased to announce the launch of the new Ramblin' Around Blog. The blog went 'live' in September and is a student-managed, interactive website linked from the main LUC student portal that allows businesses to 'feature' ads, coupons, deals, and specials while allowing for comments and feedback by student patrons.
The blog is an expansion of the Ramblin' Around Guide. In its tenth year, Ramblin' Around Guide a printed business directory distributed to all first-year and transfer students as part of their introduction to Loyola's campus-community. The guide features ad space for purchase by local establishments who wish to market their business to students.
For the second year, Community Relations hosted the Ramblin' Around Student Dinner Crawl event that took place in September, and had great success with over 800 students visiting 37 local restaurants in Rogers Park and Edgewater. Through the guide, Ramblin' Around Dinner Crawl, and now the Ramblin' Around Blog, students are encouraged to patronize local businesses, become familiar with the neighborhoods of campus, and use social media to further create interest and access to local restaurants and stores in the neighborhoods surrounding campus.
Businesses can benefit by using these mediums for exposure to 16,000 undergraduate and graduate students. Ads are affordable and easily renewable. Community Relations can also assist with design work for an additional fee.
Visit the new blog site here http://blogs.luc.edu/ramblinaround/. Additionally, please visit Community Relations' other social media pages:
To purchase ad space on the new blog, please contact Emily Konchan at ekonchan@luc.edu or Alexis Gwizdak at agwizdak@luc.edu .
About Ramblin' Around
If you are visiting this page, chances are you are new to the neighborhoods surrounding Loyola's campuses: Edgewater, Rogers Park, and the Gold Coast. Perhaps you are just looking to experience more of what these vibrant, interesting neighborhoods have to offer. The purpose of this blog is to guide you through these areas and beyond.
Within Edgewater, Rogers Park, and the Gold Coast, you will find welcoming residents and business owners ready to help you discover why these neighborhoods are so great. From all of us, "Welcome to Loyola, we look forward to seeing you ramblin' around the neighborhood!"
About the Ramblin' Around Blog
Launched in August 2014, the Ramblin' Around Blog is part of the Student Business Engagement Project*, which also includes:
1) the Ramblin' Around Guide: our annual printed publication distributed to all first year and transfer students in the fall
2) the Ramblin' Around Dinner Crawl: annual dinner crawl where over 1,200 students taste samples from 40 different businesses and restaurants (in partnership with the Office of First Year Advising)
The Ramblin' Around Blog is run by students, for students. The blog is regularly updated with new advertisements, student discounts, and promotions. It also gives students the opportunity to post pictures and reviews of their favorite places to dine and shop in the neighborhood.
About Community Relations
The Department of Community Relations at Loyola University Chicago serves as Loyola's connection between the University and surrounding neighborhoods of the Lake Shore and Water Tower campuses. Community Relations supports and encourages the vitality and sustainability of the neighborhood through building relationships with the City of Chicago, local schools, community policing, block club, chambers of commerce, neighborhood organizations, and non-profits.

*Loyola partners with the Rogers Park Business Alliance and Edgewater Chamber of Commerce for the Student Business Engagement project and related initiatives.