archive
Students Return to Campus, Parking Restrictions in Place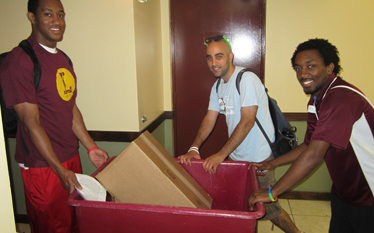 As we enter into the last months of summer, Loyola University Chicago is preparing for the 2014-2015 Academic Year. The university will welcome 4100 new and returning students. Move-in activities will take place at the Lake Shore Campus on Monday, August 18 and Sunday, August 24, 2014.


Friday, Loyola will host freshman convocation and no move-in will take place. Neighbors should take note of the days and times during which the City has provided a permit to designate "no parking" on area streets to facilitate move in the attached PDF. This will help university staff accommodate the families and students that will be unloading cars and moving trucks. Each student has received a move-in time slot and will receive a color-coded placard to display in their car window to help facilitate traffic flow. During Tuesday, August 19. Loyola Avenue will be a one-way westbound.

Thanks to helpful feedback from local residents and community leaders, Loyola has reduced the overall number of streets and amount of days with parking restrictions to alleviate strain on street parking. Any vehicle parked in no parking zones will be ticketed and towed.
Many upper-class students rent apartments in the area that are not operated by the university. While the University does not make special arrangements for these moves, Community Relations has requested a special attention to no-parking areas around Loyola University with Streets and Sanitation. The requested attention includes Loyola, Albion, Arthur, Northshore, Columbia, Wayne, Lakewood, Kenmore, and Winthrop. Student cars illegally parked in tow-zones, blocking fire hydrants, or blocking driveways and alleys will also be ticketed and towed.
If you have any questions, need any further information, or experience any undue hardships relating to move-in, please, do not hesitate to contact the department of Community Relations at 773.508.7450 or email communityrelations@luc.edu . If you would like regular updates from Loyola, join the e-blast by sending an email and like us on facebook! Facebook.com/luccommunityrelations